Sea of Tranquility PTO (id:#56037)
See Also: Sea of Tranquility by Multi-Man Publishing

Peleliu, Palau Islands

1944-10-07

(

5 others

)

Designer: Pat Jonke

Starter kit scenario?: Deluxe scenario?:
Balance:

Overview:
Although the island of Peleliu had been declared secure on September 30th, about a thousand Japanese remained in an area some 900 yards long by 400 yards wide. In some of the fiercest fighting of the entire Pacific campaign they had repelled in succession the 1st Marines, the 7th Marines, the 321st Infantry, and the 7th Marines again. The terrain in the pocket comprised jagged coral ridges and outcroppings, cut through by natural and man-made caves. Weeks of aerial and naval bombardment had stripped away most of the vegetation. What remained bore a resemblance to the surface of the moon. When the 7th Marines withdrew for the last time, the fresh 5th Marines were called upon to finish the job. . .

Attacker: American (USMC) (Company L, 5th Marine Regiment, 1st Marine Division / Company A, 710th Tank Battalion)

Defender: Japanese (1st Battlion, 2nd Infantry Regiment, 14th Infantry Division)
10.5 turns
Players:
2
OBA:
American (USMC)
Night:
No
Unit Counts:
Squads: A:

12.0

D:

7.0
AFVs: A:4 D:0
Guns: A:0 D:4

Year-41 Type Mountain Gun

Type 97 Curved-Fire Infantry Gun

Type 1 Machine-Moved Gun

x 2
| | |
| --- | --- |
| Misc Rules: | PTO (Exc: some roads exist), Buildings are Crags. D: Caves14, Mines |
Errata (source)
Players wanting to play this game/Request a match:
Scenario info
Last Played:
Date
Reporter
Opponent
Result
Comments
2021-03-28
(A) Michael Tisdel
vs
Joe Schirmer
Japanese win
Playing by email using VASL, this took Joe and I 107 days to complete (over Christmas and New Years holidays and busy work days). Most of this was due to the complexity of the caves and the rule interactions.
2020-05-23
(D) Dan Best
vs
Kermit Mullins
Japanese win
2020-05-23
(A) Kermit Mullins
vs
Dan Best
Japanese win
Played about4 turns of this scenario, before I threw in the towel as the Americans. Dan Best Japanese were well dug in and smacked me around good. With my 10-3 dead, my 9-2 broken, my radio broken...and my personal ERL destroyed....I gave the concession...took my marbles and went home.
2019-05-16
(A) Richard Carter
vs
Dave Clemons
American (USMC) win
Dave admitted that his set up was not as tight as it could have been. He did not have as much mutual support as he would have wished in hindsight. Nonetheless, the USMC did overcome the loss of OBA to 2 red cards as first two draws and loss of two tanks. A kill stack with the 10-3 and the use of DC's to eliminate unoccupied caves were the key to US victory. A fun scenario though a long one.
2016-12-07
(D) Jeremy Busby
vs
Scott Hasson
American (USMC) win
2015-09-06
(D) Martí Cabré
vs
Txema Mainez
Japanese win
Our first adventure with caves. The rules looked horrible and daunting, but once the game started it was really fluid. You only have to be sure the cave setup is ok, that's important, and the gameplay is quite smooth and easy.

With the Japanese I set up a trap using three caves, a pillbox and the mines in the Z3-AA2-BB1-BB3 sector and it worked like a charm. The Marines were stuck there fighting it hard to get out of the crossfire. They eventually killed the Japanese units there but I managed to save a couple of units entering and exiting the cave complex below to stall them even more. Finally, attacking with the DC caves when there were no Japanese units in the cave the Americans sealed four of the caves and secured the first hill, but with only two turns to go and the other caves far in the other hill, with my AT guns still hidden and more Japanese infantry yet to reveal, the Americans conceded the game.
2011-05-07
(D) Ian Morris
vs
Andy Smith
American (USMC) win
2006-09-07
(A) Rich Weiley
vs
Simon Mitchell
Draw
Unfortunately could not complete this scenario before Simon moved back to Adelaide.
| Action | Date |
| --- | --- |
| jtisdel@me.com Added a playing | 2021-03-28 18:49:56 |
| Hutch Modified the Defender's Guns | 2021-01-13 11:44:25 |
| Hutch Modified the unit counts | 2021-01-13 11:44:24 |
| Hutch Modified the Defender's Guns | 2020-11-24 17:51:45 |
| Hutch Modified the unit counts | 2020-11-24 17:51:45 |
Location
Images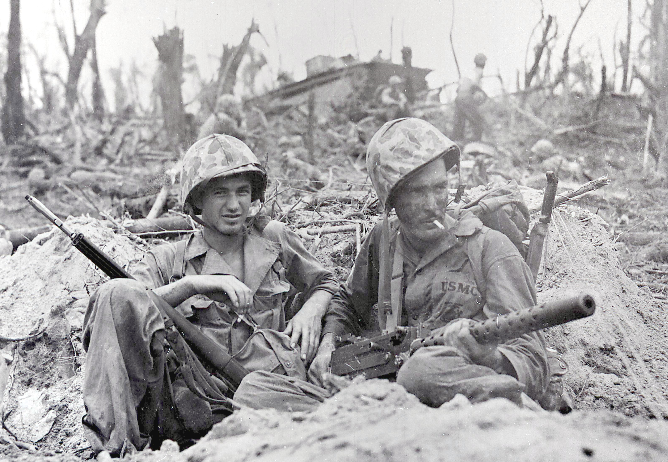 Marines taking a break on Peleliu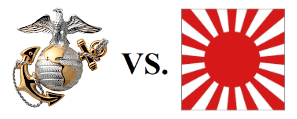 Statistics:
Avg Rating: 7.40
Votes: 10
Views:
3875
To-Play list count:
8
Estimated Play time:
7.6 hours
Recorded Games:
7

Archive recorded plays:
American (USMC)
3
Japanese
3
Drawn:
1

ROAR Data: (as of April 2021)
Sea of Tranquility [Confirmed]

| | |
| --- | --- |
| [A] Japanese | 18 |
| [D] American | 18 |