Mooshof Melee WTO (id:#56813)
(Revision: Lone Canuck Publishing: Canada at War MLR3, VFTT)
See Also: Mooshof Melee by Lone Canuck Publishing Mooshof Melee by View From the Trenches Mooshof Melee by Winnipeg ASL Club

Designer: Canadian ASL Association

Starter kit scenario?: Deluxe scenario?:
Balance:

Overview:
Operation Blockbuster went in 25 February with the capture of Calcar-Udem ridge as its goal. The attack rapidly became a desperate struggle for the towns, villages and individual farms that dotted the battlefield. The first rate troops of the 17th and 18th Fallschirmjager Regiment fought frantically for every yard now that they were defending their homeland. At the hamlet of Mooshof, D Company of the Queen's Own Rifles of Canada was stuck in front of their objective after two of their assaults were repulsed. It was here that 23-year-old Sergeant Aubrey Cosens became a legend to the men of the Queen's Own.

Attacker: Canadian (D Company, Queen's Own Rifles of Canada and First Hussars)

Defender: German (18th Fallschirmjäger Regiment)
6 turns
Players:
2
OBA:
None
Night:
No
Unit Counts:
Squads: A:

11.0

D:

9.0
AFVs: A:2
AFVs: D:0
Guns: A:0 D:1
| | |
| --- | --- |
| Misc Rules: | Rows J-X playable. HH, LVH, Mist w D: FB3 |
Errata (source)
| | |
| --- | --- |
| Add one Ordnance Crew to the German OB. | Letter74 |
Players wanting to play this game/Request a match:
Scenario info
| Action | Date |
| --- | --- |
| hoxson1 Modified the Theatre | 2021-02-26 00:07:50 |
| hoxson1 Modified the overlays | 2017-05-30 15:28:37 |
| hoxson1 Modified the misc. rules | 2017-05-30 15:26:58 |
| hoxson1 Uploaded the Board image | 2017-05-30 15:23:41 |
| hoxson1 Added Errata | 2017-04-05 14:52:45 |
Location
Not found
Images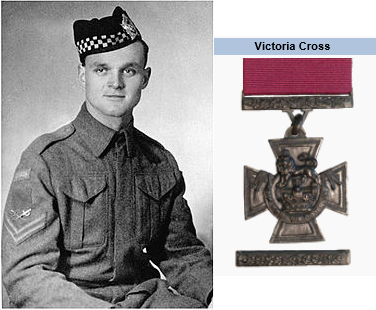 Ran forward alone to a tank, took up exposed position by its turret and directed fire, then ordered tank to ram a farm building. Went in alone, killed several defenders and took rest prisoners. Shot by a sniper when reporting back to superior officers.

Statistics:
Avg Rating: 5.00
Votes: 1
Views:
3531
To-Play list count:
0
Estimated Play time:
3.4 hours
Recorded Games:
1

Archive recorded plays:
Canadian
0
German
1
Drawn:
0

ROAR Data: (as of November 2021)
Mooshof Melee
[Log in to Confirm or Edit]

| | |
| --- | --- |
| [A] Canadian | 6 |
| [D] German | 10 |