Stryker's Charge WTO (id:#58753)
Designer: Evan E. Sherry
Starter kit scenario?: Deluxe scenario?:
Balance:

Overview:
The 17th Airborne Division parachuted onto the north shore of the Rhine River as part of Operation Varsity. The 513th Parachute Infantry was given the mission of seizing the ground along the railway northwest of Wesel. Company E was marching southeast along the railway when it came under fire from a group of buildings, the largest of which was a headquarters site. After advancing on 50 yeards, a platoon making a frontal assault was pinned down by intense fire from the German HQ. The rest of Company E reached a point about 250 yards from the enemy but was unable to make much progress against the position manned by a powerful force of Germans with rifles, machineguns and four field pieces. PFC Stuart Stryker with the lead platoon, exhorted the men to get to their feet and follow him. Inspired they rushed after him in a desperate charge through an increased hail of bullets.

Attacker: American (Co. E, 513th Parachute Infantry Regt, 17th Airborne Division)

Defender: German (Elements 84th Infantry Division)
5.5 turns
Players:
2
OBA:
None
Night:
No
Unit Counts:
Squads: A:

10.0

D:

4.0
AFVs: A:0
AFVs: D:0
Guns: A:0 D:4
| | |
| --- | --- |
| Misc Rules: | The American MMC taking the third MC (for any reason) goes Berserk. |
Errata (source)
Players wanting to play this game/Request a match:
Scenario info
Last Played:
| Date | Reporter | | Opponent | Result | Comments |
| --- | --- | --- | --- | --- | --- |
| 2022-03-26 | (D) Doba Serge | vs | Pascal B | American win | |
| 2022-03-25 | (A) Pascal Boileau | vs | Serge Doba | American win | A fun small scenario. It was very closed until the end. Stryker was fearless and charged the German units but died in the last turn. Nevertheless, the Americans were lucky enough and particularly in the final German turn when the only still good order crew broke. |
| 2021-01-08 | (A) Enrico Saletti | vs | Alessandro Poluzzi | German win | Missed a SSR altogether and made some tactical mistakes. |
| 2020-08-08 | (A) John Smith | vs | Scott | American win | Very small scenario, making it susceptible to the fortunes of war (dice)...which is what happened to us. In the span of about a player turn I hit two of my opponents guns with back to back CHs from my mortar, then he turn around and fired back with his remaining two guns rolling boxcars in the process. He forged on like a trooper, but that was pretty much the game. There's no way to recover from that kind of luck in a scenario this small. That being said, if the dice were fair this looks like it would be a fun little scenario. Don't forget SSR3 (3rd American MMC taking a MC goes automatically berserk) like we did. |
| 2019-10-17 | (A) Richard Jenulis | vs | Harry Lee | American win | Wild West Fest (round 0 mulligan round). This was my first time playing Harry. He is a good fun opponent to play as was the scenario. |
| Action | Date |
| --- | --- |
| lechiquier94 Added a playing | 2022-03-26 16:56:55 |
| Serge Added a playing | 2022-03-26 09:58:38 |
| Enriqo Added a playing | 2021-08-24 19:10:24 |
| hoxson1 Modified the Theatre | 2021-03-31 00:44:22 |
| Hutch Modified the unit counts | 2020-09-22 00:05:58 |
Location
Not found
Images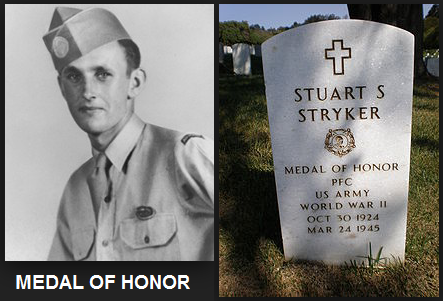 His fearless charge rallied his pinned down company resulting in the taking of the buildings and 200 prisoners.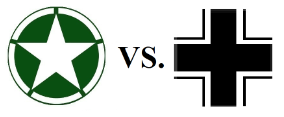 Statistics:
Avg Rating: 6.60
Votes: 10
Views:
3310
To-Play list count:
2
Estimated Play time:
2.2 hours
Recorded Games:
9

Archive recorded plays:
American
7
German
2
Drawn:
0

ROAR Data: (as of November 2021)
Stryker's Charge
[Log in to Confirm or Edit]

| | |
| --- | --- |
| [A] American | 21 |
| [D] German | 23 |