Hodgson's Honey Pots PTO (id:#61091)
Simemi Creek, New Guinea
1942-12-23
(
2 others
)
Designer: Paul Kenny
Starter kit scenario?: Deluxe scenario?:
Balance:

Overview:
Aussies and Japanese fighting it out on New Guinea. The Japanese get a mixed bag of infantry, fortifications and an AT Gun, but they will have to utilize all of their tank killing skills because the Aussies get 4 Stuarts! That and a handful of infantry have to fight across the difficult terrain of board 37 to the board 38 airfield, compounding their problems is a tight timetable. A nail biter to say the least, should be a challenge for both sides.

Attacker: Australian ("C" Squadron, 2/6th Armoured Regiment and 2/9th Battalion)

Defender: Japanese (124th Infantry Regiment)
5.5 turns
Players:
2
OBA:
None
Night:
No
Unit Counts:
Squads: A:

10.0

D:

7.0
AFVs: A:4 D:0
Guns: A:0 D:1
Errata (source)
Players wanting to play this game/Request a match:
Scenario info
| Action | Date |
| --- | --- |
| hoxson1 Uploaded an Image | 2019-01-18 13:14:08 |
| Michael Dorosh Added a playing | 2016-12-13 20:34:25 |
| hoxson1 Modified the overview | 2016-08-04 01:47:27 |
| hoxson1 Uploaded an Image | 2016-08-04 01:45:41 |
| hoxson1 Uploaded an Image | 2016-04-18 18:02:56 |
Quick Map View
No Map available yet! Please create one, or upload a map image file...
Location
Images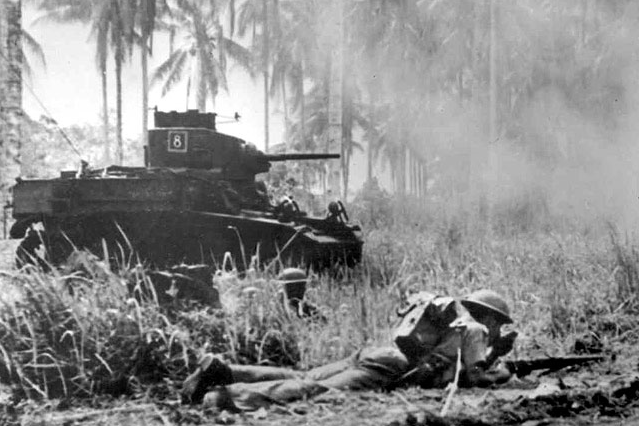 Stuart in action, New Guinea
Statistics:
Avg Rating: 8.00
Votes: 1
Views:
580
To-Play list count:
0
Estimated Play time:
3.1 hours
Recorded Games:
1

Archive recorded plays:
Australian
0
Japanese
1
Drawn:
0

ROAR Data: (as of April 2021)
Hodgson's Honey Pots
[Log in to Confirm or Edit]

| | |
| --- | --- |
| [A] Australian | 0 |
| [D] Japanese | 0 |