Milling About CBI (id:#62079)
Designer: Gary Fortenberry
Starter kit scenario?: Deluxe scenario?:
Balance:
Japanese / Burmese
British

Overview:
While Major Oki's men secured Tavoy, a sister battalion of the 112th Infantry Regiment made preparations to cross the Burmese frontier in strength. Before sunrise on 20 January, a platoon of Gurkhas garrisoning the border village of Miyawadi was caught unawares, and quickly scattered by a large force of Japanese. The surviving Gurhkas scrambled back to D Company's main position atop hills some two miles to the rear. The Japanese followed. By mid morning, the enemy had enveloped the Gurhka company, and ammunition began to run low. Then the telephone line was cut. The Commanding Officer of the 1st Battalion, 7th Gurkha Rifles, Lieutenant-Colonel White, cobbled together a relief force from three different units, and personally led it forward. The column ran headlong into the lead elements of the Japanese 1/112th.

Attacker: Japanese / Burmese (1st Battalion, 112th Infantry Regiment, 55th Infantry Division and Burmese Independence Army)

Defender: British (1/7th Gurkha Rifles and 4th Burma Rifles, 2nd Burma Brigade, 1st Burma Division and 1/9th Royal Jats, 16th Indian Brigade)
5.5 turns
Players:
2
OBA:
None
Night:
No
Unit Counts:
Squads: A:

14.0

D:

11.0
AFVs: A:0
AFVs: D:0
Guns: A:0

Type 89 Heavy Grenade-Launcher

x 2

D:0
| | |
| --- | --- |
| Misc Rules: | Simultaneous setup, PTO, DJ, Cactus Hedges, N-S Road exists. A: BIA are Partisans |
Errata (source)
| | |
| --- | --- |
| In the VC, replace "prisoners do not count" with "prisoners count for neither CVP nor Exit VP purposes". In SSR 4, add "; the side moving second may claim WA(B9.32) first" at the end of the third sentence. | J11 |
Players wanting to play this game/Request a match:
Scenario info
Last Played:
Date
Reporter
Opponent
Result
Comments
2022-05-22
(A) S. Slunt
vs
Brad Hunter
Japanese / Burmese win
A good scenario the if the British go first it is a little harder on the Japanese.
With all the cover the Japanese can Banzai with out having to worry about a lot of -2 shots. The British have to be careful as they try to slow the Japanese as if they leave someone in the LOS of a group of Japanese that are towards the exit edge they are going to get Banzai. and the other Japanese are going to go straight for the board edge
2021-06-11
(A) Andy Bagley
vs
Neil Brunger
Japanese / Burmese win
A fun little scenario, although the random first move seems odd and probably tilts the balance in favour of whoever gets this. I was lucky and got it here with the Japanese/Burmese. On turn 1 the British moved most of their forces to cover my attack on the left, and after a couple of turns the obligatory banzai Japanese charge resulted in casualties on both side without my being able to break through. However, on the opposite flank I had a 9-1 leader and two squads which managed to sneak through without being broken, and these exit VPs gave me the winning margin I needed.
2021-06-05
(D) X von Marwitz
vs
Chris Hofland
British win
This is a tournament size PTO action that has seen plenty of play with 43 Japanese wins vs. 46 British ones and received an exceptional Excitement Rating on ROAR of 7.14 by 83 players (as of May 2021). Almost perfectly balanced looking at the win/loss record and that fine rating, it seems to number among one of the quality designs of Gary Fortenberry. With this designer, you can also be pretty sure that you will have something to think about attempting to grok the fineries of what to do.

I played the defending British in this one.

The full AAR can be reviewed at Gamesquad Forum follwing this link:

http://www.gamesquad.com/forums/index.php?threads/ap86-milling-about-aar.161537/
2019-04-08
(A) Ian Morris
vs
Gerard Burton
British win
2018-05-27
(D) jon smith
vs
japanese
British win
Japs went first and moved up, main thrust went along cactus hedge into the jungle on british right with about 1/3rd of the japs swinging to other flank... super shots from a brit mmc with lmg and leader killed the jap 9-1 leader and striped a squad... the brits swung into line on both flanks with the mortar ROF frenzy causing some japs to stripe on the left... the brits fell back but got trapped and things look bleak, but moving into an all out offensive meant the brits traded MMC with the japs and prevented any leaving the board. At the end there was only 4jap mmc and 2 brits left with H2H being brutal for everyone the japs lost by some 12vp or so.
| Action | Date |
| --- | --- |
| Bongiovanni Added a playing | 2022-09-16 08:58:54 |
| slunts Added a playing | 2022-05-22 03:43:59 |
| Andy_Bagley Added a playing | 2021-06-22 13:09:50 |
| Andy_Bagley Rated the scenario | 2021-06-22 13:04:20 |
| von Marwitz Added a playing | 2021-06-06 19:02:44 |
Location
Not found
Images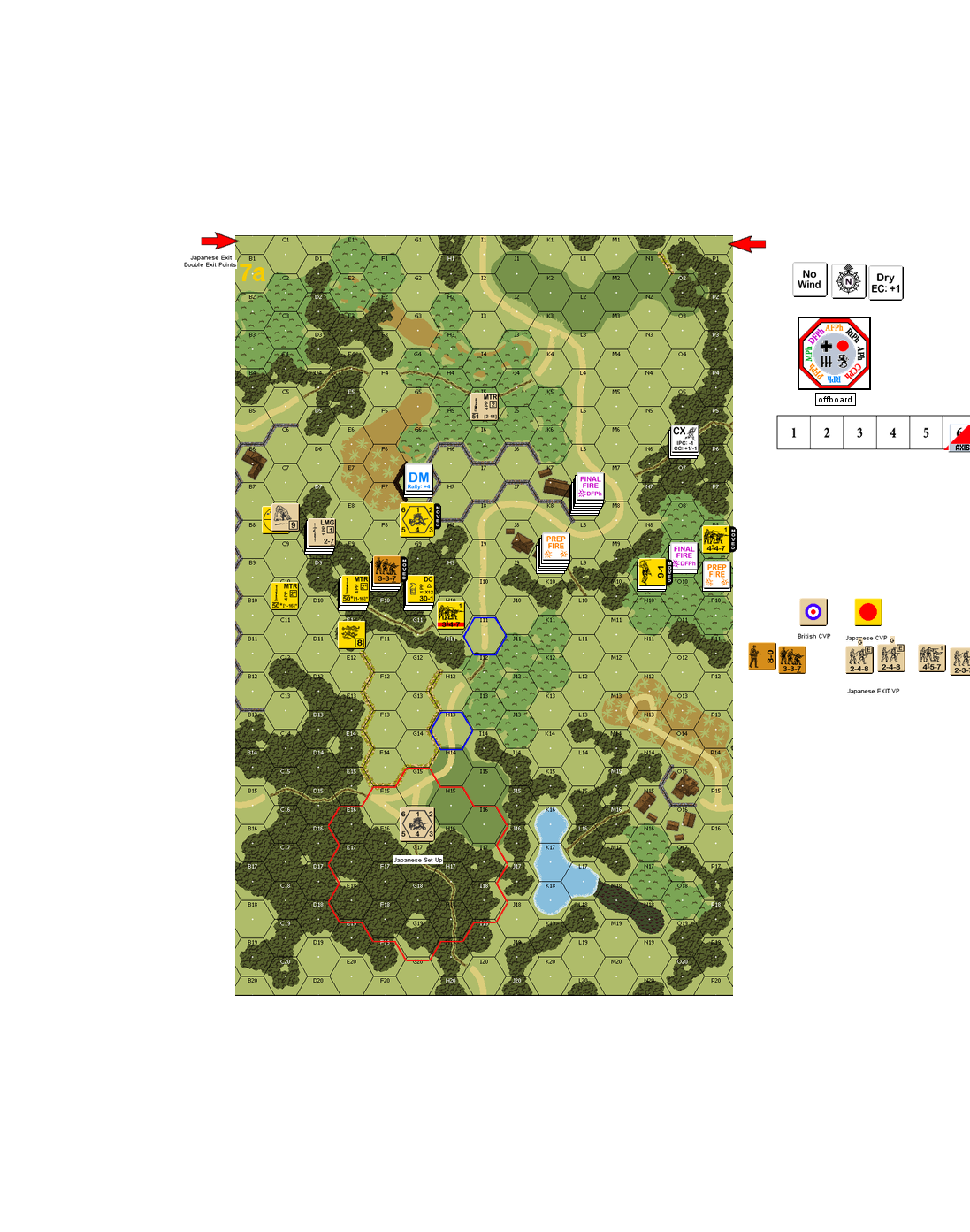 End of our match, Japanese had it wrapped up in the Defensive Fire phase of Turn 6 (Japanese moved first) (turn6a - game end.png)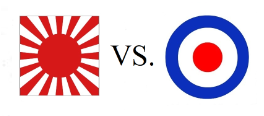 Statistics:
Avg Rating: 6.45
Votes: 38
Views:
3535
To-Play list count:
5
Estimated Play time:
3.2 hours
Recorded Games:
32

Archive recorded plays:
Japanese / Burmese
17
British
15
Drawn:
0

No Roar data found
Login to assign.