Wie ein Weihnacht's Stern DTO (id:#62598)
SW of Benghazi, Libya
1941-12-24
(
3 others
)
Designer: Kermit Mullins
Starter kit scenario?: Deluxe scenario?:
No balance information available

Overview:
As 1941 came to an end, Erwin Rommel's vaunted Afrika Korps was on the retreat for the first time in the Desert War. As the last German forces evacuated from Benghazi, Rommel, as was his habit, had taken to the air in his personal Fiesler-Storch to recon suitable positions for a new mine belt. As the sun began to set, on this fateful Christmas Eve, Rommel's plane began to have mechanical problems. Seeing a hard sandy area to his left, Rommel and his radioman set the plane down. Once on the ground, Rommel radioed nearby German forces for assistance. But there was a problem, Rommel had inadvertently landed inside an area surrounded by dunes and deep, soft sand. Vehicles would be hard pressed to reach the General. So a unit of Brandenbergers, equipped with camels volunteered to undertake the rescue mission. With the camels, the rescue should be a relatively easy and routine mission. But unbeknownst to the Germans, advance recon units of the SAS had intercepted the open channel distress call from Rommel. The SAS set off in the direction of Rommel's call...perhaps Christmas would see a German General under the tree.

Attacker: British (1st SAS Brigade)

Defender: German (Brandenberger Halbkompanie)
5 turns
Players:
2
OBA:
None
Night:
Yes
Unit Counts:
Squads: A:

3.0

D:

6.0
AFVs: A:0

Jeep(a) 2

x 3

Jeep(a)

x 3

D:0
Guns: A:0 D:0
| | |
| --- | --- |
| Misc Rules: | Night rules. All OG hexes are SAND. Possible sand bog and Khamsin (dust storm) |
Errata (source)
Players wanting to play this game/Request a match:
Scenario info
| Action | Date |
| --- | --- |
| hoxson1 Linked the scenario to ROAR | 2021-02-22 19:04:06 |
| hoxson1 Modified the misc. rules | 2018-09-12 14:19:53 |
| hoxson1 Uploaded an Image | 2017-01-20 18:13:10 |
| hoxson1 Modified the misc. rules | 2017-01-20 18:07:43 |
| hoxson1 Modified the overview | 2017-01-20 18:02:36 |
Location
Images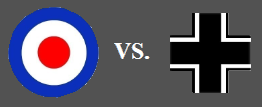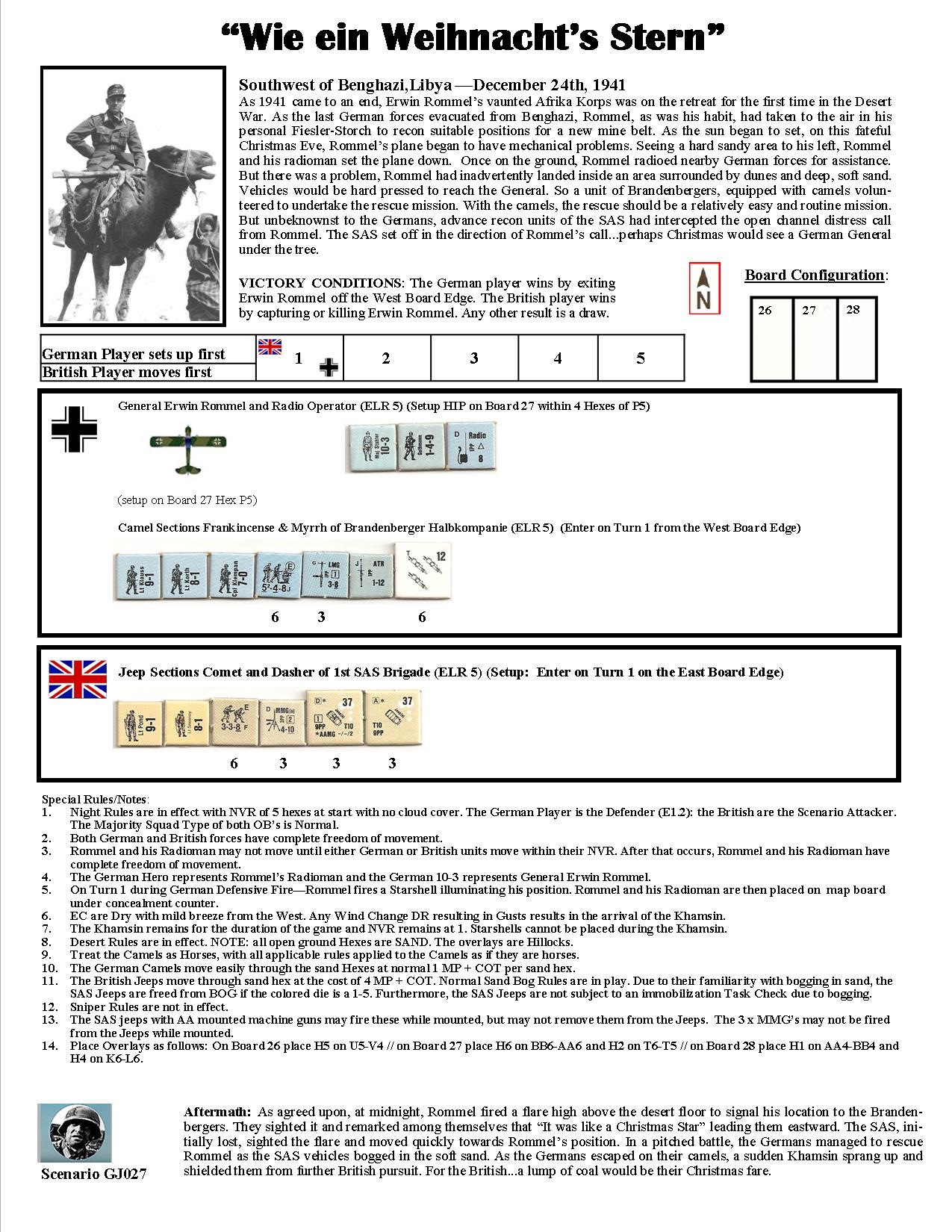 Revised version with Erwin Rommel.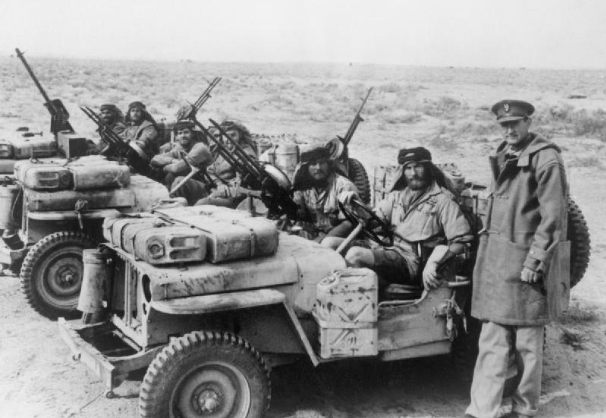 Special Air Service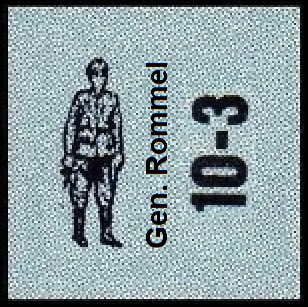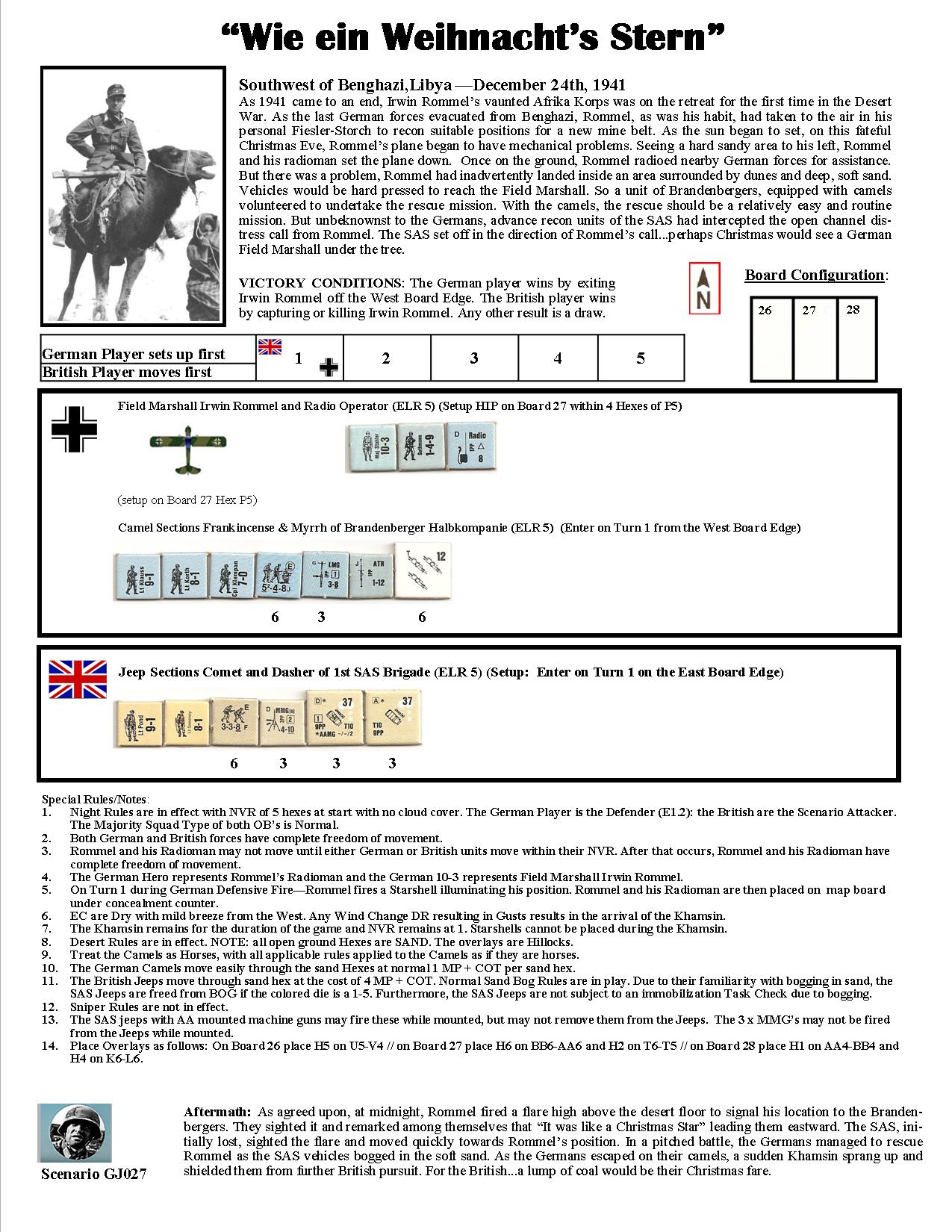 Statistics:
Avg Rating: n/a
Votes: 0
Views:
689
To-Play list count:
1
Estimated Play time:
1.5 hours
Recorded Games:
0

Archive recorded plays:
British
0
German
0
Drawn:
0

ROAR Data: (as of Nov 2019)
Wie ein Weihnacht's Stern [Confirmed]

| | |
| --- | --- |
| [A] British | 0 |
| [D] German | 0 |