AH:ASL Annual `95 Winter
(Log in to add this module to your collection
or to see your play details)
Introduction:
ASL Annual 95 promised a lot, but failed to deliver. 1993 saw two "annuals" and promised an increase in ASL related releases. 1994, however, saw no publication at all. We all waited on the return of the Annual in '95.
At 95 pages long the 1995 Annual was the largest to date, and 24 scenarios set a new standard.
The magazine also included some long awaited DASL overlays.
Unfortunately, as I said, the Annual disappointed, often being regarded as the worst of the annuals.
The problems started at the beginning. The DASL overlays were to small.
The articles started well, with an interesting piece on Japanese paratroop forces. Also included was a well presented review of the routing rules, and a well written series replay of a KGP scenario, Festung St Edouard.
The rest were of an ordinary standard. Two covered tournament scenarios used at different tournaments, one covered scenarios associated with the landings in Normandy 50 years earlier, and another tried to rehash the leader campaign from the original SL. A lot of writing with little really to say.
The scenarios covered the classic, such as Wintergewitter A70, to the slightly odd, such as Cutting out a Strongpoint A90, which has four boards defended with one and a half squads, two guns, four Italian Tankettes and a captured Matilda being attacked by a larger British force in the desert.
Many of the scenarios need errata, so look up the individual scenarios.

Bill Brodie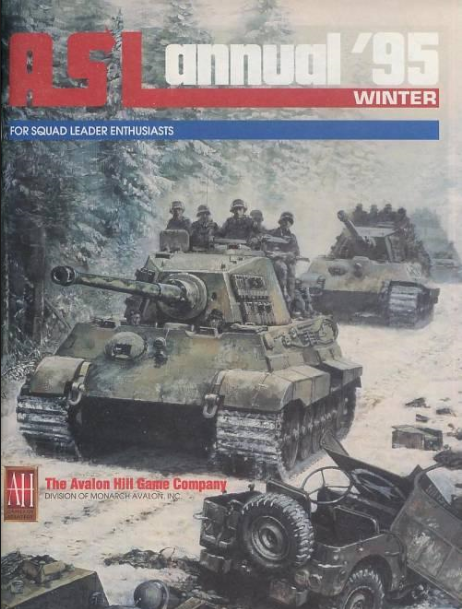 Scenarios:
Scenario
Personal
play count
Rating
Location
Theatre
Attacker
Defender
Length
Popularity*
A 68: Acts of Defiance
0
7.10
Breslau, Germany
ETO
German
Russian
7 hrs
9%
A 69: Broich Bash
0
6.67
Broich, Germany
ETO
American
German
3.7 hrs
7%
A 70: Wintergewitter
0
7.45
Verkhne-Kumsky, Russia
ETO
German
Russian
3.9 hrs
26%
A 71: Patton's Prayers
0
6.50
Warnach, Belgium
ETO
American
German
4.5 hrs
0%
A 72: Italian Brothers
0
7.25
Near Brihuega, Spain
SCW
Italian Republican
Italian Nationalist
5.2 hrs
23%
A 73: Not Out of the Woods Yet
0
6.25
Foret de Mont Castre, France
ETO
American
German
5.8 hrs
1%
A 74: Valhalla Bound
0
7.00
Central Hungary
ETO
Russian
German (SS)
10.7 hrs
2%
A 75: Medal of Honor
0
6.00
Nijmegen, The Netherlands
ETO
German (SS)
American
6.7 hrs
2%
A 76: Night Drop
0
6.50
Near Cauquigny, France
ETO
American
German
15.1 hrs
1%
A 77: Hide & Seek
0
6.00
Near Saint Come-du-Mont, France
ETO
American
German
6.8 hrs
1%
A 78: Prelude to Breakout
0
6.00
Near Saint Jean-de-daye, France
ETO
American
German
6.3 hrs
1%
A 79: Mike Red
0
5.86
Near Courseulles-sur-Mere, France
ETO
Canadian
German
6.8 hrs
3%
A 80: Commando Schenke
0
7.11
Liepaja, Latvia
ETO
German
Russian
4.3 hrs
6%
A 81: They Fired on Odessa...
0
7.00
Grigorievka, USSR
ETO
Russian
Romanian
4.5 hrs
2%
A 82: Orange at Walawbum
0
8.00
Walawbum, Burma
CBI
Japanese
American
4.6 hrs
0%
A 83: Last of Their Strength
0
6.00
Charpate, Burma
CBI
American
Japanese
3.7 hrs
1%
A 84: Endless Struggle
0
6.00
Near Turia Velyka, USSR
ETO
Partisan (UPA)
Russian
4.8 hrs
1%
A 85: Airborne Samurai
0
6.33
Near Menado (Manado), Celebes
PTO
Japanese
Dutch
5.2 hrs
2%
A 86: Fighting Sparrow
0
5.67
Northeast of Koepang, Timor, the Lessor Sundas
PTO
Australian / Dutch
Japanese
6.3 hrs
1%
A 87: The Grand Canal
0
8.20
Taierzhuang, China
CBI
Japanese
Chinese
14 hrs
2%
A 88: A Surprise Encounter
0
6.88
Near Tolvajärvi, Finland
ETO
Finnish
Russian
3.9 hrs
2%
A 89: First Day of Diadem
0
7.14
Near Castelforte, Italy
MTO
German
Free French
4.6 hrs
4%
A 90: Cutting Out a Strongpoint
0
7 miles south of Halfaya Pass, Egypt
DTO
South African
Italian / German
6.6 hrs
1%
AD 13: The Mailed Fist
0
5.00
Jandrain, Belgium
ETO
German
French
9.2 hrs
0%
* Popularity is the sum of Roar and Archive reported playings based as a percentage of the parent publication's total games.
Grey rows indicate Night scenarios.
Median length of scenarios: 5.5hrs
Average rating of scenarios: 6.6
Total playing time: 154.2hrs