Zon with the Wind WTO (id:#56276)
See Also: Zon with the Wind by Multi-Man Publishing

Designer: Jon Mishcon

Starter kit scenario?: Deluxe scenario?:
No balance information available

Overview:
Colonel Robert Sink and the 506th PIR had orders to seize the main highway bridge over the Wilhelmina Canal and then secure Eindhoven, the southernmost objective of the airborne "carpet" and only ten miles distant from the British armor waiting to surge forward from the Meuse-Escaut Canal bridgehead. With his regiment down in good order along the edge of the Zonsche Woods, Sink sent his 1st Battalion racing to grab the great bridge. There was almost no opposition . . .until the paratroopers reached the northern outskirts of the village of Zon. As they entered the village, fire erupted from a concealed heavy AA piece, one of several in place to protect the vital bridge from Allied bombers.

Attacker: American (1st Battalion, 506th Parachute Infantry Regiment)

Defender: German (Selbstaendige FlaK Batterie (att.) Flieger Division 7)
6 turns
Players:
2
OBA:
None
Night:
No
Unit Counts:
Squads: A:

11.0

D:

5.0
AFVs: A:0 D:0
Guns: A:0 D:2
| | |
| --- | --- |
| Misc Rules: | D: AA guns must set up unlimbered in trenches, may utilize HIP if in woods |
Errata (source)
Players wanting to play this game/Request a match:
Scenario info
Last Played:
| Date | Reporter | | Opponent | Result | Comments |
| --- | --- | --- | --- | --- | --- |
| 2021-02-21 | (D) Gus Ingenluyff | vs | | German win | A 30yo classic. A couple of germans in the village held up the Americans just long enough to run out of time to neutralize the guns on the back line. |
| 2020-10-21 | (A) Scott Fischbein | vs | Will Thatcher | German win | Americans made some good progress and had a bunch of units surrounding the exit by turn 4. The 88s popped up and wiped out a few squads before getting taken out themselves in advancing fire, but one of the crews was replaced by a stalwart HS and managed to take out some more exiting units. The Americans got pretty close with 6 out of 7 points exited, but couldn't rally the remaining units needed to get the job done. Enjoyed a great game with Will - an excellent opponent. |
| 2019-03-08 | (A) Simon Staniforth | vs | | American win | |
| 2018-11-30 | (D) Louis Langdeau | vs | Andrew S/James J | German win | Training game for James, who joined Andy and piloted a few squads in his first time playing ASL. He got a hell of an introduction, because my dice were on fire all night. My first three shots were critical hits with my 88s. I would conservatively put my average die roll for IFT and TH rolls somewhere around a five. Andy and James managed to make a push, but when their last stack that could conceivably get off got broken, they called it. |
| 2018-08-13 | (A) John Malaska | vs | Jeff Buser | American win | Scenario is not a historical layout. Damaged Jeff's initial entry units, then a HS went on a late rampage & broke units needed to get his VC. |
| Action | Date |
| --- | --- |
| gusi Added a playing | 2021-06-07 02:52:36 |
| hoxson1 Modified the Theatre | 2021-03-03 19:45:01 |
| Hutch Modified the overlays | 2021-02-11 01:44:20 |
| scottf2 Added a playing | 2020-10-21 00:54:41 |
| Paul Legg Added a playing | 2020-06-19 16:20:56 |
Location
Not found
Images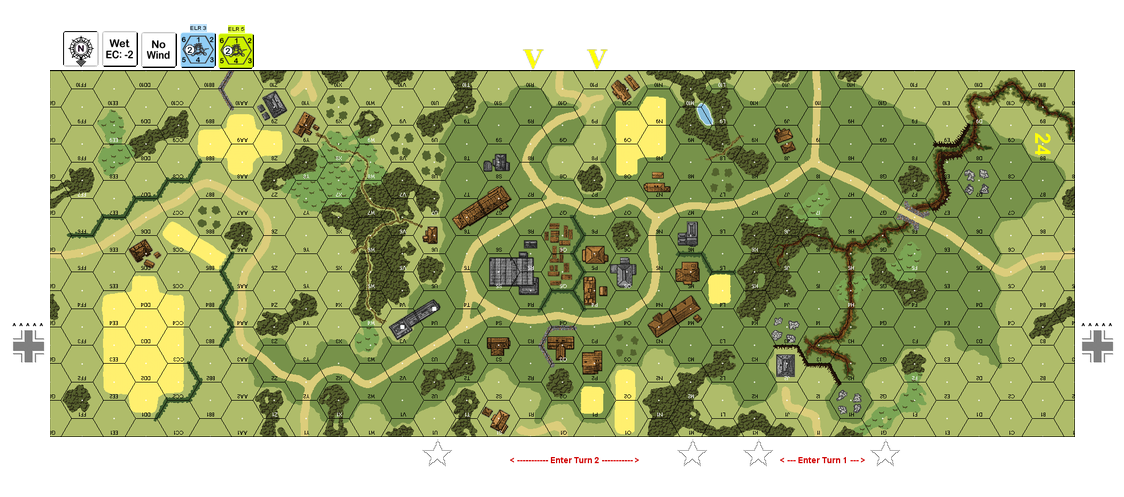 Updated VASL Map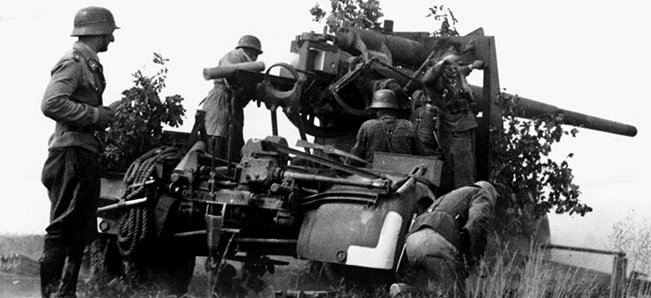 The German 88mm gun, originally designed as an antiaircraft artillery weapon, was equally effective against infantry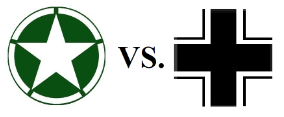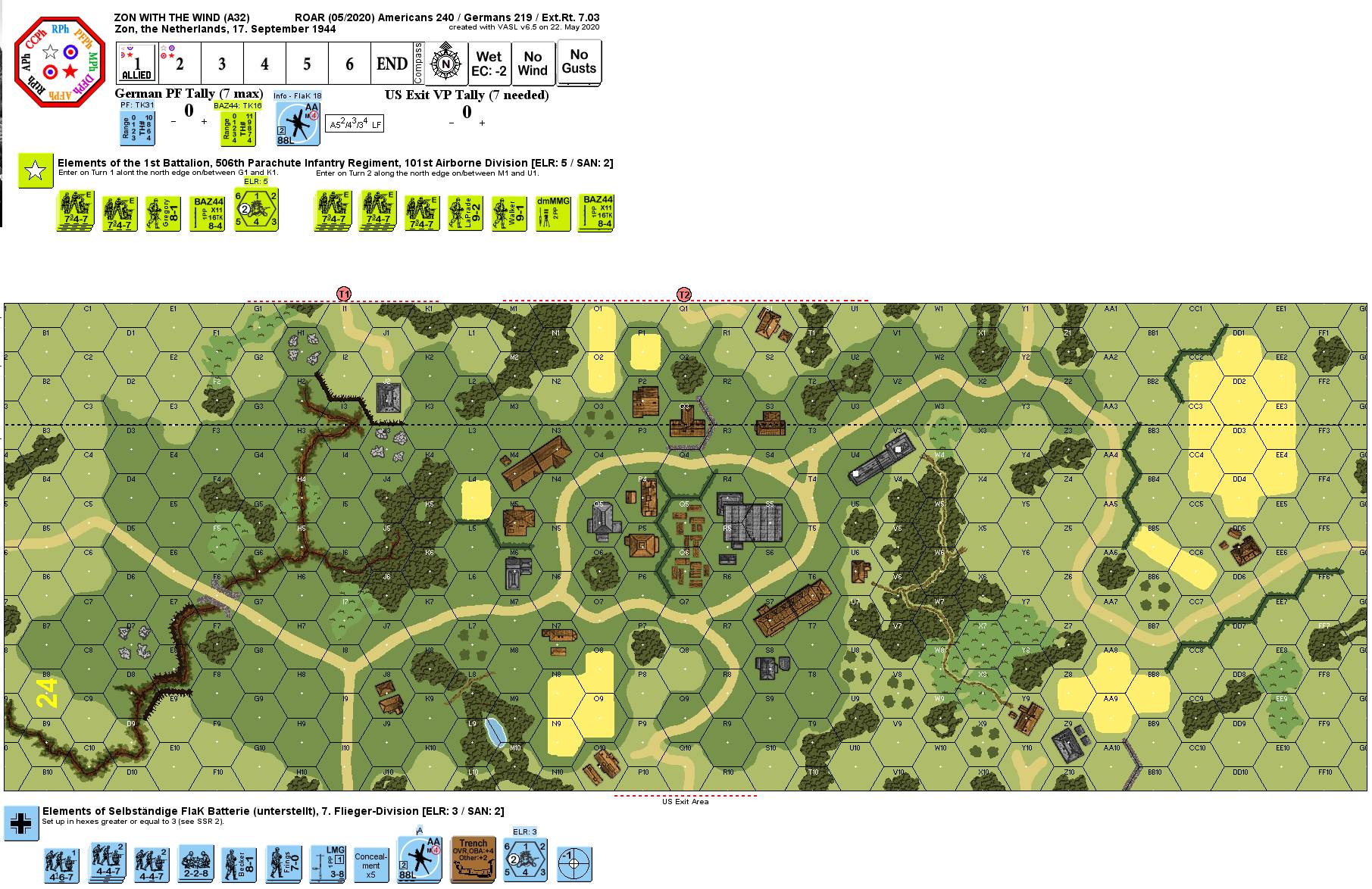 Statistics:
Avg Rating: 6.43
Votes: 67
Views:
8657
To-Play list count:
14
Estimated Play time:
2.4 hours
Recorded Games:
53

Archive recorded plays:
American
27
German
25
Drawn:
0

No Roar data found
Login to assign.