Booth Force MTO (id:#58184)
Salso Valley, Sicily
1943-08-05
(
4 others
)
Designer: George Kelln
Starter kit scenario?: Deluxe scenario?:
Balance:

Overview:
The loss of Agria, Regalbuto and Centruipe to XXX Corps had convinced the Germans to abandon their endangered defenses in front of Catania and to withdraw into the main defensive position around the foot of Etna. Montgomery urged XXX Corps to step up its efforts to capture Adrano, the loss of which would disrupt the German defense. 4 August, the 78th Division continued its push northwards across the Salso and Simeto rivers via Route 121, while the Canadians were to capture Monte Revisotto and Monte Seggio, then force their way through the valley of the Salso. Major-General Guy Simmonds saw one of the rare opportunities to properly utilize tanks.....

Attacker: Canadian (Elements Booth Force, 2nd Canadian Infantry Brigade)

Defender: German (Elements of Fallschirmjager Regiment 3)
6 turns
Players:
2
OBA:
None
Night:
No
Unit Counts:
Squads: A:

8.0

D:

11.5
AFVs: A:12

Sherman V(a)

x 8

Humber III

x 2

Otter

x 2
AFVs: D:0
Guns: A:0 D:1
| | |
| --- | --- |
| Misc Rules: | Olive Groves, Treat Grain as Vineyards. D: 4-4-7/2-2-7 Battle Harden to 5-4-8/2-3-8 |
Errata (source)
Players wanting to play this game/Request a match:
Scenario info
| Action | Date |
| --- | --- |
| hoxson1 Linked the scenario to ROAR | 2020-11-02 20:02:46 |
| Hutch Modified the Attacker's Guns | 2020-10-03 15:26:24 |
| Hutch Modified the unit counts | 2020-10-03 15:26:24 |
| hoxson1 Modified the Attacker's AFVs | 2019-03-20 20:16:57 |
| hoxson1 Modified the unit counts | 2019-03-20 20:16:57 |
Location
Images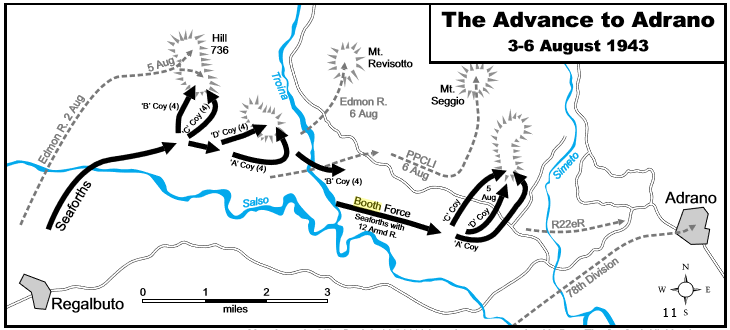 The composition of "Booth Force" : carrier-mounted recon squadron could move quickly in advance of the infantry and armor, scanning the terrain for enemy. Tanks could manoeuvre effectively in the open, undulating country of the Salso river valley.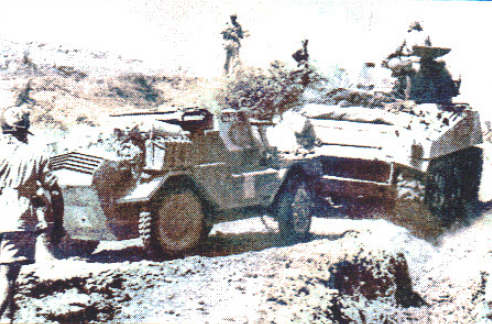 Statistics:
Avg Rating: n/a
Votes: 0
Views:
3012
To-Play list count:
0
Estimated Play time:
5.7 hours
Recorded Games:
0

Archive recorded plays:
Canadian
0
German
0
Drawn:
0

ROAR Data: (as of October 2023)
Booth Force [Confirmed]

| | |
| --- | --- |
| [A] Canadian | 1 |
| [D] German | 0 |