Millwork ETO (id:#60237)
Designer: Unknown
Starter kit scenario?: Deluxe scenario?:
No balance information available

Overview:
The key transportation hub in Mill was the prime target of the German 26th Army Corps' initial assault. The Dutch defenses, consisted of two divisions of infantry, a fortified line with pillboxes and trenches, artillery, and an anti-tank ditch. The first Germans the defenders would meet were about 800 men of the 256th Infantry, unexpected passengers of the troop-transport train that passed the border in the first hour of hostilities. When the train arrived in Mill, the Dutch were aware that they were at war. The German battalion left the troop train and quickly took up some defensive positions. They then proceeded north-eastwards with one company in order to come behind the casemate line opposite the village, but ran straight into the gun sights of a medium artillery battery.

Attacker: German (3rd Battalion, 481st Regiment, 256th Infantry Division)

Defender: Dutch (3rd Battalion)
7.5 turns
Players:
2
OBA:
None
Night:
No
Unit Counts:
Squads: A:

16.0

D:

14.0
AFVs: A:0
AFVs: D:0
Guns: A:1 D:3
| | |
| --- | --- |
| Misc Rules: | A: gun is 105 ART (unspecified) |
Errata (source)
Players wanting to play this game/Request a match:
Scenario info
| Action | Date |
| --- | --- |
| hoxson1 Modified the misc. rules | 2019-04-22 17:50:18 |
| hoxson1 Modified the overview | 2019-04-22 17:50:08 |
| hoxson1 Modified the Unit Elements | 2019-04-22 17:43:29 |
| hoxson1 Modified the misc. rules | 2019-04-22 17:42:54 |
| hoxson1 Modified the unit counts | 2019-04-22 17:37:49 |
Location
Not found
Images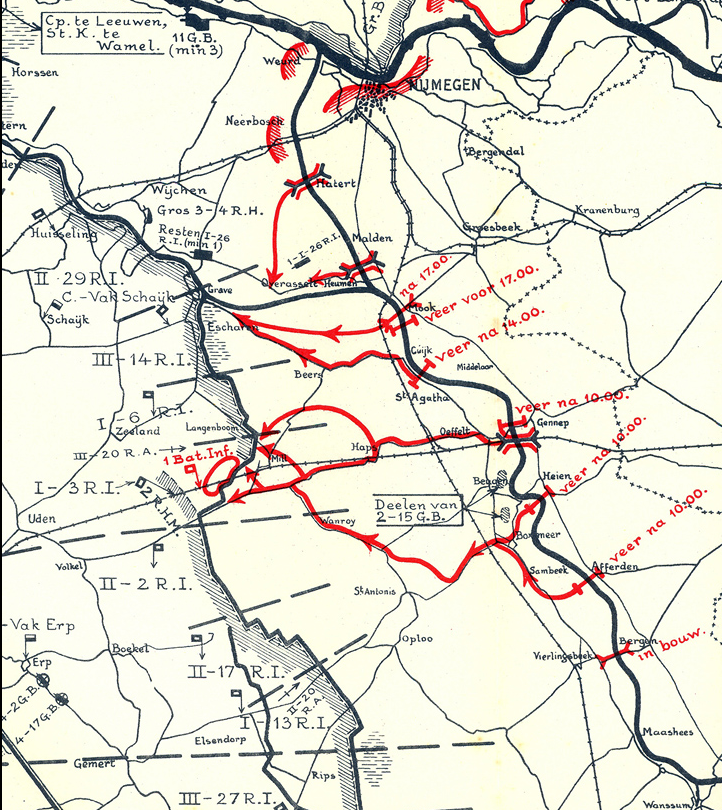 German manoeuvres [red] against the northern sector of the Maas-line and the Peel-Raamline at Mill. The indication 'veer' stands for 'ferry service point'. All positions where a red bridge is indicated, a pontoon bridge was constructed by the Germans.

Statistics:
Avg Rating: n/a
Votes: 0
Views:
2033
To-Play list count:
0
Estimated Play time:
5.8 hours
Recorded Games:
0

Archive recorded plays:
German
0
Dutch
0
Drawn:
0

ROAR Data: (as of November 2021)
Millwork [Confirmed]