Firestorm in St. Manvieu WTO (id:#60490)
See Also: Firestorm in St. Manvieu by Heat of Battle

Designer: Chas Smith

Starter kit scenario?: Deluxe scenario?:
Balance:

Overview:
The British had begun Operation Epsom with the final objective of isolating and eventually taking Caen. VIII Corps was to carry out Phase II of the operation, making the main thrust and isolating Caen. The 15 Scottish Division, under VIII Corps, objectives were to capture the villages of Cheux and St. Manvieu. The 44 Brigade was reinforced by Churchill tanks from the 9 Royal Tank Regiment, 31 Tank Brigade. The area was defended by elements of SS Panzergrenadier Regiment 26 and SS Panzer Pioneer Battalion 12.

Attacker: British (Reinforced Elements of 44th Lowland Brigade, 15th Scottish Division)

Defender: German (SS) (Elements of Battalion 1, SS Panzergrenadier Regiment 26 and SS Panzer Pioneer Battalion 12, SS Panzer Division 12)
7.5 turns
Players:
2
OBA:
Both
Night:
No
Unit Counts:
Squads: A:

20.0

D:

13.0
AFVs: A:7

Churchill Crocodile

x 3

Churchill IV

Churchill V

Churchill VII

x 2
AFVs: D:1
Guns: A:0 D:1
| | |
| --- | --- |
| Misc Rules: | A: Creeping Barrage, FTV3 w D: FTV1 |
Errata (source)
Players wanting to play this game/Request a match:
Scenario info
Last Played:
Date
Reporter
Opponent
Bal.
Result
Comments
2017-12-16
(A) Dan Best
vs
Kermit Mullins
British win
2017-05-31
(D) Chuck Dye
vs
Kevin Killeen
German (SS) win
Kevin gave me the balance in this one and it was just enough with me holding five buildings after the final CCs.
2014-04-01
(D) nathan wegener
vs
Peter W
German (SS) win
My FFE came down in a cluster of Churchies and knocked out 2 Crocs and a Mk VII. The other MK VII pulled up next to a building to have itself dispatched via Faust. This was a +4 PMC for my opponent who promptly disrupted and surrendered....
2013-12-07
(D) Paolo Cariolato
vs
sgt essig
German (SS) win
2012-08-02
(D) Fred Ingram
vs
Jeff Coleman
British win
This scenario features a creeping barrage (which was a first for both Jeff & I). There is no way in the German setup to avoid the barrage (unless the British do something really foolish) - so I set up in the stone buildings and hoped for the best. 3 locations were fortified, but I managed to forget that when the Barrage hit. Turn 1 the barrage lands as expected on my front hex row of people. Miraculously, no one was affected. Turn 2, it is adjusted 2 hex rows and gets resolved against another row of units in stone buildings. This time I was not so lucky (although my 10-2 led stack held strong). Turn 3 found the British now up to my front lines, with the barrage having passed a few hex rows behind me. Still a problem though, as breaking units had very little area in which to route. Not only that, the 3 crocodiles are making their way into the heart of the defense. On turn 4, I bring on some reinforcements and they hunker down in some stone buildings in the backfield, expecting the barrage to keep coming. Units on the other side of the barrage are breaking and dying due to the onslaught. Turn 5 the barrage lifts (luckily for me), so the remaining reinforcements can come on and take up final positions. Did not matter, the Crocs just keep moving forward unleashing their fury (even the heavy rain that resulted does not hamper their effectiveness). Turn 6 results in a German concession, as it is apparent there is no way to hold on to the 6 buildings required for a win.

Interesting. On turn 2 I was really positive. It was taking Jeff a long time to work through the bocage to get into the town. He mentioned reading an AAR where it said this scenario is known for having both sides thinking they are losing. He thought that up till turn 3, and then I thought that after. neither of us could figure out what to do with the OBA. Even withan off board observer at level 4, I could barely see any place to put artillery requests with the congested mix of buildings, in season orchards, and bocage generating almost a blanket of blind hexes. Still, was a very enjoyable game and somewhat of a challenge for the Germans.

| Action | Date |
| --- | --- |
| hoxson1 Modified the Theatre | 2021-02-24 19:30:55 |
| hoxson1 Modified the misc. rules | 2020-11-05 19:33:17 |
| hoxson1 Uploaded the Board image | 2020-11-05 19:32:18 |
| hoxson1 Uploaded an Image | 2020-02-28 00:35:04 |
| hoxson1 Uploaded the Board image | 2020-02-28 00:34:42 |
Location
Not found
Images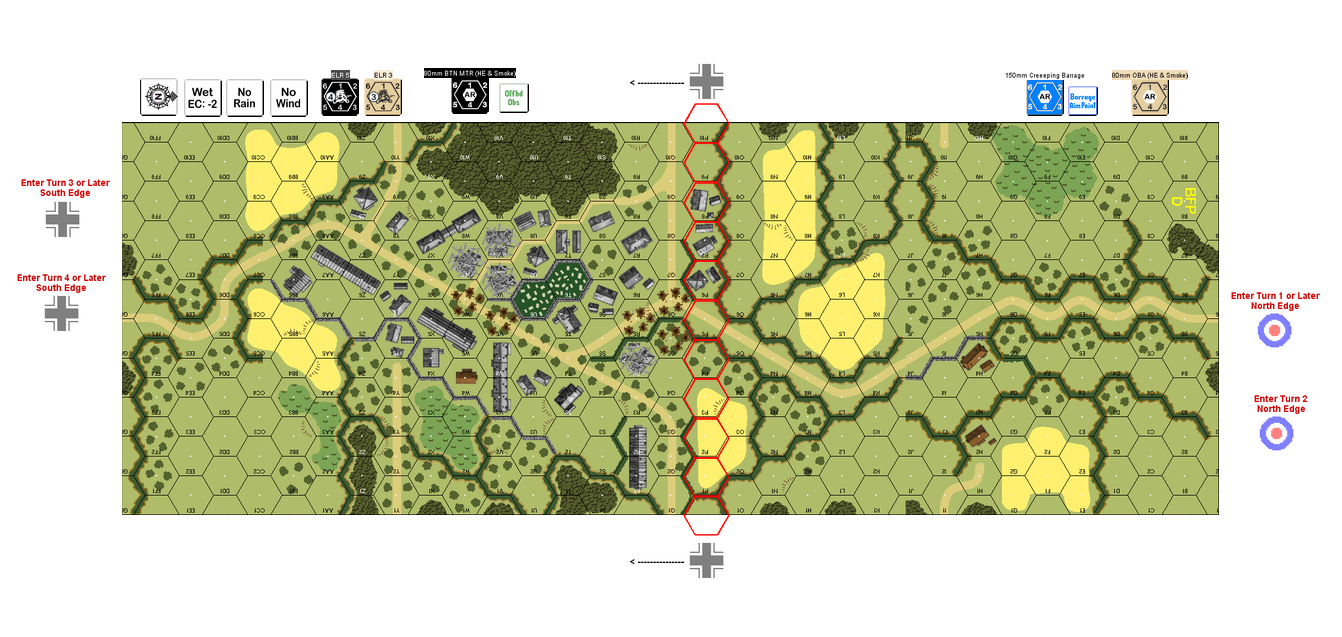 Updated VASL Map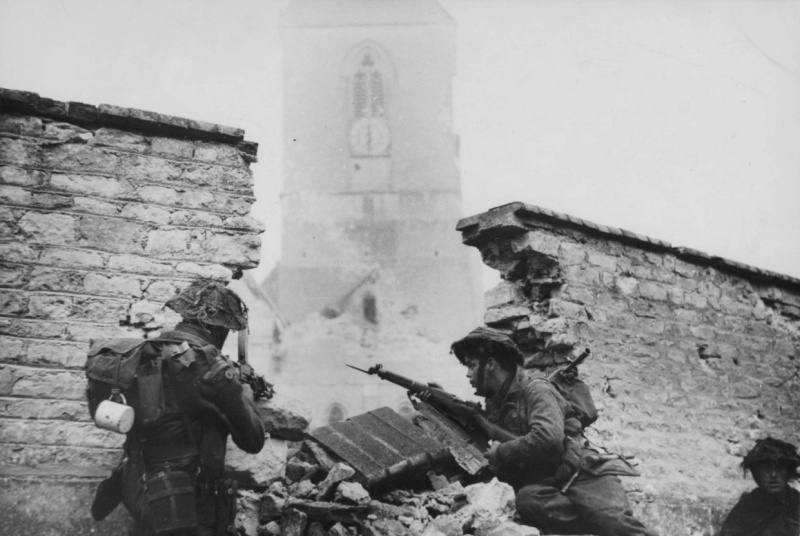 Soldiers of the 6th Battalion Scots Fusiliers during the battle in the French town of Saint-Manvieux.

Statistics:
Avg Rating: 7.50
Votes: 10
Views:
2502
To-Play list count:
1
Estimated Play time:
9.3 hours
Recorded Games:
6

Archive recorded plays:
British
3
German (SS)
3
Drawn:
0

No Roar data found
Login to assign.