Gunlayer Halm DTO (id:#60906)
El Alamein, Egypt
1942-07-22
(
1 other
)
Designer: Unknown
Starter kit scenario?: Deluxe scenario?:
Balance:

Overview:
During the defensive fighting of 10 July, a new German formation appeared on the scene -- the 164th Light Division. Its 382nd Grenadier Regiment was flung into the fray direct from their point of embarkation. As part of Kampfgruppe Hecker, gun-layer Günter Halm and his unit were responsible for halting a British break-through around the northern flank of the Panzer Armee. On the edge of a three-hundred-yard long wadi waited Halm and an anti-tank column of the 10th Panzer Grenadier regiment, armed with Russian 7.2 cm guns. As the smoke from British artillery lifted, a shout was heard, "they're coming!"

Attacker: British (Elements 46th RTR, 23rd Armoured Brigade)

Defender: German (Elements 104th Panzer Grenadier Regt & 21st Panzer Division)
6.5 turns
Players:
2
OBA:
None
Night:
No
Unit Counts:
Squads: A:

0.0

D:

0.0
AFVs: A:6 D:2
Guns: A:0 D:2
| | |
| --- | --- |
| Misc Rules: | D: One German crew begins Fanatic |
Errata (source)
Players wanting to play this game/Request a match:
Scenario info
Last Played:
Date
Reporter
Opponent
Result
Comments
2011-09-02
(D) Paolo Cariolato
vs
marcolungo
German win
Crazy game.
I thought my game was over when one of my crew broke and the other gun malfuncitoned (at the point I destroyed one Valentine and another was imobilized. After that my broken crew was taken prisoner by the crew of the destroyed Valentine while the crew with the malf gun was able to take the functioning 76L.
After that the now manned 76L took over an overrunnig Valentine while the 7-0 closed in CC with the crew holding prisoners.
in the third turn my tanks came in, thought the game was over since my opponent choose to engage my PzIVF2 at 20+ hexes (TK: 3 and TK: 2) unfortunately for me he succeed in schoking the tank, game over I thought again while my PzIII went hull down in a wadi. My prisoners eliminated their captors and prepared to man their 76L again, a glimpse of hope immediately crusched by an ovverrunning Valentine. The PzIII was taken out by a CH that proptly activated a SNIPER, of all the juicy CE Valentine the sniper choose a survived crew :-(.
Luckyly my PzIVF2 passed the shock and proptly prepared to create havoc in the british ranks and it did claiming two more Valentine.
In the end the CVP count difference was 7 for the German barely enough for a win.
All this action took place in under 2 hours.
Great thing the DTO.

| Action | Date |
| --- | --- |
| hoxson1 Updated the Victory Conditions | 2020-04-06 18:27:36 |
| hoxson1 Uploaded the Board image | 2020-04-06 18:27:01 |
| hoxson1 Modified the overview | 2020-03-08 21:13:07 |
| hoxson1 Modified the overview | 2019-07-31 16:50:58 |
| hoxson1 Modified the misc. rules | 2019-07-31 16:47:35 |
Location
Images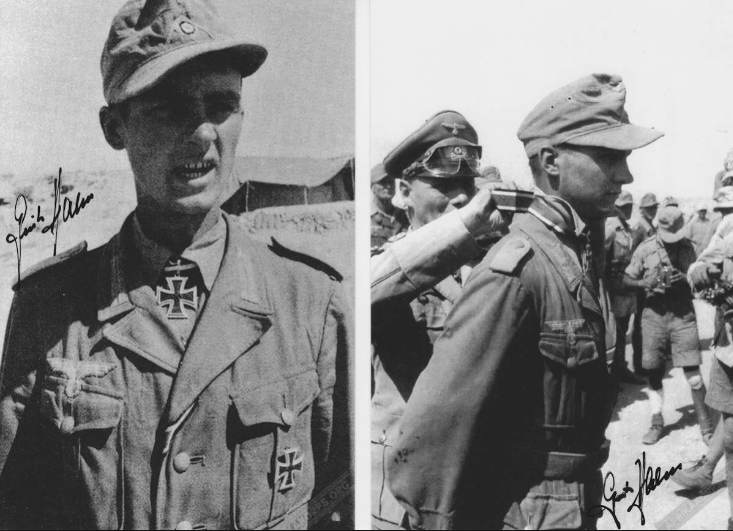 Günter Halm - awarded the Knight's Cross. He, despite the fact that his PAK 36 gun had taken a direct hit which had wounded two of the crew, successfully destroyed 15 British tanks at Ruweisat Ridge.

Statistics:
Avg Rating: 6.00
Votes: 1
Views:
1245
To-Play list count:
0
Estimated Play time:
2.3 hours
Recorded Games:
1

Archive recorded plays:
British
0
German
1
Drawn:
0

ROAR Data: (as of November 2021)
Cunlayer Halm [Confirmed]

| | |
| --- | --- |
| [A] German | 1 |
| [D] British | 0 |