Retaking Vierville WTO (id:#56657)
See Also: Retaking Vierville by Coastal Fortress

Designer: John D. Johnson

Starter kit scenario?: Deluxe scenario?:
Balance:
Overview:
Vierville, which lay a few miles inland from Utah Beach, had been liberated on D-Day. On the morning of June 7, elements of the 2nd Battalion, 506th PIR moved out from Vierville towards St. Come du Mont, leaving Vierville virtually unoccupied. The Germans took this opportunity to launch a series of counterattacks on Vierville in hopes of cutting the road to St. Come du Mont. -- This is a great ASL introductory scenario. It involves using Infantry and Leaders counters, no support weaons and no SSRs.

Attacker: German (1058th Grenadier Regiment/919th Grenadier Regiment/6th Fallschirmjäger Regiment)

Defender: American (1st Batt. 506th PIR, 101st Airborne)
5 turns
Players:
2
OBA:
None
Night:
No
Unit Counts:
Squads: A:

12.0

D:

11.5
AFVs: A:0
AFVs: D:0
Guns: A:0 D:0
Errata (source)
Players wanting to play this game/Request a match:
Scenario info
Last Played:
Date
Reporter
Opponent
Result
Comments
2022-09-22
(A) Camille Garek
vs
Guillaume
American win
2022-08-11
(D) Jack Wilson
vs
Bob T.
American win
I've played this scenario a few times solo in the early days of learning the SK infantry rules. Still a classic training scenario, IMO. However, this was my first time playing this scenario vs. a live opponent. It was also my first play on VASL. Bob was acting as my VASL mentor; hence the emphasis was mostly on the VASL mechanics, with game tactics taking a back seat.

As the records on this site and ROAR both demonstrate, this scenario is tilted in the American's favor. Not only are the Germans on the short end of the fire power spectrum, but the VC conditions also favor the Americans who only have to make sure that four VC buildings have no GO German units by game's end. This can be achieved by simply ending the game in Melee in any of the contested hexes.

The key to the German player's chances of winning is for him to use 2 or 3 of his arriving first turn squads to contest the route the American reinforcements have to take to get into the disputed village. This can be accomplished by occupying one or more of several buildings on turn one, including: P1, Q8, R7, U3, or U6. At the very least, P1 and R7 should be occupied to set up an interlocking field of fire across open ground the American reinforcements will be forced to navigate while the rest of the German forces attempt to overwhelm the 3.5 SE defending the village.

As it turned out, Bob opted to send everything directly into the village which gave the American reinforcements a nearly unobstructed path into the town; a decision he admitted as a mistake as early as turn two. Still, the battle for the village went back and forth and came down to a last turn CC.

Despite being stripped down to only squads and leaders, with simple terrain, in a small area, this is still a fast playing and fun playing classic.


2022-08-01
(D) paul maullin
vs
prester John
German win
First game after returning to ASL via starter kit. Very rusty, but good to start refreshing memory.
2022-06-19
(D) Martí Cabré
vs
Pere Cabré
American win
First play with Pere, he grabbed everything quite well and did some good moves, he managed to take a building hex but Americans won by closing in and ending the game in Melee.
2022-06-18
(A) Alvaro Radigales
vs
Phineas
American win
Some very lucky rolls for the Yanks, including snake eyes twice on the IFT and twice again on rally checks. A last-ditch attempt by the Germans to enter one of the victory locations was thwarted by an unlikely fail of a pin task check. Fun game still, with quite a bit of close combat and plenty of emerging narrative.
| Action | Date |
| --- | --- |
| Lorenzoknight Added a playing | 2022-11-25 19:46:41 |
| Lorenzoknight Rated the scenario | 2022-11-25 19:46:07 |
| jalpeyrie Rated the scenario | 2022-11-07 12:11:38 |
| Bongiovanni Added a playing | 2022-10-10 11:53:28 |
| GOUREAU Added a playing | 2022-09-22 20:23:56 |
Location
Images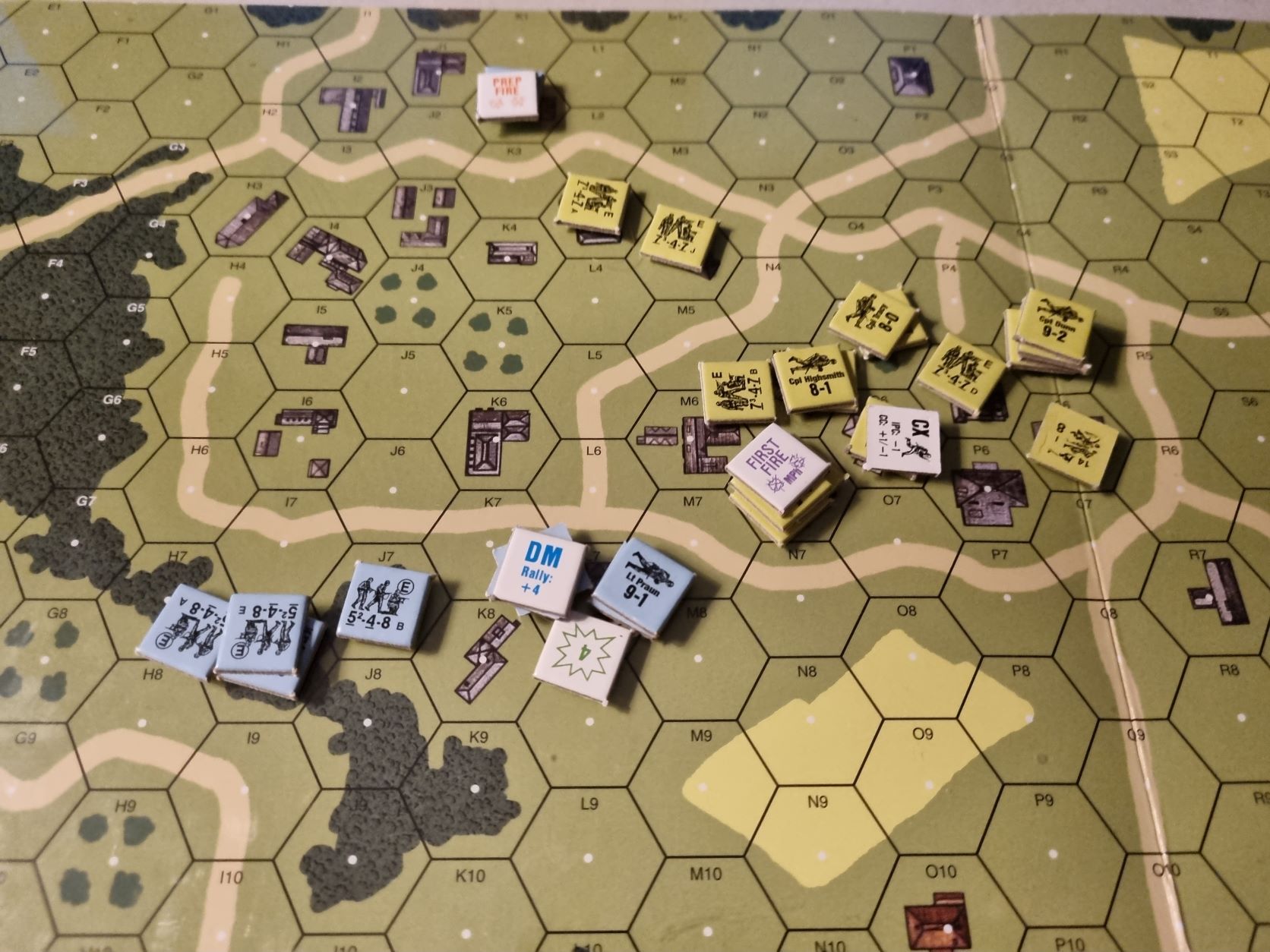 End result situation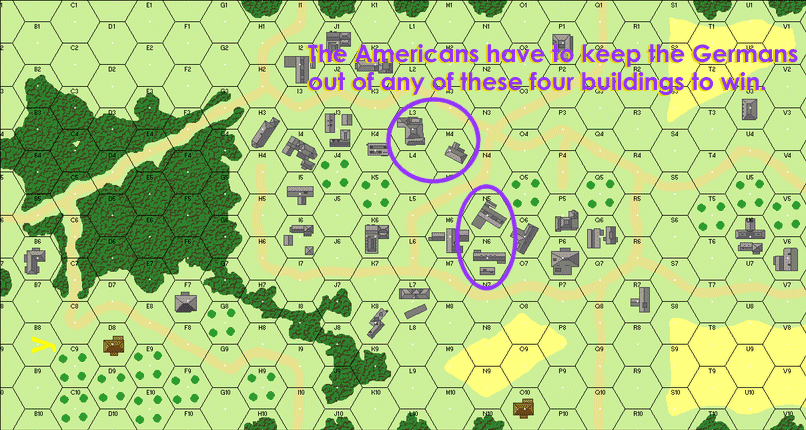 VASL Set-Up with Victory Buildings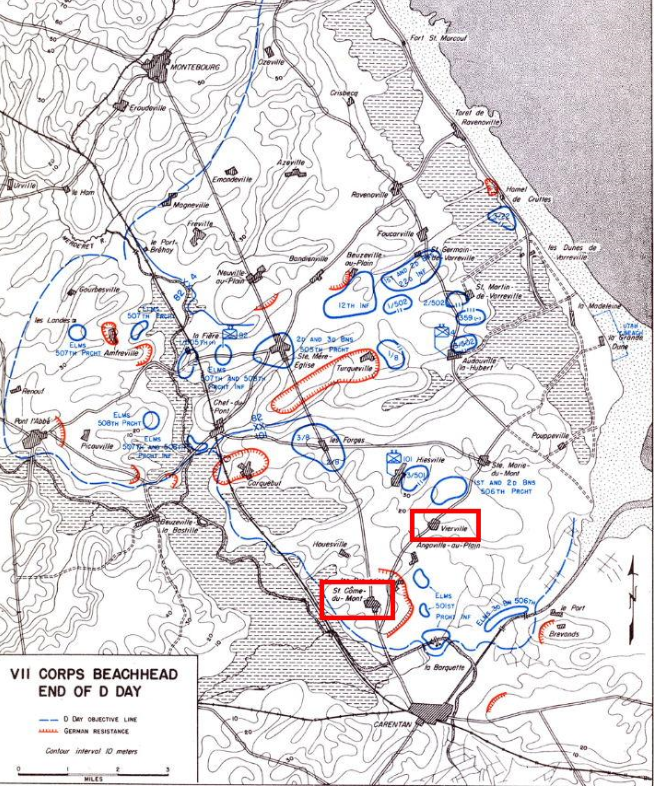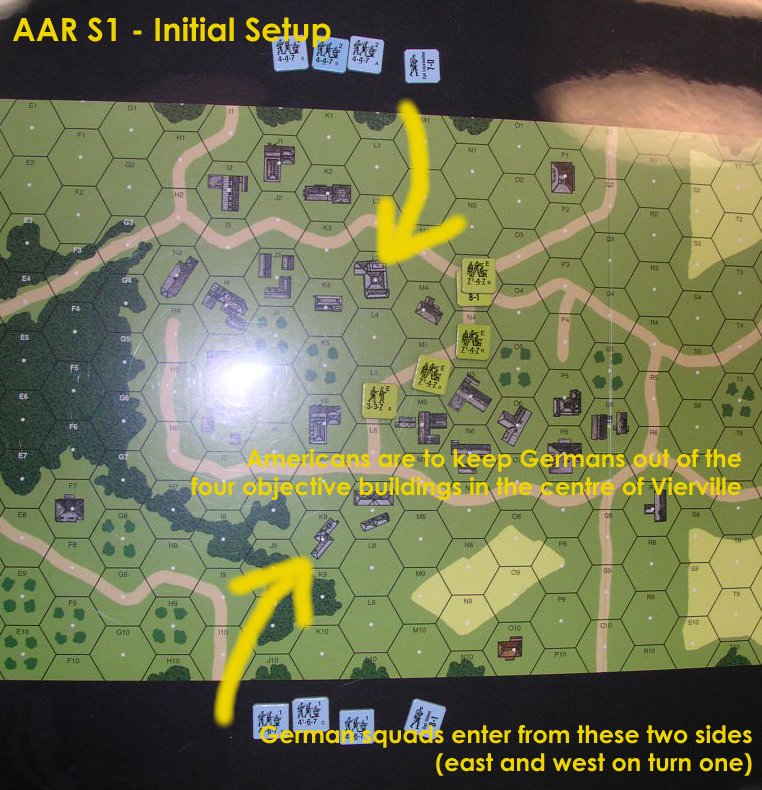 Initial Set-Up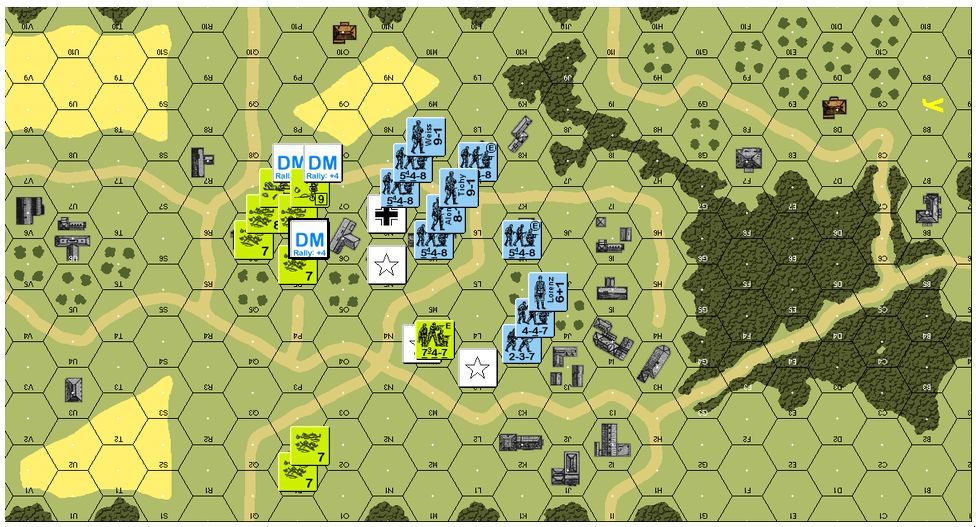 Game end situatinon recreated in VASL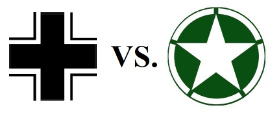 Statistics:
Avg Rating: 6.55
Votes: 372
Views:
35925
To-Play list count:
25
Estimated Play time:
2.7 hours
Recorded Games:
261

Archive recorded plays:
German
110
American
143
Drawn:
5

ROAR Data: (as of November 2021)
Retaking Vierville [Confirmed]

| | |
| --- | --- |
| [A] American | 227 |
| [D] German | 166 |