An Italian Civil War SCW (id:#61295)
Ibarra Palace, Brihuega, Spain
1937-03-12
(
1 other
)
Designer: Mike Faulkner
Starter kit scenario?: Deluxe scenario?:
Balance:

Overview:
The Garibaldi Battalion and the Black Arrows Division encountered one another on the Toija-Brihuega road. The ebb and flow of the battle had centered around a country estate known as Ibarra Palace. On the 12th, the Garibaldi Battalion of the XII International Brigade made a final counter-attack to take Ibarra Palace from the Black Arrows.

Attacker: Republican (Garibaldi Battalion, XII International Brigade & International Tank Battalion)

Defender: Nationalist (Black Arrows Division & Littorio Division)
5.5 turns
Players:
2
OBA:
None
Night:
No
Unit Counts:
Squads: A:

14.0

D:

13.5
AFVs: A:1 D:2
Guns: A:0 D:1

Cannone da 75/27

Mortaio da 45 "Brixia"
| | |
| --- | --- |
| Misc Rules: | All buildings are ground level only. All AFVs are radio equipped. |
Errata (source)
Players wanting to play this game/Request a match:
Scenario info
Last Played:
| Date | Reporter | | Opponent | Result | Comments |
| --- | --- | --- | --- | --- | --- |
| 2017-05-08 | (A) Dave Mareske | vs | Mark Fischer | Nationalist win | |
| 2014-01-17 | (D) Michael Focht | vs | Mika Harviala | Nationalist win | |
| 2013-10-11 | (A) Michael Rodgers | vs | Nathan Wegener | Nationalist win | |
| 2013-10-10 | (D) nathan wegener | vs | Michael R | Nationalist win | Opponent AFV immob on a start roll in first turn. My MGs were nearly useless so he pushed steadily up my left flank. However my squads kept slowly falling back until he was out of time. ASLOK13 |
| 2013-03-02 | (D) Jonathan Davis | vs | Voss Graham | Nationalist win | Played using SK rules. Came down to the last CC. Very exciting. |
| Action | Date |
| --- | --- |
| wwillow Added a playing | 2020-07-06 18:54:50 |
| hoxson1 Modified the overlays | 2020-01-12 21:39:30 |
| hoxson1 Modified the misc. rules | 2020-01-12 21:39:18 |
| hoxson1 Uploaded the Board image | 2020-01-12 21:38:11 |
| dmareske Added a playing | 2017-05-08 12:37:26 |
Location
Not found
Images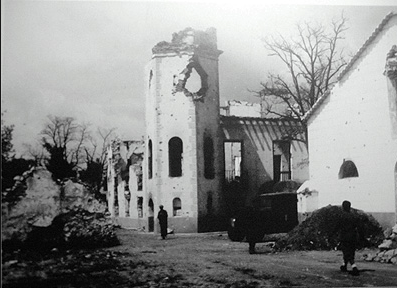 Ibarra Palace showing battle damage

Statistics:
Avg Rating: 6.14
Votes: 7
Views:
1812
To-Play list count:
0
Estimated Play time:
4.2 hours
Recorded Games:
6

Archive recorded plays:
Republican
0
Nationalist
6
Drawn:
0

ROAR Data: (as of January 2022)
An Italian Civil War [Confirmed]

| | |
| --- | --- |
| [A] Republican (Rus) | 4 |
| [D] Nat(Ital) | 11 |