A Few Rare Men ETO (id:#61386)
Prior Publication: Critical Hit # 6.2
See Also: A Few Rare Men by Critical Hit

Designer: Phil Nobo

Starter kit scenario?: Deluxe scenario?:
Balance:

Overview:
The Dyle Plan placed the French 43rd Infantry Division in the Maubeuge sector. On May 17, 1940, the unit was routed by the 5th Panzer Division and withdrew to Bavay. Part of the division, the 158e RI and 12e RA fell back to the north of Maubeuge, behind enemy lines and isolated. Their only hope was to reach Valencienne, breaking the encirclement. Of the two surrounded battalion of the 158e, only the III/158e and the 3rd Company of the 10e BP were able to extract themselves, reaching Thulin on May 23rd. Spirits were still high in the unit, but supplies were low. The French soldiers arrived in the village on foot, hoping to find supplies and ammunition to replenish their depleted stocks. Upon arriving on the outskirts, the ranking officer, Colonel Pucinelli, ordered his men to seize the village.

Attacker: German (Elements Battalion, Infanterie Regiment 469, 269 Infanterie Division)

Defender: French (158eme Regiment d'Infanterie and 10eme Batallion de Chasseurs, 43eme Division d'Infanterie)
6 turns
Players:
2
OBA:
German
Night:
No
Unit Counts:
Squads: A:

9.0

D:

7.5
AFVs: A:0 D:0
Guns: A:1

3.7cm PaK 35/36

5cm leGrW 36

D:2

Canon AC de 25 SA-L mle 34

Mortier de 60 mle 35
| | |
| --- | --- |
| Misc Rules: | A: Tr1 w D: AS. No Quarter is NA (ie: surrender may not be refused) |
Errata (source)
Players wanting to play this game/Request a match:
Scenario info
| Action | Date |
| --- | --- |
| hoxson1 Linked the scenario to ROAR | 2021-11-11 17:46:24 |
| Hutch Modified the unit counts | 2020-11-29 12:07:35 |
| Hutch Modified the Defender's Guns | 2020-11-29 12:07:35 |
| Hutch Modified the Attacker's Guns | 2020-11-29 12:07:35 |
| Hutch Modified the Unit Elements | 2020-11-29 12:05:49 |
Quick Map View
No Map available yet! Please create one, or upload a map image file...
Location
Images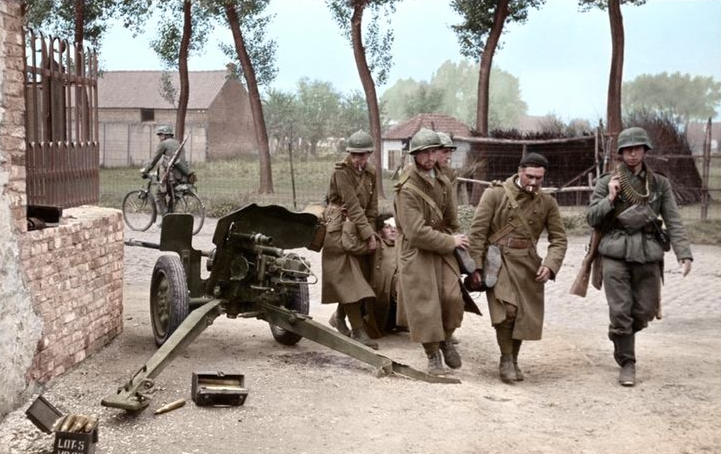 Captured French soldiers of the 158eme Regiment d'Infanterie (43eme Division d'Infanterie) carry a wounded comrade past a damaged French 25mm Hotchkiss (SAL Mle 34) anti tank gun which was positioned at crossroads in the Belgium village of Thulin.
Statistics:
Avg Rating: n/a
Votes: 0
Views:
2016
To-Play list count:
0
Estimated Play time:
3.1 hours
Recorded Games:
0

Archive recorded plays:
German
0
French
0
Drawn:
0

ROAR Data: (as of November 2021)
A Few Rare Men [Confirmed]