Le Morte Homme WW1 (id:#63343)
Near Cumières, France
1916-03-06
(
0 others
)
Designer: Tim Taylor
Starter kit scenario?: Deluxe scenario?:
Balance:

Overview:
The German attack on the Verdun defenses seemed to gorw fiercer every day. After "unprecedented" gun fire, they made a desperate effort to increase the advantage gained when they drove the French back over the Bethincourt-Cumières road. On the left flank of the Meuse, firece fighting occurred between Mort Homme and the Meuse. The Germans, after a bombardment of unprecedented violence which lasted for two days, launched repeated concentric attacks against the French trenches to the east of Mort Homme and about the village of Cumières.

Attacker: German (Elements of the 7th Brigade)

Defender: French (Elements of the 67th Division)
4 turns
Players:
2
OBA:
None
Night:
No
Unit Counts:
Squads: A:

12.0

D:

2.5
AFVs: A:0
AFVs: D:0
Guns: A:0 D:1
| | |
| --- | --- |
| Misc Rules: | SL Ov1. No smoke, VC is clear French from trenches. D: 75mm ART unidentified |
Errata (source)
Players wanting to play this game/Request a match:
Scenario info
Last Played:
Date
Reporter
Opponent
Result
Comments
2022-07-27
(A) Jobbo Fett
vs
JobboFett
German win
Played it solo, with ASL rules. It is an interesting scenario that, thanks to the map, offers ways of approaching the hilltop without needing to have smoke or OBA for the approach. The lack of those supporting devices doesn't mean the Germans have it easy, however, and the scenario felt like it struck a nice balance between the defensive forces in a good, high-ground positions, and the amount of forces the Germans will need to get to the heights and subsequently take them. Maybe drop a squad from the German roster?

For my game, the Germans were devastated early with multiple leaders being wounded and squads breaking. Sustained momentum on the western flank got my on the hill, only for my precious 10-2 to die from the pistol shots of an enraged French Hero. French Turn 3 and German Turn 4 were the turning point and death blow for the defenders, as the 3's and 4's of the earlier turns did not manifest themselves and the Germans were able to throw themselves into CC at the final hex as a 16G to 7F fp combat, with the Germans as the clear victors.

Fun to play, not long, probably a good/great solo scenario.
| Action | Date |
| --- | --- |
| Jobbo_Fett Added a playing | 2022-07-27 03:08:09 |
| hoxson1 Modified the overlays | 2020-02-13 19:18:55 |
| hoxson1 Modified the misc. rules | 2020-02-13 19:18:47 |
| hoxson1 Modified the overlays | 2020-02-13 19:18:34 |
| hoxson1 Set the designer field | 2019-11-12 18:46:32 |
Location
Images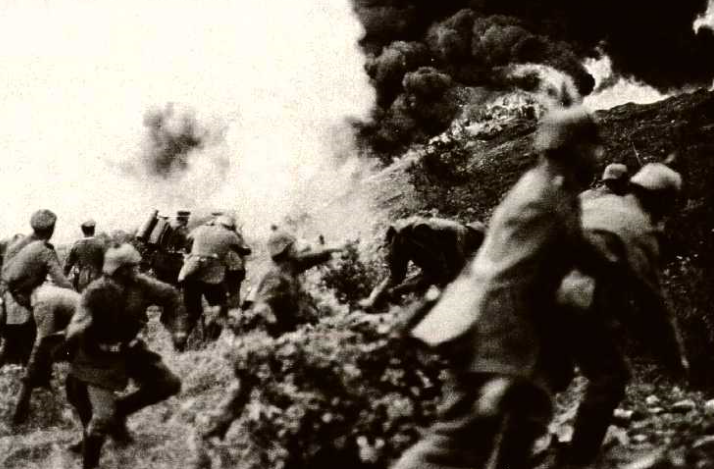 The intense battle for the high ground around the village of Cumières-le-Mort-Homme.
Statistics:
Avg Rating: 8.00
Votes: 1
Views:
1646
To-Play list count:
0
Estimated Play time:
1.7 hours
Recorded Games:
1

Archive recorded plays:
German
1
French
0
Drawn:
0

ROAR Data: (as of November 2021)
?119
[Log in to Confirm or Edit]

| | |
| --- | --- |
| [A] Japanese | 1 |
| [D] American | 1 |