The Last Fire Mission ETO (id:#64900)
See Also: The Last Fire Mission by Critical Hit

Wannsee, Berlin, Germany

1945-04-24

(

7 others

)

Designer: Mark Porterfield

Starter kit scenario?: Deluxe scenario?:
No balance information available

Overview:
As the German army fell back into Berlin it began to disintegrate into a fleeing mob. Troops abandoned their units and attempted to flee to safety in the west. The landsers of the 20th Artillery Regiment were stunned as they received new orders: halt immediately and set up new firing positions. Down to a few rounds per gun, and lacking a clear idea of where the front lines began and ended, the remaining four guns were deployed in an abandoned soccer field. After completing a fire mission at a range of less than one kilometer, the clank of enemy tanks was heard. The crews depressed the barrels of their guns and loaded their last precious rounds in a final attempt to stop the onrushing Red Army.

Attacker: Russian (10th Guards Tank Corps)

Defender: German (Remnants 20th Artillery Regt, 20th Panzer Grenadier Division)
7 turns
Players:
2
OBA:
None
Night:
No
Unit Counts:
Squads: A:

9.0

D:

7.5
AFVs: A:3
AFVs: D:0
Guns: A:2 D:4
| | |
| --- | --- |
| Misc Rules: | Treat Orchards as Shellholes and Woods as Stone Rubble |
Errata (source)
Players wanting to play this game/Request a match:
Scenario info
| Action | Date |
| --- | --- |
| hoxson1 Uploaded an Image | 2020-02-10 12:58:20 |
| hoxson1 Modified the misc. rules | 2020-02-10 12:57:41 |
| hoxson1 Modified the overlays | 2020-02-10 12:57:08 |
| hoxson1 Set the designer field | 2020-02-10 12:56:49 |
| hoxson1 Modified the unit counts | 2020-02-10 12:56:38 |
Location
Images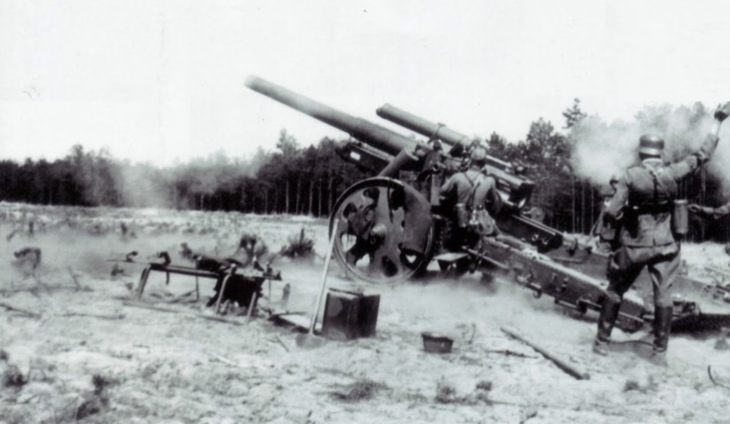 15 cm schwere Feldhaubitze 18. Shell weight was 96 lbs!

Statistics:
Avg Rating: n/a
Votes: 0
Views:
0
To-Play list count:
0
Estimated Play time:
4.3 hours
Recorded Games:
0

Archive recorded plays:
Russian
0
German
0
Drawn:
0

ROAR Data: (as of November 2021)
?119
[Log in to Confirm or Edit]

| | |
| --- | --- |
| [A] Japanese | 1 |
| [D] American | 1 |