Afrikakorps - AK010 Along the Via Balbia
(Log in to add this module to your collection
or to see your play details)
Introduction:
ASLComp AFRIKAKORPS: Along the Via Balbia is a detailed new ASLComp VARIANT that tells the story of the War in North Africa. It's about time the desert warfare goodness that was spawned by Hal Hock's seminal work TOBRUK back in 1975... was brought to the gaming tables of ASLers. And now it is, in a big way.

The tenth portion of the set-piece is ASLComp AFRIKAKORPS: Along the Via Balbia is a mixed date set of scenarios meant to depict the back-and-forth of the campaign with actions ranging from Fort Pilastrino to Fuka, with some additional Bir Hacheim and Bedja Pass in between. This set of 8 scenarios brings fort and village overlays into play, providing some interesting positional warfare to your wide-open desert gaming.

A set of 8 scenarios, all depicting actions from the exciting offensive, rife with combined-arms actions. And yes, these are aimed at playability. Slap them down, bang them out, do it again. And again. Please do a little hooting and hollering while you're at it... at least when you roll 'snakeyes' (or the other guy rolls 'boxcars').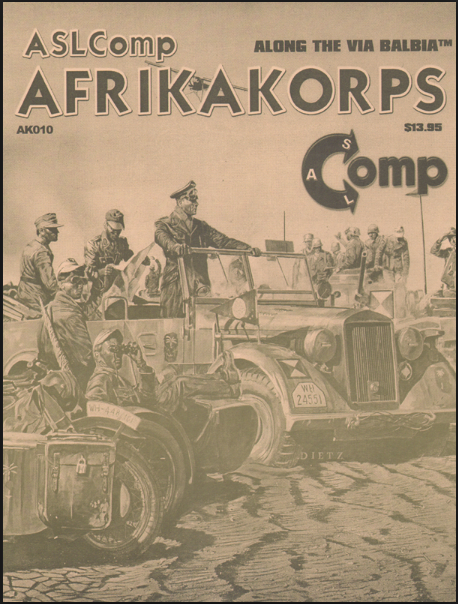 Articles and Resources:
No articles entered for this publication.
Add one
?
Scenarios:
* Popularity is the sum of Roar and Archive reported playings based as a percentage of the parent publication's total games.
(Dark) grey rows indicate Night scenarios.
Median length of scenarios: 6.1hrs
Average rating of scenarios: 5
Total playing time: 49.7hrs