ASL Journal #10
(Log in to add this module to your collection
or to see your play details)
Introduction:
ASL Journal 10 features six brand-new articles, the latest Q&A/errata, sixteen ASL scenarios printed on cardstock, and two cardstock player aids.

ASL Journal 10's new format features separate, cardstock scenarios, rather than the traditional method of binding the scenarios in with the rest of the pages, with the magazine itself now printed on the same 80-pound gloss paper used for MMP's Special Ops magazine. As such, players will no longer have to photocopy the scenarios or remove them from the magazine prior to playing, and the new glossy paper for the 48-page magazine proper will significantly improve the brightness and clarity of articles therein. Using scenario card inserts also makes it easier to include other inserts, such as the player aids also provided in ASL Journal 10.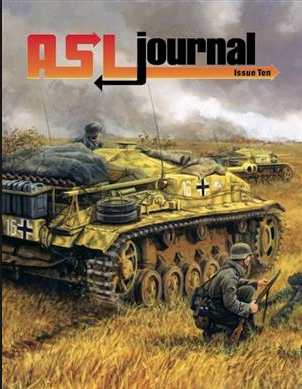 Scenarios:
Scenario
Personal
play count
Rating
Location
Theatre
Attacker
Defender
Length
Popularity*
FB18: Red Banner Days
0
6.25
Buda, Hungary
ETO
Russian
Axis
9.9 hrs
1%
J147: Into the Grinding Mill
0
5.50
Luodian, China
CBI
Japanese
Chinese
8.5 hrs
0%
J148: Last Minute War
0
6.47
Nižná Rybnica, Slovakia
ETO
Slovakian
Hungarian
5.7 hrs
5%
J149: Taking a Stand at Rosario
0
5.83
Rosario, Luzon, The Philippines
PTO
Japanese
Filipino / American
12.4 hrs
1%
J150: The Sangshak Redemption
0
7.11
Sangshak, India
CBI
Japanese
Gurkhas
3.1 hrs
10%
J151: Squeeze Play
0
6.83
Marbam, Burma
CBI
British
Japanese
5.2 hrs
1%
J152: Messenger Boys
0
6.52
Drouet, France
WTO
British
German (SS)
5.3 hrs
6%
J153: Dawn's Early Light
0
10.00
Mortain, France
WTO
German (SS)
American
14.6 hrs
0%
J154: Cradle to Grave
0
7.17
Meximieux, France
MTO
German
American / FFI
8.3 hrs
11%
J155: It's Hardly Fair
0
6.50
Wyler, Germany
WTO
German
American
3.8 hrs
11%
J156: Mageret Mixer
0
6.48
Mageret, Belgium
WTO
American
German
5 hrs
7%
J157: Rage Against the Machine
0
7.69
Courland Pocket, Latvia
ETO
Russian
German
7.5 hrs
37%
J158: It Don't Come Easy
0
7.00
Noville, Belgium
WTO
German
American
3.7 hrs
2%
J159: Tropic Lightning
0
7.81
San Manuel, Philippines
PTO
American
Japanese
9.8 hrs
5%
J160: Bienen Burnout
0
6.70
Bienen, Germany
WTO
Canadian
German
8.6 hrs
2%
SoSB1: Badanov's Boys
0
6.50
Orel, Russia
ETO
Russian
German
1%
SoSB2: Assaulted at Arras
0
3.50
Arras, France
ETO
British
German
0%
SoSB3: Marauding Marauders
0
Walawmbum, Burma
CBI
American / Chinese
Japanese
0%
VotG25: Urban Nightmare
0
Central Stalingrad
ETO
Russian
German
2.8 hrs
0%
* Popularity is the sum of Roar and Archive reported playings based as a percentage of the parent publication's total games.
(Dark) grey rows indicate Night scenarios.
Median length of scenarios: 6.6hrs
Average rating of scenarios: 6.7
Total playing time: 114.2hrs