ASL 6 - The Last Hurrah (2nd Edition)
(Log in to add this module to your collection
or to see your play details)
Introduction:
This is THE LAST HURRAH - the sixth ASL module. The eight scenarios contained herein focus on historical situations involving the early German blitzkriegs of World War II and the many nationalities that fought against the invaders. Paratroopers, armor, air power, audacity and courage were the tools with which Germany planned to overrun the neutral nations of Europe. and in less than two years, in actions as far apart as Norway and Crete, the German military accomplished all they had set out to do.
For the most part, the invaded neutrals (Poland, Norway, Belgium, the Netherlands, Yugoslavia and Greece) were defended by hastily-mobilized reservists stiffened by a few elite units. The actions depicted in THE LAST HURRAH will challenge veteran ASL players to match the tenacity, audacity and victories on both sides in eight scenarios, recreating the German march of conquest. Experience - as only ASL can let you - the desperate fighting of these first days of World War II. Whether commanding German armor, Polish cavalry, Greek infantry, Belgian Chasseurs, Norwegian reservists or Luftwaffe paratroopers, if you're an ASL grognard, you're bound to find something pleasing in the wide spectrum of scenarios included in THE LAST HURRAH. There is even a scenario pitting those age-old foes, the Poles and the Russians!

THE LAST HURRAH contains eight scenarios, one countersheet of Allied Minor infantry and support weapons - and two boards: 11, with revised artwork; and 33, which features open terrain and a large grainfield.
ASL, BEYOND VALOR and YANKS (for two scenarios) are needed to play these scenarios.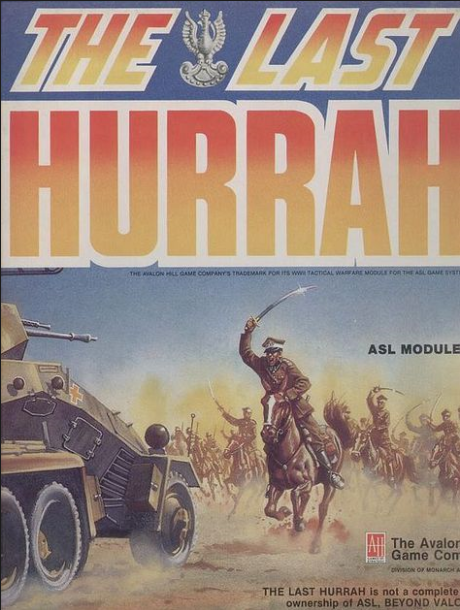 Articles and Resources:
No articles entered for this publication.
Add one
?
Scenarios:
* Popularity is the sum of Roar and Archive reported playings based as a percentage of the parent publication's total games.
(Dark) grey rows indicate Night scenarios.
Median length of scenarios: 8.4hrs
Average rating of scenarios: 5.96
Total playing time: 60.6hrs