The Guns of Naro MTO (id:#56418)
Prior Publication: Hell on Wheels Battle Pack: HOW1
See Also: The Guns of Naro by Bounding Fire Productions

North of Naro, Sicily, Italy

1943-07-11

(

49 others

)

Designer: Chas Smith

Starter kit scenario?: Deluxe scenario?:
Balance:

Overview:
The attack on Sicily was underway and U.S. forces had broken out from the Gela Beachhead. Armored forces were rapidly advancing against weak opposition -- mostly delaying units who would simply fire a few token shots then fall back to new defensive positions. After capturing Naro on 11 July, recon elements of the 2nd Armored Division were ordered to move on to Canicatti. Coming upon a narrow pass, two light tanks proceeded slowly through. A curve in the road was defended by four large caliber guns. The entire recon force came under intense machine gun fire, and two assault guns were ordered to the front to help provide covering fire.

Attacker: American (82nd Recon Battalion, 2nd Armored Division/G Company, 41st Infantry Battalion and D Company, 66th Armored Battalion)

Defender: Italian (207th Coastal Division)
6 turns
Players:
2
OBA:
None
Night:
No
Unit Counts:
Squads: A:

7.5

D:

8.5
AFVs: A:10

T30 HMC

x 2

M5A1

x 2

M4

x 3

M4A1

x 3

Jeep 4

Jeep 2

Jeep
AFVs: D:0
Guns: A:0 D:4

Obice da 100/17

x 4

Fucile-cc S
| | |
| --- | --- |
| Misc Rules: | A: enter as Passengers w D: Italian Air Support |
Errata (source)
Players wanting to play this game/Request a match:
Scenario info
Last Played:
Date
Reporter
Opponent
Bal.
Result
Comments
2022-12-01
(D) Kevin Duval
vs
Dwayne Duval
Italian win
Used American balance. The Guns were very lucky make every Hit & resulting in devastation for the attackers. CVP cap reached end of Turn 3.
2022-11-22
(A) Dwayne Duval
vs
Kevin Duval
Italian win
2022-07-10
(D) Shane Pask
vs
Italian win
I kept most of my force on the second hill with the MGs covering the road. American overconfidence and deadly bombers reached the CVP cap by turn 4. I think the bombers accounted for 19 VP by themselves including a T30 and M4 destroyed by MG (CH on M4). Yanks lost another tank to my only HEAT round. Finished with 3 guns remaining and over 20FP (counting PBF) covering the road.
2022-01-17
(A) David Garvin
vs
Nick Faryna
American win
2021-03-14
(A) John Gorkowski
vs
John Stadick
American win
My Americans rolled to victory (literally and figuratively) over John's Stadick's Italians in this half-board hill fight that's probably more fun for the attacker than the defender. The Italians are defending a road that weaves between two key hills, one mid-field that rises to level three, and another further back that rises to level four. Despite their overwhelming firepower, the Americans must exercise patience to preserve their force through a rough entry – not enough runway – and survive the air attacks that follow.

To begin, I ran two American light tanks halfway up the first hill to 9D4 and E7 for later canister fire at the level three crest. This revealed a 5/8" concealment, an emplaced 100mm gun in 9G5. The other three big Italian guns stood atop the second more distant hill with one at level four.

What to do with the U.S. halftracks? One drove directly into the board edge wood at A7 where, for lack of Italian LOS, it maintained concealment and parked until the last two game turns. My other halftrack entered and banked left in a C-hook around the A4 wood, behind the cliff; the next turn it entered that wood and, like the other halftrack, hid from Axis airpower. My halftracks didn't fire a single shot the entire scenario.

I sent two jeeps through A7 via bypass along the A6/7 hex side. The first offloaded a half squad and mortar, still concealed, into A7 before getting out of the way for the second which dropped off the 7-0, dm .50cal from the jeep, and another half squad. The third jeep also bypassed A7, but along the A7/8 hex side. An Italian squad in holes at C9 saw that, stripped concealment and fired to no effect, whew! By clustering the jeeps around A7 in this way I safely off loaded a leader, three half squads, a .50cal (taken from the jeep), an MMG (taken from the jeep), and the 60mm mortar, all dismantled. These units later advanced forward into B6 and 7 (with two of three concealed) where they assembled their weapons and, starting on turn two, provided an excellent base of fire to attack the first hill.

Italian defense fire, and later prep fire, fizzled. The Italian gun in 9G5 tried and failed for HEAT so instead fired HE which bounced off the American light tank. The Italian HMG next door in holes at H5 broke while targeting a jeep! The Italians soon repaired that heavy, but a constant avalanche of American fire kept it pinned or worse. The more distant Italian guns in M3, M5, and O5, held their fire at first.

On turn two, the newly assembled American support weapons in B6/7 and the two light tanks on the hill all fired to silence the Italian 100mm gun and adjacent HMG on the first hill. The Americans brought three tanks and three squads on in each corner, A1 and A10. Both groups sent one tank ahead to "lock" (sleaze freeze) Italian pickets in C1 and C9. An Italian gun on the second hill at M3 fired to K/4 the American 6-6-7 that reached C1. The American 9-2 kill stack with another dm .50cal and MMG staffed by two half squads used armored assault to reach C8 and take out the adjacent Italian infantry in C9, then "locked" by a Sherman. Faced with overwhelming U.S. firepower, Italians on the first hill drew back away from the crest along the craggy road. An Italian gun fired HEAT to kill a light tank!

Turn three featured an exchange of fire from mostly static positions. But, the American 8-1 did lead a squad via armored assault far along the west edge to G1 before breaking under small arms fire. Axis airpower strafed and missed two jeeps as well as the concealed 9-2 kill stack.

American armor exploited gaps on turn four. One Sherman drove deep along the west edge to penetrate the Italian position as far as O3 and thereby threaten the hill top guns from behind. But an Axis dive bomber killed him with machine guns! Another Sherman stormed down the central road to shoot up Italian infantry in the roadside woods/crag as Italian artillery rounds (HE) bounced off his front glacis. Another Sherman followed the east edge getting as far as L9 to cut Italian route paths.

The still concealed American 9-2 kill stack (.50cal and MMG) advanced into a fox hole at G8 on turn five. This was crucial. Starting on turn six, that kill stack raked two of the three remaining Italian guns on the second hill in M5 and O5 to vaporize their crews. Meanwhile, American tanks, one with a broken MA and others with broken CMGs, swarmed the second hill. Two American squads advanced along the crags of the first hill to melee the few remaining Italian infantry units; the 2-2-7 with ATR gave a good account of himself by slicing a 6-6-7 in half, but ultimately perished in L6.

As the Italians dwindled to extinction, the Americans counted two dead tanks, two dead squads, and a jeep wreck, about 18 VP in casualties, so the Italians surrendered.



| Action | Date |
| --- | --- |
| Hutch Updated the Scenario ID | 2023-03-07 11:43:35 |
| Jude Added a playing | 2023-02-25 20:02:34 |
| Jude Rated the scenario | 2023-02-25 20:01:38 |
| 7-0 duval Added a playing | 2022-12-29 20:19:27 |
| Kydder Added a playing | 2022-12-03 16:28:26 |
| Description | Uploaded by |
| --- | --- |
| ASL Journal 2: Page 19 (Scenario Analysis) | Dave |
Location
Images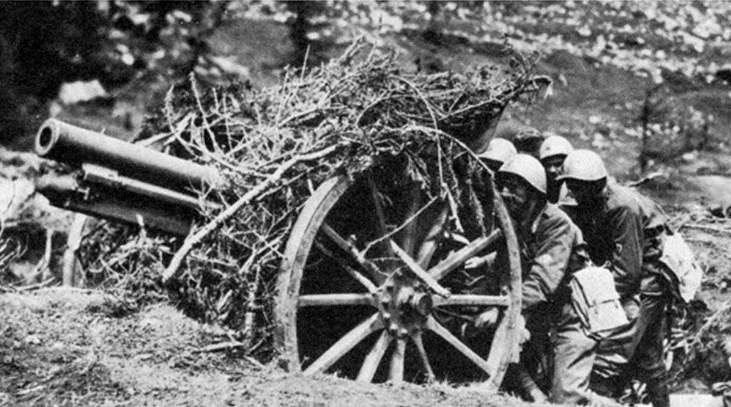 Italian Obice da 100/17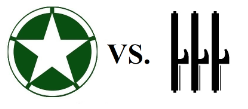 Statistics:
Avg Rating: 6.38
Votes: 24
Views:
6515
To-Play list count:
2
Estimated Play time:
5.1 hours
Recorded Games:
15

Archive recorded plays:
American
7
Italian
7
Drawn:
1

ROAR Data: (as of October 2023)
The Guns of Naro (ASL Journal #2) [Confirmed]

| | |
| --- | --- |
| [A] American | 33 |
| [D] Italian | 43 |