3rd RTR in the Rain ETO (id:#56442)
Prior Publication: Dispatches from the Bunker #10: DB020
See Also: West Front Series #1: 3rd RTR in the Rain by The Bunker

Designer: Steven Johns

Starter kit scenario?: Deluxe scenario?:
Balance:

Overview:
In their attempts to stem the German advance to Calais and other port cities, the British dispatched the 3rd Royal Tank Brigade, composed of the 2nd king's Royal Rifles and the 1st Queen's Victoria Rifles. On 23 May, these units sallied aggressively out of Calais, attempting to breach the German line and, under a heavy rain, hit the 10th Panzer Division in the flank. In Guines, elements of a recon unit had already taken up positions with the support of an anti-tank gun. The British attempted to clear this force and continue their drive east.

Attacker: British (1st Queen's Victoria Rifles/3rd Royal Tank Regiment)

Defender: German (Panzer Auflärung Abteilung 5, Panzer Division 10/Panzer Regiment 4)
6 turns
Players:
2
OBA:
None
Night:
No
Unit Counts:
Squads: A:

9.0

D:

5.0
AFVs: A:5

A13 Mk II

x 2

A9

x 2

Mk VIC

D:3

PzKpfw IVD

PzKpfw IIIF

x 2
Guns: A:0 D:1

3.7cm PaK 35/36

7.92 PzB 39 ATR
| | |
| --- | --- |
| Misc Rules: | Heavy (E3.51) is falling and will not stop! All Hedges are Walls. Wood Buildings. |
Errata (source)
Players wanting to play this game/Request a match:
Scenario info
Last Played:
Date
Reporter
Opponent
Result
Comments
2020-04-04
(A) Jeff Waldon
vs
Derek Ritter
German win
VASL - MMP COVID-19 Tournament Game
2020-04-04
(A) David Ramsey
vs
Greg Smith
German win
VASL-COVID Tourney Rd 1:

Lost too many tanks when they all panicked due to the well-placed AT gun (in p8).

Won most of the infantry war but without tank support the German tanks were too strong.
2020-04-02
(A) David Garvin
vs
Tim Brieaddy
German win
What a match! Saw everything. Tim's defence was well set up.

Round 1 of the MMP online VASL COVID-19 Tournament

2020-02-22
(D) David Garvin
vs
Christian Knudsen
British win
What a match. Had a bunch of long-odds shots go both ways. But not one Heat of Battle!

In the end, the Brits just kept pushing and held on in spite of a spirited German Counterattack.
2020-02-02
(A) Shane Pask
vs
German win
So many boxcars for the poms! 4 out of 5 MA malfèd and 1 BMG. Also Pz IV had no AP but 2 consecutive HEAT rounds for kills. Poms only had 3 buildings by last turn and mad dash for victory was thwarted when two squads were pinned short of their destinations.
| Action | Date |
| --- | --- |
| Dave Added a playing | 2020-04-04 23:19:13 |
| jrwusmc Added a playing | 2020-04-04 20:11:45 |
| von Garvin Added a playing | 2020-04-02 21:53:33 |
| CTKnudsen Added a playing | 2020-02-22 23:03:19 |
| von Garvin Added a playing | 2020-02-22 22:39:48 |
Location
Not found
Images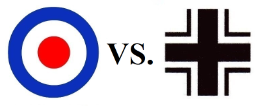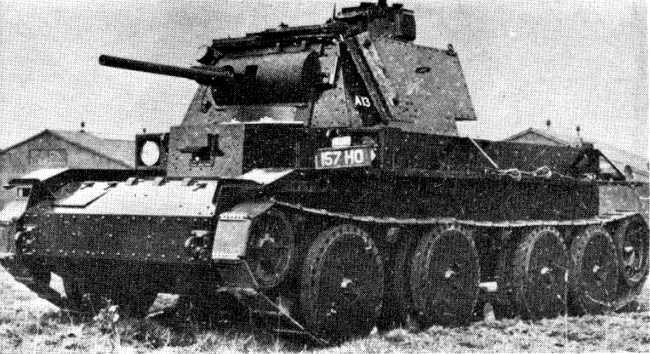 British A13 Cruiser tank as used by 3RTR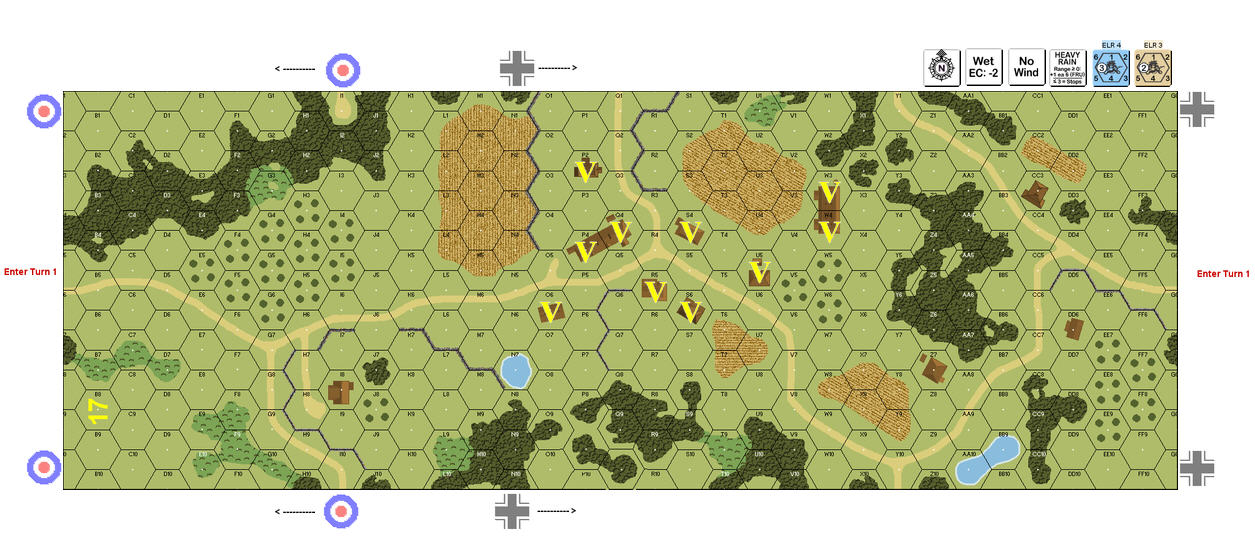 Updated VASL Map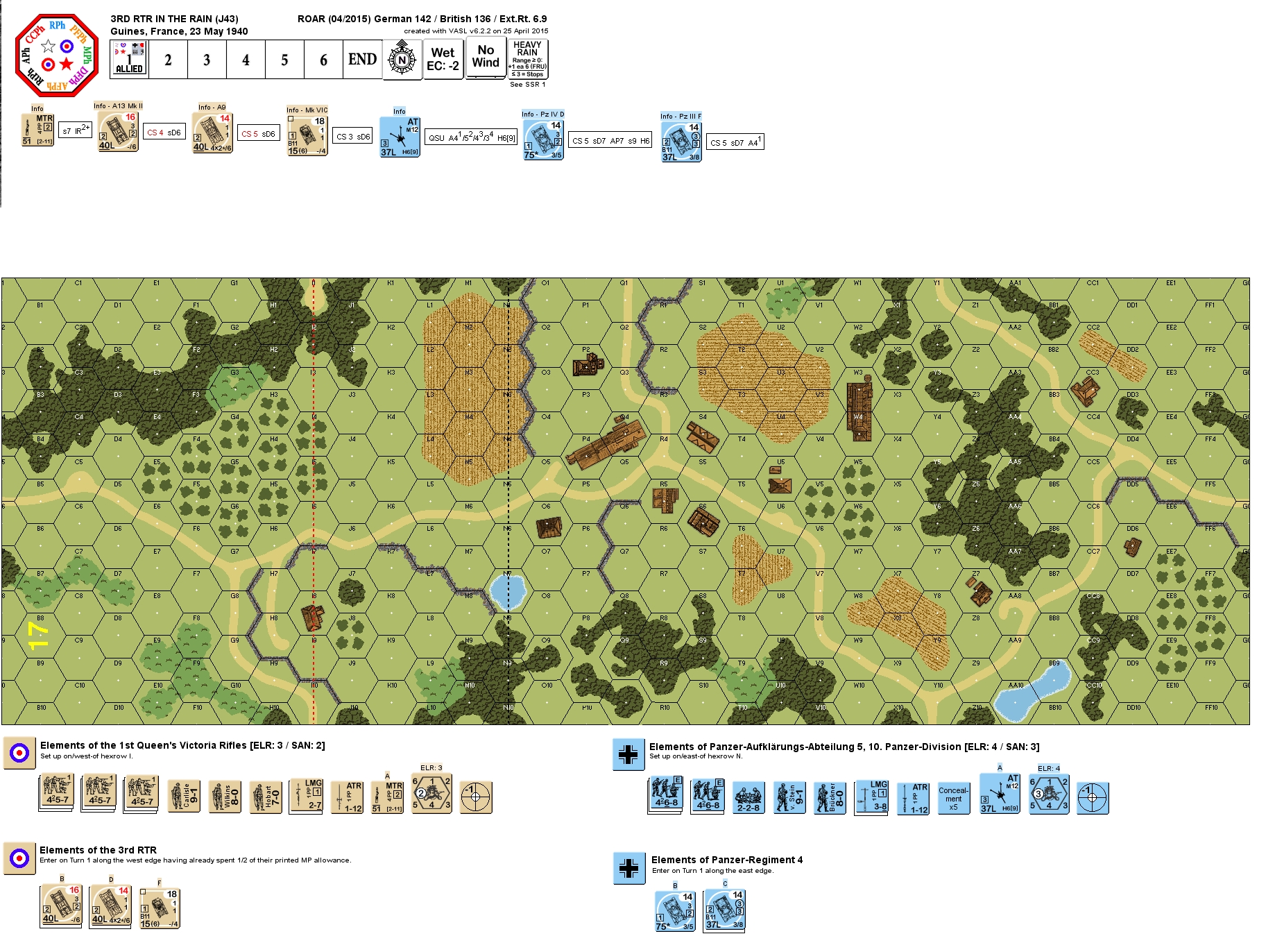 Statistics:
Avg Rating: 7.11
Votes: 70
Views:
6503
To-Play list count:
13
Estimated Play time:
4 hours
Recorded Games:
55

Archive recorded plays:
British
28
German
27
Drawn:
0

ROAR Data: (as of Nov 2019)
3rd RTR in the Rain [Confirmed]

| | |
| --- | --- |
| [A] British | 154 |
| [D] German | 162 |