3rd RTR in the Rain ETO (id:#56442)
Prior Publication: Dispatches from the Bunker #10: DB020
See Also: West Front Series #1: 3rd RTR in the Rain by The Bunker

Designer: Steven Johns

Starter kit scenario?: Deluxe scenario?:
Balance:

Overview:
In their attempts to stem the German advance to Calais and other port cities, the British dispatched the 3rd Royal Tank Brigade, composed of the 2nd king's Royal Rifles and the 1st Queen's Victoria Rifles. On 23 May, these units sallied aggressively out of Calais, attempting to breach the German line and, under a heavy rain, hit the 10th Panzer Division in the flank. In Guines, elements of a recon unit had already taken up positions with the support of an anti-tank gun. The British attempted to clear this force and continue their drive east.

Attacker: British (1st Queen's Victoria Rifles/3rd Royal Tank Regiment)

Defender: German (Panzer Auflärung Abteilung 5, Panzer Division 10/Panzer Regiment 4)
6 turns
Players:
2
OBA:
None
Night:
No
Unit Counts:
Squads: A:

9.0

D:

5.0
AFVs: A:5

A13 Mk II

x 2

A9

x 2

Mk VIC
AFVs: D:3

PzKpfw IVD

PzKpfw IIIF

x 2
Guns: A:0 D:1

3.7cm PaK 35/36

ATR 7.92 PzB 39
| | |
| --- | --- |
| Misc Rules: | Heavy (E3.51) is falling and will not stop! All Hedges are Walls. Wood Buildings. |
Errata (source)
Players wanting to play this game/Request a match:
Scenario info
Last Played:
Date
Reporter
Opponent
Result
Comments
2022-05-22
(D) Vic Lauterbach
vs
JM
British win
The mark of a great scenario is that both players think their force is too weak to win! My 37L got two tanks before being overrun but Jim won the HD tank duel and got infantry around my left flank. I hoped to keep enough Tommies busy taking R5 and S6 that too few would get past the firelane along the R4-Q6 road and into S4, U5 and W4, but MCs didn't stop them. Both Melees went Jim's way and my last ditch attempts to retake W4 and R5 failed leaving him with six buildings. This one lived up to its classic status.
2022-04-19
(D) Chris Brooks
vs
Allen Martin
German win
We did a rematch and switched sides. Things were dire for me as the defending Germans on turn 5 when the Brits took their 6th building. Thankfully I still had my ATR and two AFVs to place fire on two of the buildings and a nearby cruiser. 3 consecutive critical hits (!) turned the tide back in my favor and was able to retake the buildings.
2022-04-13
(A) Chris Brooks
vs
Allen Martin
British win
Really enjoy this scenario - small footprint and a chance to explore combined arms. Made quite a few rules mistakes in this one, most notably using the LV hindrance to deny FFMO. At least it cut both ways! Germans made the mistake of having the gun too far forward. Still, came down to the very end and Brits needed some good shots to take the final building.
2022-02-24
(A) Rick Galli
vs
Paul Schorfheide
German win
2021-04-04
(D) Tripp Killin
vs
Phil Watkins
German win
British advanced in good order, and took initial buildings without too much trouble. But they soon realized they hadn't brought enough ammo.
MAs started malf'ing, SW went quiet, and the British 9-1 took a sniper shot to the head.
Those losses combined with a resilient German defense made it too tough to take the last two buildings.
Very cool little scenario. I can see why it is so popular.
| Action | Date |
| --- | --- |
| dieneuner25 Uploaded an Image | 2022-07-18 00:43:46 |
| dieneuner25 Added a playing | 2022-07-18 00:43:11 |
| CavemanBrooks Added a playing | 2022-04-20 13:25:55 |
| hussar04 Added a playing | 2022-02-25 03:09:56 |
| ubertripp Added a playing | 2021-04-04 03:14:45 |
Location
Not found
Images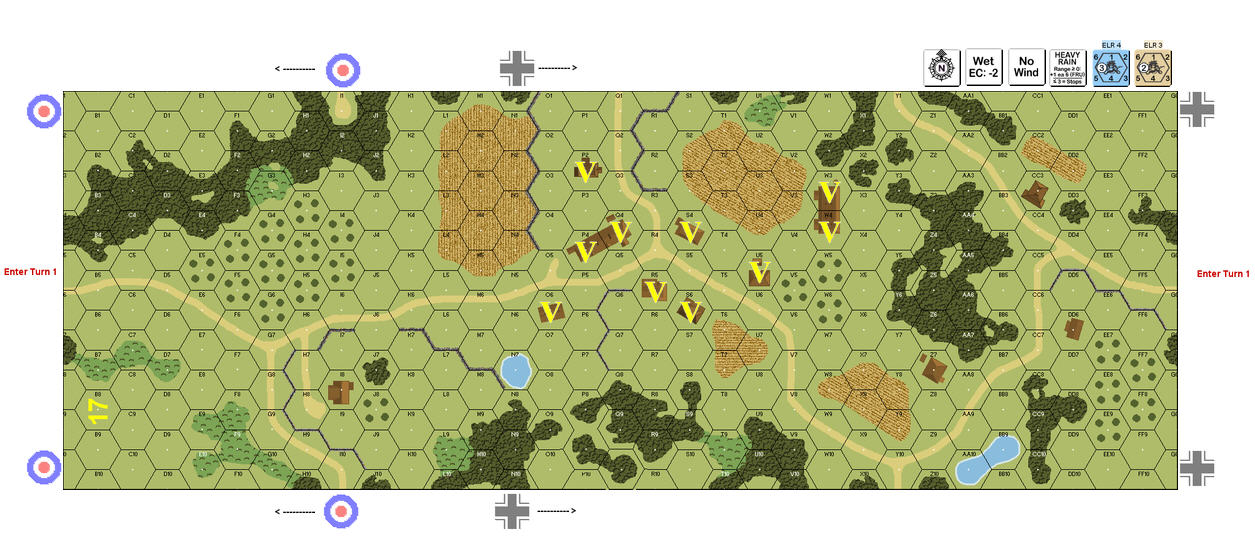 Updated VASL Map

Situation at Game End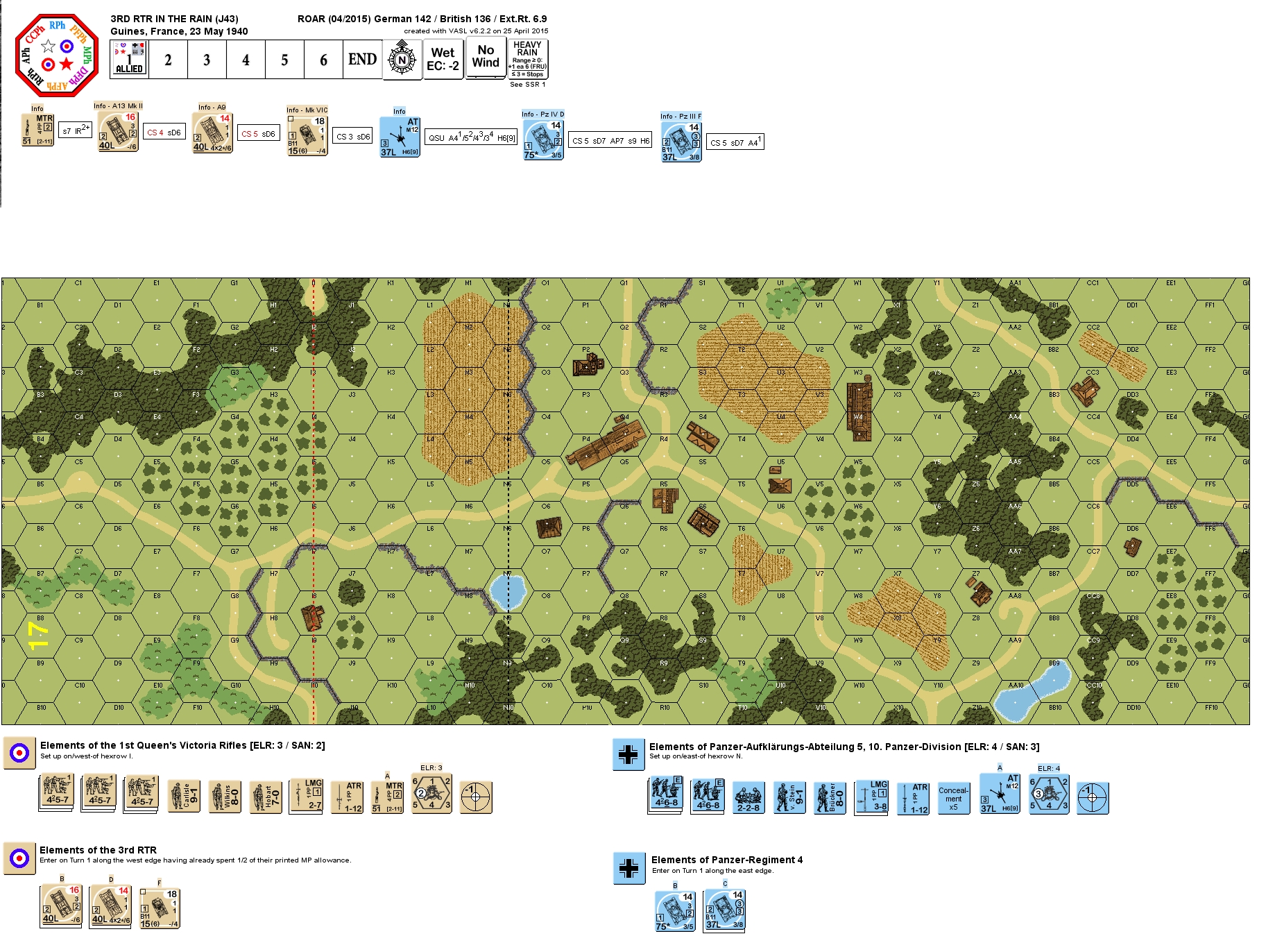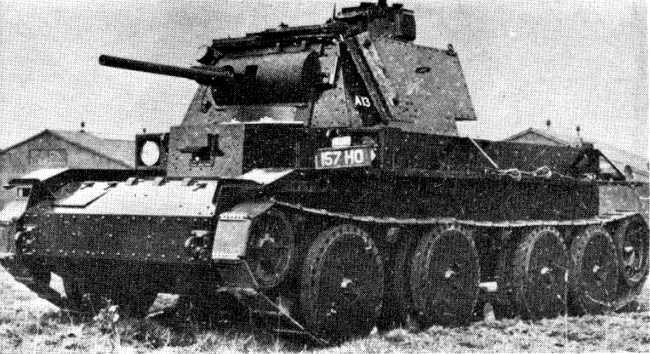 British A13 Cruiser tank as used by 3RTR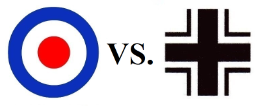 Statistics:
Avg Rating: 7.42
Votes: 98
Views:
10964
To-Play list count:
18
Estimated Play time:
4 hours
Recorded Games:
78

Archive recorded plays:
British
37
German
40
Drawn:
1

ROAR Data: (as of November 2021)
3rd RTR in the Rain [Confirmed]

| | |
| --- | --- |
| [A] German | 177 |
| [D] British | 165 |