Audacity! ETO (id:#56443)
See Also: Audacity! by Multi-Man Publishing

Designer: Philippe Naud

Starter kit scenario?: Deluxe scenario?:
Balance:

Overview:
By the end of May 1940, the catastrophic unfolding of the battle for France caused the Allies to evacuate Norway. Nevertheless, it was decided to take Narvik in order to close the campaign on a victory and lessen the earlier humiliations. On the 28th, after an artillery barrage, a company of the 2nd Battalion of the Podhalansha Light Infantry and a pair of H-39s attacked along the coastal road to secure the town of Ankenes and thus control the Beisfjord south of Narvik.

Attacker: German (2.Kompanie (reinforced), 137th Gebirgsjäger Regiment and Marine Battalion Freitag-Loingholen/Strosstruppe Rieger)

Defender: French (2nd Battalion, Chasseurs de Podhale/2nd Battalion HQ and 342ème C.A.C.C./ 4th Battalion Chasseurs de Podhale)
6 turns
Players:
2
OBA:
None
Night:
No
Unit Counts:
Squads: A:

8.5

D:

17.5
AFVs: A:0
AFVs: D:2
Guns: A:1

3.7cm PaK 35/36

5cm leGrW 36

ATR 7.92 PzB 39

D:0
| | |
| --- | --- |
| Misc Rules: | No Hill 547, treat rds as paved for movement purposes only, Mud, Alpine Hills |
Errata (source)
Players wanting to play this game/Request a match:
Scenario info
Last Played:
Date
Reporter
Opponent
Result
Comments
2021-10-24
(D) Dwayne Duval
vs
Kevin Duval
German win
Used French Balance. The German defenders enjoyed an afternoon of target practice, gaining the 19 CVP for the win, while the French only had 5 of the needed building hexes controlled.

2021-05-23
(A) Vic Lauterbach
vs
JM
German win
Super close and exciting scenario. The MMC with the ATR got one H39 before being OVR and broken by the other! The 9-2, a 468 and the 228 denied O5 and P4 to Jim until the last turn while a 468 held N2 in a Melee until the end. Jim stayed well below the CVP cap but I broke enough MMC to slow the French assault down (and mud helped), so he fell a building short.
2021-04-25
(A) Gus Ingenluyff
vs
French win
Excellent scenario. French won by just keeping within the CVP cap. It could have easily gone either way.
2021-03-04
(A) Jason Nichols
vs
Rob MacGinley
German win
Germans managed to delay the French long enough to prevent the capture of more than three buildings and the 9-2 leader with a squad and LMG on the hill inflicted a lot of casualties on the French. A lucky shot with an ATR immobilised a tank. The German ATG malfunctioned on its first shot and was permanently disabled when repair was attempted. Germans reached the 19 CVP cap when the 9-2 superman KIA'd a squad and leader with snakes in the German Prep on Turn 6.
2021-03-03
(D) X von Marwitz
vs
Lars-Peder Jensen
German win
An old classic, this scenario depicts an early war West Front action in muddy terrain. It has been recently republished as ASL238 in Croix de Guerre 2nd edition (without modification from the original design).

A full AAR of my game as the attacking French can be found at GameSquad forum in the following thread:

http://www.gamesquad.com/forums/index.php?threads/j44-asl238-audacity-aar.160595/

I had captured 14 of 15 building locations along with his ATG, his 9-2 and some other units and equipment, the sole German survivors being a 8-1/468. The game came down to the last CCPh and the last DR in which my opponent needed a 6 or less to bust my CVP cap. He conveniently rolled Snakes...
| Action | Date |
| --- | --- |
| von Garvin Added a playing | 2022-06-20 23:36:23 |
| dieneuner25 Uploaded an Image | 2022-03-21 00:29:48 |
| dieneuner25 Added a playing | 2022-03-21 00:29:05 |
| 7-0 duval Added a playing | 2021-10-25 01:30:37 |
| atomic Updated the Scenario ID | 2021-10-16 11:15:43 |
Location
Not found
Images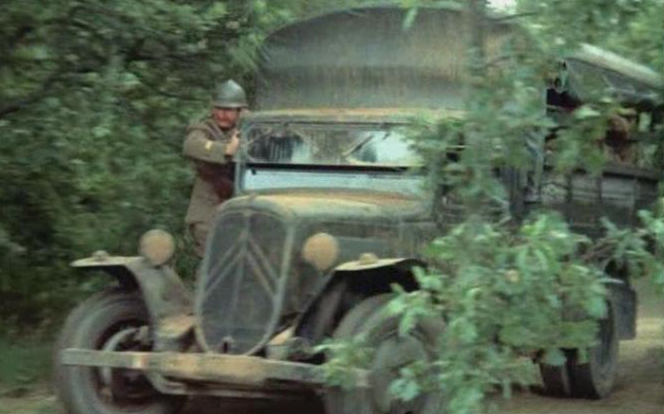 Citroen 23 bringing the troops up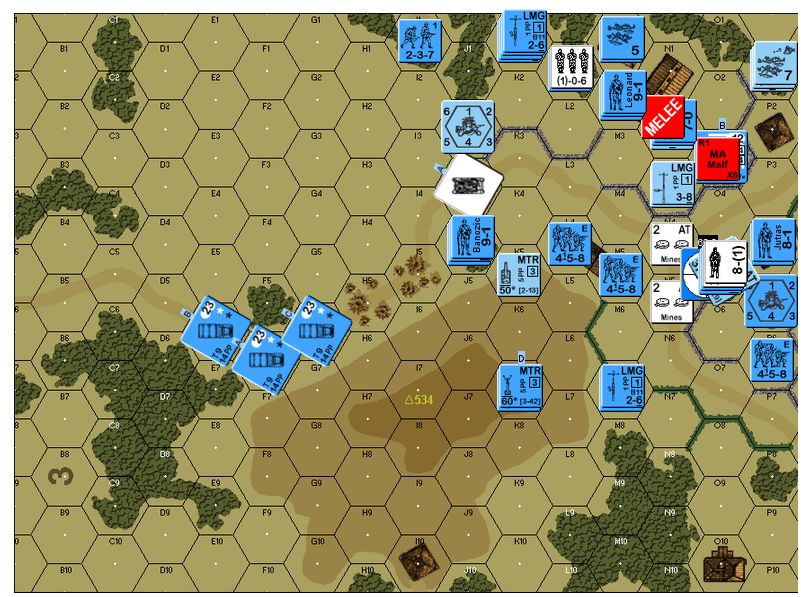 Situation at game end
Statistics:
Avg Rating: 6.58
Votes: 19
Views:
6298
To-Play list count:
4
Estimated Play time:
4.2 hours
Recorded Games:
15

Archive recorded plays:
German
12
French
3
Drawn:
0

ROAR Data: (as of November 2021)
Audacity! [Confirmed]

| | |
| --- | --- |
| [A] German | 81 |
| [D] French | 74 |