War of the Rats ETO (id:#56658)
See Also: War of the Rats by Critical Hit

Stalingrad, Russia

1942-09-26

(

9 others

)

Designer: Ken Dunn & Brian Youse

Starter kit scenario?: Deluxe scenario?:
Balance:

Overview:
German tactics failed inside the confines of Stalingrad as the Russians were able to dig in and fight from every building. The confines of the city stifled manoeuvre, and German superiority in artillery, air power, and armor were rendered ineffective as the infantry of both sides intermingled while fighting for each block of the city. This was Rattenkrieg – the war of the rats.

Attacker: German (94th Infantry Division)

Defender: Russian (62nd Army/Ad Hoc "Shock Group")
6 turns
Players:
2
OBA:
None
Night:
No
Unit Counts:
Squads: A:

11.0

D:

13.0
AFVs: A:0
AFVs: D:0
Guns: A:0 D:0
| | |
| --- | --- |
| Misc Rules: | German 5-4-8s have +2 Smoke Exponent; make smoke on dr of 4 or less. |
Errata (source)
Players wanting to play this game/Request a match:
Scenario info
Last Played:
Date
Reporter
Opponent
Result
Comments
2022-11-12
(A) Jack Wilson
vs
Matt L.
German win
Matt played well for a new player. He had several terrible DRs that did not help.
2022-10-15
(A) Bob McKenna
vs
Pierre Charboneau
German win
Russian set up defending the 3 victory locations. Germans swung right and left and took buildings. Rest of force burst up the middle. Finally took.the middle building after wounding a leader 2 times. Russians rallied and got relief force in turn 4. Took back right side building. Germans bum rushed the final building in the find part of Turn 6 and surrounded the relief column. Almost a Russian come back. Crazy extreme dice rolls made a see saw battle. Great game right up to the end. Never gave up..
2022-09-25
(A) Paul Synnott
vs
Self
German win
Decisive German win. Played solo. The Russians left a gap in their coverage of the left flank which was instantly exploited by the Germans, The flank crumbled with the Germans moving quickly left-to right towards the big factory. By the last turn the Germans had moved next to the garrison of the O building, which consist entirely of broken squads, some having escaped from the large factory. The German advanced in and took up residence. Game over. With everyone under DM, the last Russian rally phase was a forlorn hope.
(Played with full ASL rules.)
2022-07-07
(A) Alvaro Radigales
vs
Phineas
German win
A truly nail-biting game, decided in the last CC roll of the last turn in which the Russian player failed to take over one of the objectives by an inch. Great balance and a bunch of interesting situations.
2022-06-04
(A) Jack Wilson
vs
Eric Filipkowski
German win
My third time with this scenario, against my third different opponent. And, pardon the cliche, the third time was the charm.
Eric set up with most of his force deployed in the buildings running along the N6-P4 road. Although that provided me with several targets to mass fire on for my first turn prep, he was able to put enough interlocking fields of fire down that it ruled out moving into the street on the first turn. By his own admission, his one mistake was putting four squads and an LMG on the western half (his left) but with no leader to rally them. And my 4-6-7 with LMG and 9-1 leader set up in the I4 building pretty much bisected the battlefield and cut those guys off.
I set up three assault teams: left, right, and center. On the right, (western end) I quickly got across the road and drove his broken squads out of the first VC building. This is where he really missed having a leader there. However, my attack teams in the center and left were stymied. It seemed like in every fire phase I would either roll too high, or I would roll low, and he would roll lower. He posted his MMG with a 4-4-7 and 8-1 leader in J5 which really bogged down my center attack. Despite throwing a blizzard of bullets at those guys, I could not budge them. I am not exaggerating when I say they survived 5 consecutive MCs without so much as a pin. In desperation, I even tried to burn him out with a long range FT shot, only to have it flame out on the first shot.
By turn four, I was starting to worry I would run out of time to grab the other two VC buildings and would have to start throwing bodies into the street regardless of how many GO squads he had, But suddenly in one fire phase all the dice went my way, and combined with some well-placed smoke, almost everything he had on that side was broken or pinned. To add salt to the wound, Eric kept rolling high on his reinforcements, and they didn't come into the game until turn five. By then I was firmly entrenched in all three VC buildings, and they had to advance into a buzzsaw just to get on the board.
A fun game, and Eric put up a good fight. I think if he could have gotten his reinforcements in a couple turns earlier it would have been tough for the Germans to pull it out.
| Action | Date |
| --- | --- |
| Jwil2020 Added a playing | 2022-11-14 07:43:32 |
| BobMcKenna1966 Added a playing | 2022-10-16 03:04:01 |
| Bongiovanni Added a playing | 2022-10-10 11:54:34 |
| Holdit Added a playing | 2022-09-25 12:00:00 |
| GOUREAU Added a playing | 2022-09-22 16:34:43 |
Location
Images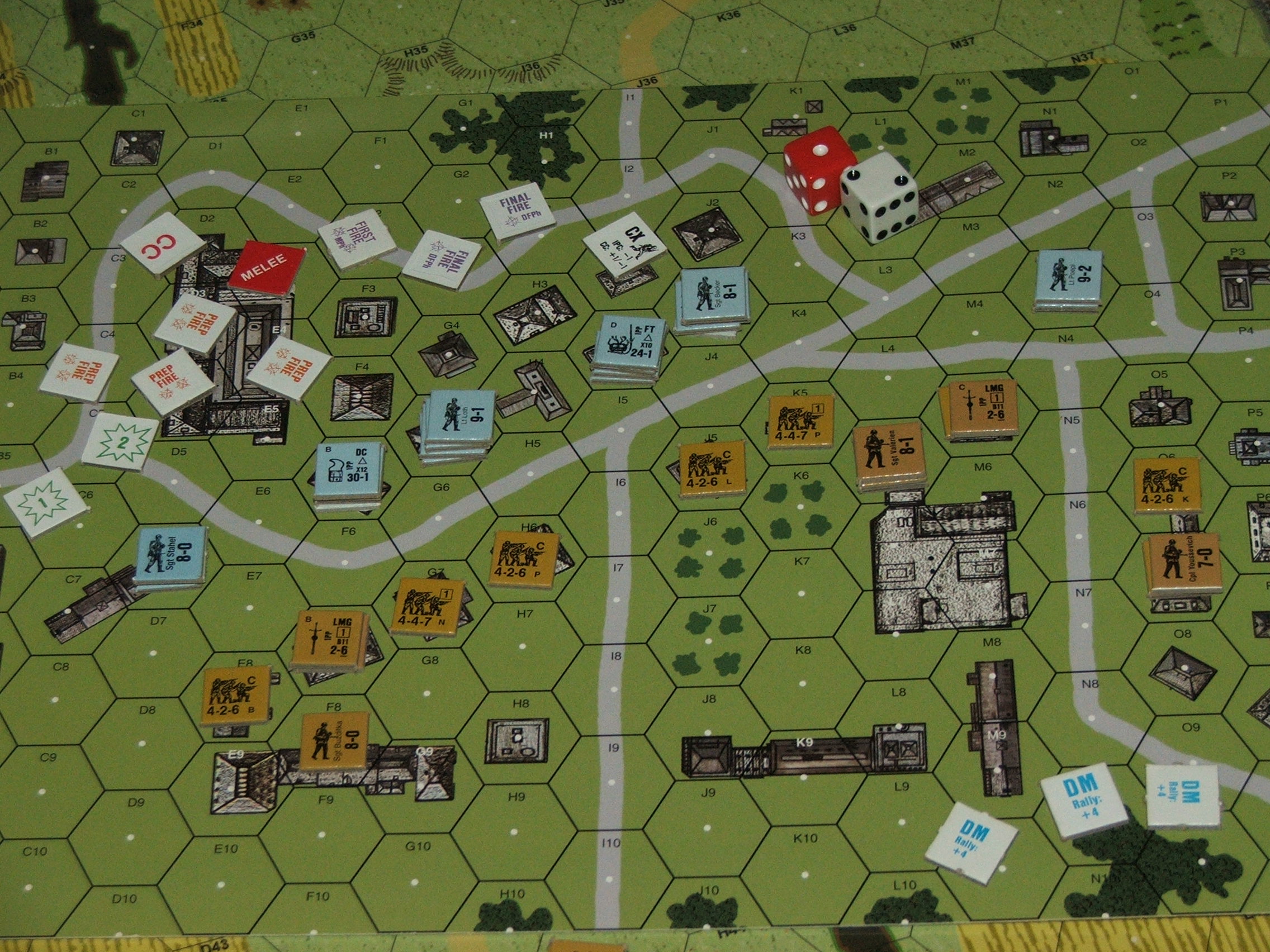 Game Setup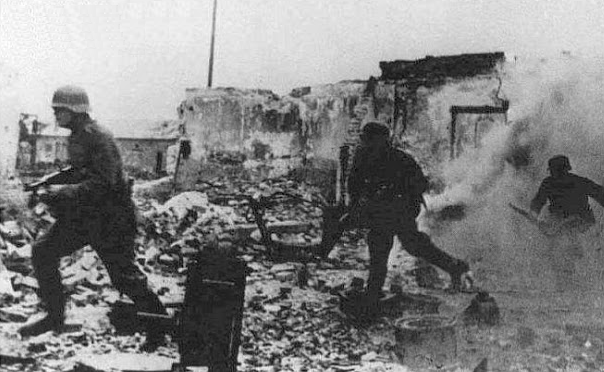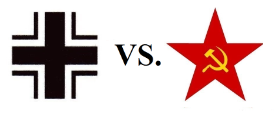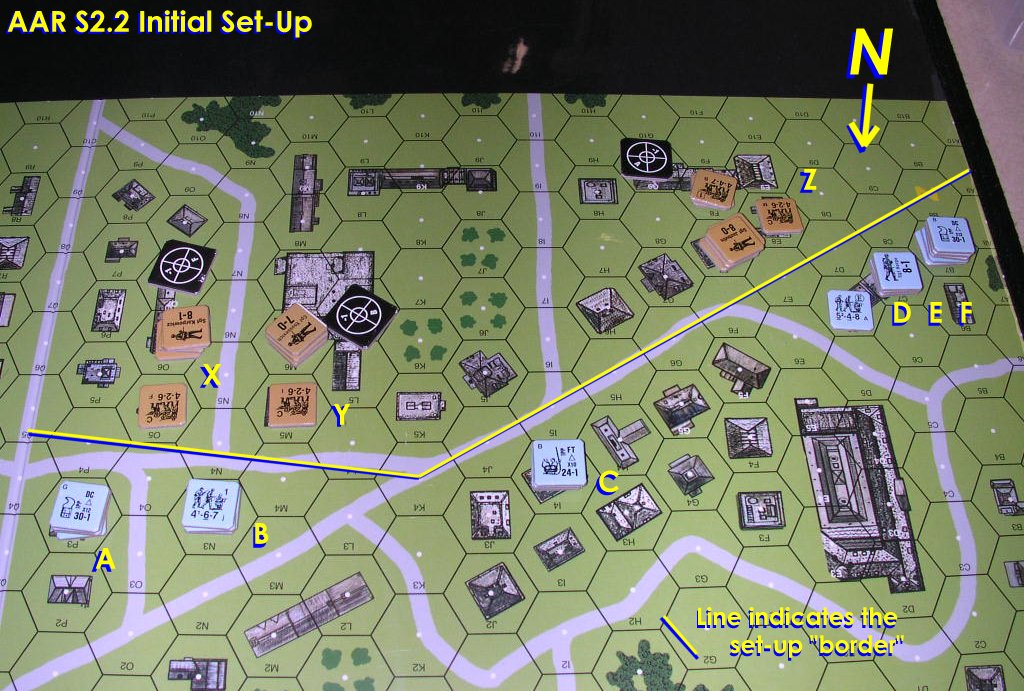 S2 Board Set-Up Prior to Turn 1
Statistics:
Avg Rating: 6.78
Votes: 279
Views:
24483
To-Play list count:
19
Estimated Play time:
3.3 hours
Recorded Games:
200

Archive recorded plays:
German
102
Russian
92
Drawn:
3

ROAR Data: (as of November 2021)
War of the Rats [Confirmed]

| | |
| --- | --- |
| [A] German | 162 |
| [D] Russian | 159 |