88s at Zon ETO (id:#56670)
Designer: Jon Mishcon & Joe Suchar
Starter kit scenario?: Deluxe scenario?:
Balance:

Overview:
The mission of the 101st Airborne Division in Operation Market-Garden was to secure the 15 miles of highway stretching from Eindhoven north to Veghel. The Screaming Eagles faced almost no opposition until the paratroopers reached the northern outskirts of the village of Zon. As the 1st Battalion entered the village with A Company in the vanguard, they were fired upon by a concealed heavy AA piece – the fabled German 88, one of several in place to protect the bridge from Allied bombers.

Attacker: American (1st and 2nd Batt., 506th PIR, 101st Airborne)

Defender: German (Selbstaendige FlaK Batterie, Flieger Division 7)
5.5 turns
Players:
2
OBA:
None
Night:
No
Unit Counts:
Squads: A:

11.0

D:

6.5
AFVs: A:0 D:0
Guns: A:0 D:2
Errata (source)
Players wanting to play this game/Request a match:
Scenario info
Last Played:
Date
Reporter
Opponent
Result
Comments
2022-04-19
(A) Jack Wilson
vs
Ken Walsh
German win
Ken and I played another small scenario involving a fairly hefty attacking force vs. an understrength defender with the attacker up against the clock and having to hustle to the exit hexes to beat the buzzer.
However, the most important advantage the German player has is the two hidden 88s lurking near the victory hexes.
For good or ill, I chose to pretty much ignore the big hill to the left and instead pushed through the village in the middle and along the smaller hills on the right.
I got to within a one-move-scamper to the victory hexes by the start of turn 5 with almost my entire force intact, and him down to 3 squads and a LMG.. Looked good for the GIs.
But I still had to get past the massive firepower of the 88s with their 16FP attack and 8RFP! Despite the fact that one of them Malf'ed (only to repair again on the final turn) I just could not get past them with enough VP to win.
The game came down to the last DF on the last turn. I ended up getting 5 VP across- 2 short.
I would probably tweak my attack plan if I played it again, but I think it was basically sound,
Ken played a masterful defense including using low crawling broken units to block crucial approach route hexes forcing me into the kill zones of his guns.
Another great game, and highly recommended.
2022-02-03
(D) Artem Kalinovskii
vs
Anton Shishkin
German win
2021-12-21
(A) pierre vasad
vs
solo (2H)
American win
American 1st wave was destroyed by one 88 on NE, but second wave and good dice on NW advance very fast to the exit through the streets. 88s in advanced positions useless after Turn 3.
2021-10-28
(A) Alberto Pomar
vs
PezBailarin
German win
2021-10-28
(D) César Moreno
vs
apomarbarbeito
German win
Los 88s muy retrasados, cubriendo justo la portería. Los americanos fueron muy sistemáticos en su avance (habría quien podría pensar "lentos") tal vez debido a la incertidumbre sobre su ubicación.

En el último turno ningún americano había salido aún, pero estaban cerca de la salida. La defensa alemana ya estaba en mínimos, y prácticamente todo se reducía a los disparos que pudieran hacer los cañones. Un disparo, una pila neutralizada. Fuego intensivo, acierto pero sin efecto. El otro cañón disparar y se avería con un 12! Cuando parecía todo perdido, la úlitma pila americana en mover, que hubiera significado victoria yanqui, pasó a través de un residual 2 y los dados dijeron "doble pito", eliminando al líder 9-1 y al squad en la última fila del mapa.
| Action | Date |
| --- | --- |
| Jwil2020 Added a playing | 2022-04-22 22:48:28 |
| borodont Added a playing | 2022-02-04 19:14:22 |
| Thompsonmg(MGT) Added a playing | 2022-01-30 14:32:48 |
| Thompsonmg(MGT) Rated the scenario | 2022-01-30 14:26:31 |
| gruhl Added a playing | 2021-12-21 15:55:27 |
Location
Images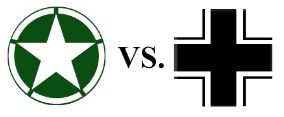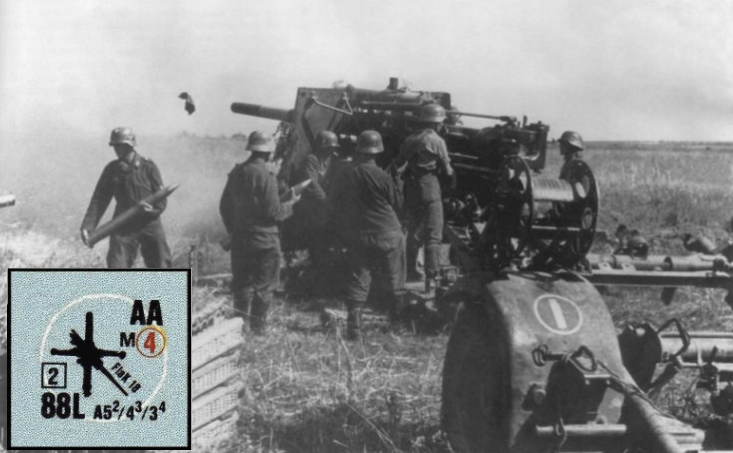 direct fire from 88-mm anti-aircraft gun FlaK 18
Statistics:
Avg Rating: 7.10
Votes: 112
Views:
12080
To-Play list count:
5
Estimated Play time:
2.4 hours
Recorded Games:
90

Archive recorded plays:
American
38
German
52
Drawn:
0

ROAR Data: (as of January 2022)
88s at Zon [Confirmed]

| | |
| --- | --- |
| [A] American | 53 |
| [D] German | 58 |