Falangist Pride SCW (id:#57281)
See Also: Falangist Pride by Critical Hit

Villanueva de la Canada, near Brunete, Spain

1937-07-06

(

6 others

)

Designer: Juan and Francisco Cebrian

Starter kit scenario?: Deluxe scenario?:
Balance:
Spanish Republican
Spanish Nationalist

Overview:
The first attacks started already during the night of July 5/6, with Republican forces in the cover of darkness penetrating deep into the thinly held Nationalist lines. At daybreak on July 6, the Republicans bombarded by artillery and air the Nationalist positions, plus targets in the rear, including the local Nationalist HQ at Navalcarnero. Immediately after the bombardment, the Republican 11th Division commanded by Líster advanced 8 kilometres (5 mi) and encircled Brunete. The Nationalist forces there were completely taken by surprise, and it wasn't until the morning attacks started that they realised the full extent of the Republican operation. Brunete fell to the Republicans by noon. The Nationalists placed overall command of the battle in General Varela. During the morning all available manpower was rushed into the faltering front line, these included personnel from local staffs, field hospitals and supply units, and by noon the 12th, 13th and 150th Divisions along with parts of the Condor Legion were on their way to help bolster the defense. Later that day the Republican attacks by the 34th and the 46th Divisions on the flanks of Líster's 11th Division stalled upon meeting fierce resistance by the Nationalists and forced Líster to halt his advance south of Brunete. Attempts by the Republican forces to widen the gap by attacking towards the west was also stopped, in front of Quijorna. The assault on Quijorna was then reinforced by tanks and given the support of both artillery and air assets, but the attackers were again repulsed. The battle raged until July 26th. At the close of the battle, the Republicans failed to cut the Extremadura road, but they still held Villanueva de la Cañada, Quijorna and Villanueva del Pardillo from the Nationalists. From this point of view, both sides were able to claim victory.

Attacker: Spanish Republican (XV International Brigade)

Defender: Spanish Nationalist (Moroccon & Falangist of the 71st Seville Blueshirt Division)
7.5 turns
Players:
2
OBA:
Spanish Republican
Night:
No
Unit Counts:
Squads: A:

17.0

D:

15.0
AFVs: A:6 D:0
Guns: A:0 D:3
Errata (source)
Players wanting to play this game/Request a match:
Scenario info
| Action | Date |
| --- | --- |
| hoxson1 Linked the scenario to ROAR | 2021-07-27 17:05:22 |
| hoxson1 Modified the Scenario OBA details | 2021-07-27 17:04:52 |
| hoxson1 Modified the Unit Elements | 2021-07-27 17:03:22 |
| hoxson1 Set the designer field | 2019-02-27 14:08:33 |
| hoxson1 Updated the Victory Conditions | 2019-02-27 14:08:24 |
Quick Map View
No Map available yet! Please create one, or upload a map image file...
Location
Not found
Images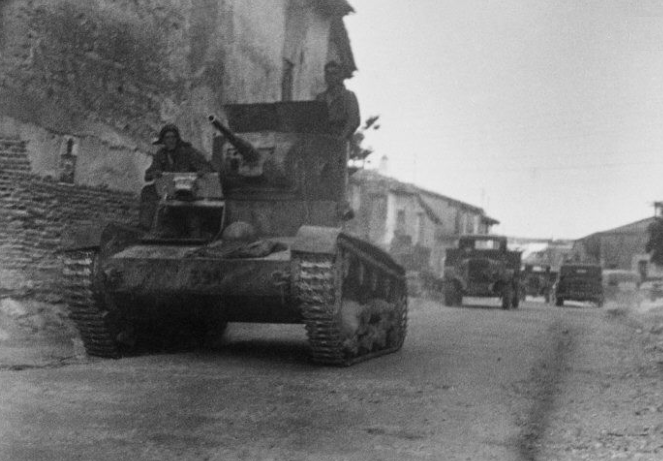 Tank and other military vehicles, Battle of Brunete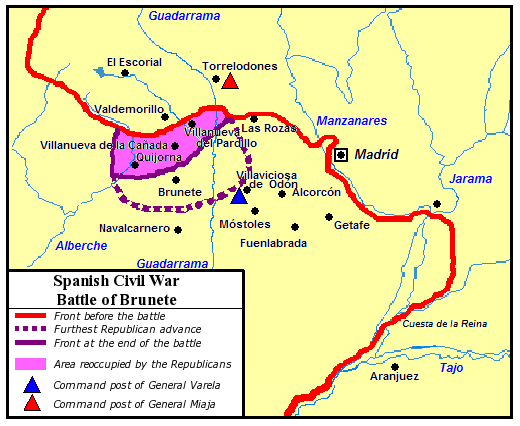 Statistics:
Avg Rating: n/a
Votes: 0
Views:
2618
To-Play list count:
0
Estimated Play time:
8.3 hours
Recorded Games:
0

Archive recorded plays:
Spanish Republican
0
Spanish Nationalist
0
Drawn:
0

ROAR Data: (as of April 2021)
Falangist Pride [Confirmed]

| | |
| --- | --- |
| [A] Republican (Crit Hit) | 0 |
| [D] Nationalist (Crit Hit) | 4 |