The IJA's Last Battle PTO (id:#59671)
Designer: Mark Pitcavage
Starter kit scenario?: Deluxe scenario?:
Balance:

Overview:
None.

Attacker: Japanese (Kido Battalion)

Defender: Indonesian (Indonesian Republican Army)
6.5 turns
Players:
2
OBA:
None
Night:
No
Unit Counts:
Squads: A:

12.0

D:

11.5
AFVs: A:2 D:2
Guns: A:0

Type 89 Heavy Grenade-Launcher

x 2

D:0

Type 89 Heavy Grenade-Launcher

x 2
| | |
| --- | --- |
| Misc Rules: | PTO Terrain (G.1), Light Jungle (G2.1) |
Errata (source)
Players wanting to play this game/Request a match:
Scenario info
Last Played:
Date
Reporter
Opponent
Result
Comments
2016-04-01
(D) Colin Emerson
vs
Michael Dorosh
Indonesian win
This scenario consisted of the Japanese just steam rolling the "well armed" Indonesians. One lmg and one mortar doesn't fit that description very well.
Half of the Indonesian force are conscripts so 6 morale, 3 movement factor, 2 column shift cower supermen.
This is a exercise in hiding, if you get shot at, you'll almost certainly break.
The Japanese run around taking over victory points.
Indonesians won on an ambush in CC last turn.
Definitely didn't feel like a win.
2 Indonesian squads left versus 11 or 12 Japanese squads and 2 tanks.
Balance is very Pro Japanese.

2016-03-29
(A) Michael Dorosh
vs
Colin Emerson
Indonesian win
The balance reported on ROAR at this time (7 IJA wins, 1 Indonesian) seems to reflect well the (im)balance. Despite the Japanese rolling four boxcars early, the Indonesian managed to malf the MA on both his tanks. Both also rolled 6 to Recall them. Indonesian managed a goal line stand in the Jail and won on a last CC with the help of an ambush. Looked to be a walkover from the start, only some mild interest in the last turn trying to scramble for one or two building hexes.
| Action | Date |
| --- | --- |
| hoxson1 Modified the Defender's AFVs | 2020-03-20 02:50:40 |
| hoxson1 Modified the unit counts | 2020-03-20 02:50:40 |
| Hutch Updated the Victory Conditions | 2020-03-12 21:48:06 |
| Hutch Modified the misc. rules | 2020-03-12 21:47:55 |
| Hutch Modified the Defender's Guns | 2020-03-12 21:45:43 |
Quick Map View
No Map available yet! Please create one, or upload a map image file...
Location
Images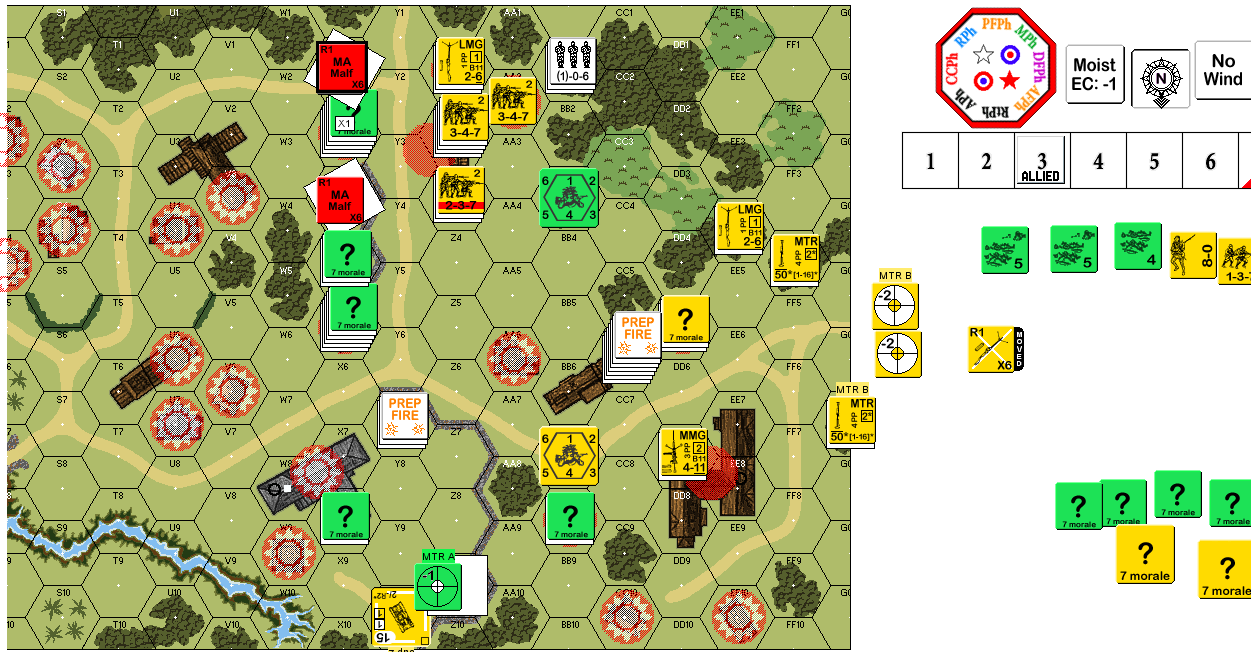 Our playthrough, start of Turn 3. Indonesian malfed both tank MA. Japanese attacking from top of map.
Statistics:
Avg Rating: 1.50
Votes: 2
Views:
3881
To-Play list count:
0
Estimated Play time:
4.6 hours
Recorded Games:
2

Archive recorded plays:
Japanese
0
Indonesian
2
Drawn:
0

ROAR Data: (as of Nov 2019)
The IJA's Last Battle [Confirmed]

| | |
| --- | --- |
| [A] Japanese | 8 |
| [D] Indonesian | 1 |