French Toast and Bacon WTO (id:#60682)
Designer: Ken Dunn and Brian Youse
Starter kit scenario?: Deluxe scenario?:
Balance:

Overview:
The second day of the battle of the Bulge was underway with the Germans anxious to seize bridges across the Our River. The town of Ouren had two such bridges, defended by a mélange of tank destroyer units, infantry, and artillery. Late in the morning sun, the men of the 112th had finished eating the French toast and bacon the cooks had left behind when a column of panzers and halftrack support drove down the road towards Ouren, intent on crossing the Our.

Attacker: German (Panzer-Division 116)

Defender: American (811th Tank Destroyer Battalion and 112th Infantry Regiment)
5.5 turns
Players:
2
OBA:
None
Night:
No
Unit Counts:
Squads: A:

4.0

D:

4.0
AFVs: A:6

PzKpfw VG

x 3

PzKpfw IVH

x 3

D:1
Guns: A:0 D:3

M5 3-in AT Gun

x 2

M2A1 105mm Howitzer
Errata (source)
| | |
| --- | --- |
| In SSR 1, after "Water Obstacle" add "[EXC: it is not frozen (B21.6)]". | J12 |
Players wanting to play this game/Request a match:
Scenario info
Last Played:
| Date | Reporter | | Opponent | Result | Comments |
| --- | --- | --- | --- | --- | --- |
| 2022-01-03 | (A) Paul Legg | vs | Nick Ranson | German win | |
| 2020-01-05 | (A) patrick palma | vs | John Garlic | German win | |
| 2019-06-08 | (A) Tom Kearney | vs | Dale Wetzelburger | German win | Human Wave 2019. |
| 2019-06-08 | (D) Andy Goldin | vs | Bob Schaaf | American win | Human Wave 2019. In this game I set up my defense primarily around the town and put my tank destroyer in FF3 to get long range shots. Bob, being a new-ish player, inadvertently showed the flank of one of his Panthers to my tank destroyer and paid for it. I then took an IF shot on a Mk4, and knocked it out. He consolidated the remaining Panthers behind the hedge and turned the offending tank destroyer into a burning wreck. My howitzer got a lucky hit on his 9-1/467/LMG stack, wounding the leader and reducing the squad. Nonetheless he pressed on to the woods in Z1, bringing up infantry and putting fire on my concealed MG team in the stone building at AA6. Moving his Mk4s across the open field made a good target for my ATG hidden in BB5, which fired and bounced an AP round off the hull. An IF shot at it in the next hex knocked it out. He then adjusted to focus on the new threat, bringing a Panther to bypass in AA2, the second Panther to Y1 and a Mk4 in bypass at Z1. In my prep fire I got a lucky deliberate immobilization shot on Panther in AA2. At this point he was down to two tanks and effectively without a leader, so he conceded. |
| 2019-06-03 | (A) Tom Kearney | vs | Alan Saltzman | American win | The Germans managed to get to within two hexes of the objective area before they were stopped. Alplayed a great game |
| Action | Date |
| --- | --- |
| Paul Legg Added a playing | 2021-12-13 00:24:42 |
| hoxson1 Modified the Theatre | 2021-03-15 20:41:26 |
| veron Added a playing | 2020-05-29 10:34:59 |
| ppalma Added a playing | 2020-01-05 13:44:46 |
| Tomkrny Added a playing | 2019-06-19 20:10:27 |
Location
Images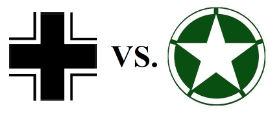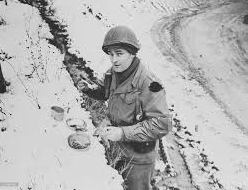 Can't a man finish his breakfast?
Statistics:
Avg Rating: 6.61
Votes: 38
Views:
1937
To-Play list count:
6
Estimated Play time:
2.8 hours
Recorded Games:
27

Archive recorded plays:
German
12
American
15
Drawn:
0

ROAR Data: (as of November 2021)
French Toast and Bacon [Confirmed]

| | |
| --- | --- |
| [A] German | 46 |
| [D] American | 47 |