"Armor for Tunis!" DTO (id:#60900)
Sidi Nsir, Tunisia
1942-11-25
(
6 others
)
Designer: Unknown
Starter kit scenario?: Deluxe scenario?:
No balance information available

Overview:
Axis counter-measures pinned Allied hopes for an early breakthrough in Tunisia on 'Blade Force'. The armored striking force consisted, in the main, of fourteen-ton M3 General Stuart, a fats, lightly armored tank packing a 37mm gun. Blade Force hurried forward to cries of "Armor for Tunis!", accompanied by Seneglese tirailleurs and tanks of the 17th/21st Lancers, aiming to strike down the Tine Valley at a soft spot in the enemy lines east of the hill town of Sidi Nsir. On the afternoon of 25 November, Blade Force encountered Italian defenders ensconced in a French farm, dug in and ready for action.

Attacker: American/Free French (Elements of Blade Force)

Defender: Italian (Local Italian Garrison and a lost Semovente)
7 turns
Players:
2
OBA:
None
Night:
No
Unit Counts:
Squads: A:

10.5

D:

8.0
AFVs: A:4 D:2

Semovente M41 da 75/18

L3/35
Guns: A:0 D:2

Cannone da 47/32

Cannone-mitr. da 20/65

Mortaio da 45 "Brixia"
| | |
| --- | --- |
| Misc Rules: | Treat Scrub as Inherent Woods. Hillock overlay is Level 1 hill |
| | | | | | | | | | | | | | | |
| --- | --- | --- | --- | --- | --- | --- | --- | --- | --- | --- | --- | --- | --- | --- |
| Overlays: | Tr1 | | T5 | | V6 | | T4 | | H8 | | D9 | | P5 | |
Errata (source)
Players wanting to play this game/Request a match:
Scenario info
| Action | Date |
| --- | --- |
| Hutch Modified the Defender's Guns | 2020-12-16 06:43:29 |
| Hutch Modified the Defender's Guns | 2020-12-16 06:42:54 |
| Hutch Modified the unit counts | 2020-12-16 06:42:54 |
| hoxson1 Uploaded the Board image | 2020-04-06 17:20:00 |
| hoxson1 Modified the overview | 2019-07-31 15:14:18 |
Location
Images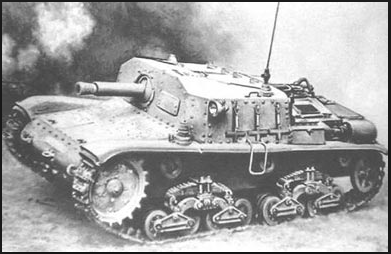 Italian Semovente da 75/18 M41

Statistics:
Avg Rating: 9.00
Votes: 1
Views:
1540
To-Play list count:
1
Estimated Play time:
4.9 hours
Recorded Games:
0

Archive recorded plays:
American/Free French
0
Italian
0
Drawn:
0

ROAR Data: (as of January 2022)
Armor for Tunis! [Confirmed]

| | |
| --- | --- |
| [A] Italian | 0 |
| [D] American/Free French | 0 |