Tolstoy Woods ETO (id:#61352)
Designer: Chas Smith
Starter kit scenario?: Deluxe scenario?:
Balance:

Overview:
The Russian 10th Tank Corps, reinforced with infantry of the 219th Rifle Division, were in assault positions waiting to attack into the exposed lank of the 48th Panzer Corps. The 18rd Tank Brigade, led by a platoon commanded by Lt. Kadiev, attacked toward Verkhopene and quickly overran the forward German outposts. Kadiev's tanks aggressively moved through the Tolstoy Woods and encountered a counterattacking German Panzer and infantry force, which turned into a sharp engagement.

Attacker: Russian (183rd Tank Brigade, 10th Tank Corps)

Defender: German (Panzer Division 3)
6 turns
Players:
2
OBA:
None
Night:
No
Unit Counts:
Squads: A:

15.0

D:

11.5
AFVs: A:3
AFVs: D:3
Guns: A:0 D:0
| | |
| --- | --- |
| Misc Rules: | Place Orchard counter in K7. D: 2 sqds HIP set up |
Errata (source)
Players wanting to play this game/Request a match:
Scenario info
Last Played:
| Date | Reporter | | Opponent | Result | Comments |
| --- | --- | --- | --- | --- | --- |
| 2021-03-19 | (D) Andy Bagley | vs | Tony Gibson | German win | I felt I was a bit lucky here, despite the stats showing my average DR >7. But this hides a lot of 3's on key shots (including killing his 9-1 leader) and a lot of 11's on shots that mattered a lot less. So whilst the Russian tanks could roam around almost unimpeded (no AT capability other than CC until my tanks arrived, and even then they out-armour the Germans), the Russian infantry failed to make it to the village in sufficient numbers to take the necessary buildings. Good scenario though, could easily have gone the other way. |
| 2020-12-13 | (A) Øyvind Jacobsen Bjørkås | vs | Tuomo Lukkari | German win | The Russian pressed very hard in the first two rounds, and almost destroyed the at-start German forces. However this decimated the Russian forces, so that only approximately 4 squads and 3 tanks was in the outskirts of the village when the German counterattack came. The Germans came on the south flank, and the armor battle left one Russian wreck and two malfed/disabled MAs, leaving the Russians with only a desperate charge in the endgame. |
| 2020-06-28 | (A) Martí Cabré | vs | Felipe Zavala | German win | I launched two Russian human waves to get to the first German line of defense and it worked but with too much losses, then I used the low ground and the woods to get to the village and one tank gave support fire to take one building. Then I advanced all the tanks for the counterattack and managed to kill the 3 German PzIII at a loss of one T-34 but time ran short, the German MG had been too hot and I had failed many ELR so lots of conscript Russian squads around that could not be rallied and I lacked the final punch to get the 5 buildings, I just moved everyone forward and the German residual fire caused by spraying fire mowed them down. The game saw 3 berserk units and lots of ROF, KIA and K/2 results. |
| 2020-04-01 | (A) Stephen dedier | vs | Reenstra, Dave | Russian win | I got my ass kicked :) |
| 2020-03-16 | (D) Chuck Dye | vs | DD | German win | |
| Action | Date |
| --- | --- |
| Andy_Bagley Added a playing | 2021-03-20 11:21:04 |
| Andy_Bagley Rated the scenario | 2021-03-20 10:55:07 |
| oybj Added a playing | 2020-12-14 08:05:11 |
| Gamer72 Added a playing | 2020-08-15 19:37:16 |
| wwillow Added a playing | 2020-07-06 16:52:01 |
Location
Not found
Images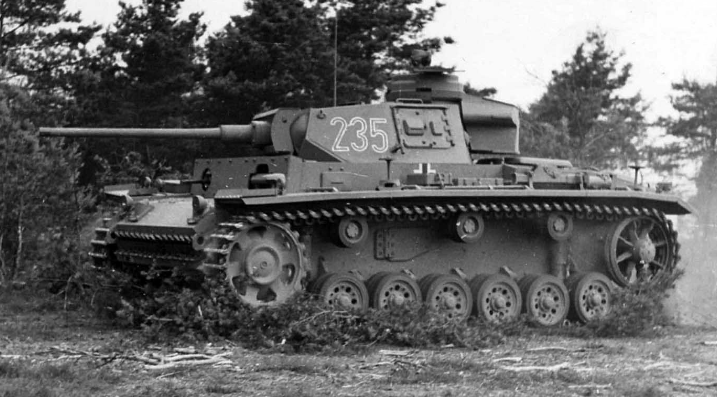 From late in June 1942, at the start of the summer offensive in Russia, there were approximately 600 Panzer III mounting the 5cm KwK L/60 with units in Russia.

Statistics:
Avg Rating: 7.13
Votes: 52
Views:
3360
To-Play list count:
8
Estimated Play time:
5.1 hours
Recorded Games:
36

Archive recorded plays:
Russian
14
German
19
Drawn:
3

ROAR Data: (as of November 2021)
Tolstoy Woods [Confirmed]

| | |
| --- | --- |
| [A] Russian | 51 |
| [D] German | 60 |