Pip Roberts' Run WTO (id:#61687)
Prior Publication: Scotland The Brave II
See Also: Pip Roberts' Run by Critical Hit

South of Cheux, Normandy

1944-06-26

(

26 others

)

Designer: Ian Daglish

Starter kit scenario?: Deluxe scenario?:
Balance:

Overview:
The day broke with a thundering artillery barrage as the infantry moved to their Forming Up Places. But their progress was slow. Reserve battalions intended to exploit success were occupied behind the lines, combating isolated pockets if fanatical resistance. By midday, the infantry were grinding to a halt. 11th Armoured Division under "Pip" Roberts was commanded to attempt to break the stalemate. The lightly armored Cromwell tanks of the Northants Yeomanry forced a path through the ruins of Cheux. As the tanks negotiated the rubble, tank commanders used pistols and phosphorous grenades to fight off Hitler Youth carrying magnetic antitank grenades. Breaking through to open ground, the Yeomanry came under tank fire -- a single Tiger tank which "soon sorta things out".

Attacker: British (2nd Northants Yeomanry & 23rd Hussars)

Defender: German (SS) (12th SS Panzer Division Hitler Jugend)
5 turns
Players:
2
OBA:
None
Night:
No
Unit Counts:
Squads: A:

0.0

D:

4.0
AFVs: A:17

Churchill IV

x 6

Sherman V(a)

x 6

Sherman VC(a)

x 2

Stuart V(a)

x 3
AFVs: D:5

PzKpfw IVJ

PzKpfw IVH

x 2

PSW 234/2

PzKpfw VIE (L)
Guns: A:0 D:2
Errata (source)
Players wanting to play this game/Request a match:
Scenario info
| Action | Date |
| --- | --- |
| hoxson1 Modified the Theatre | 2021-02-24 23:30:15 |
| hoxson1 Modified the overview | 2020-07-14 23:11:10 |
| hoxson1 Uploaded an Image | 2020-02-28 01:08:14 |
| hoxson1 Uploaded the Board image | 2019-10-16 17:52:53 |
| hoxson1 Modified the maps | 2018-06-12 12:40:13 |
Location
Not found
Images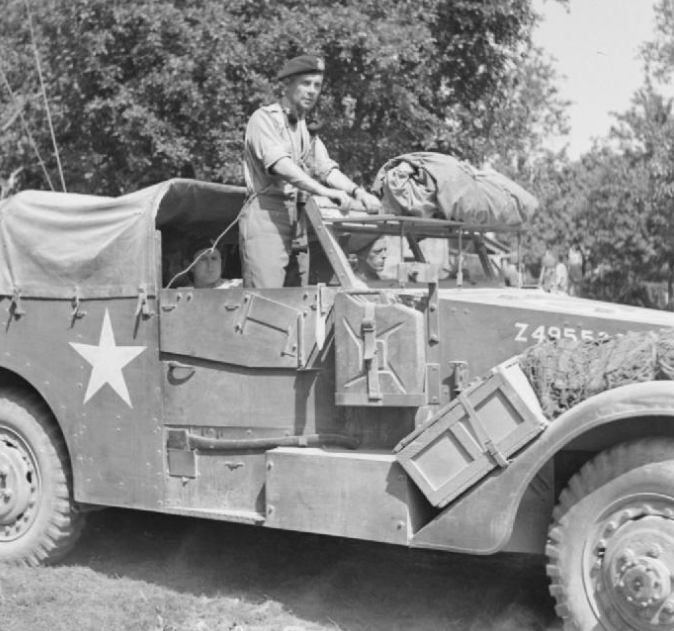 Major-General 'Pip' Roberts, commanding 11th Armoured Division, in his White scout car.

Statistics:
Avg Rating: n/a
Votes: 0
Views:
1475
To-Play list count:
0
Estimated Play time:
5 hours
Recorded Games:
0

Archive recorded plays:
British
0
German (SS)
0
Drawn:
0

ROAR Data: (as of November 2021)
Pip Roberts' Run
[Log in to Confirm or Edit]

| | |
| --- | --- |
| [A] German | 2 |
| [D] British | 1 |