The Rimling Circus WTO (id:#62279)
Designer: Evan E. Sherry
Starter kit scenario?: Deluxe scenario?:
Balance:

Overview:
General Max Simon's XIII SS Corps was attacking south as part of OPERATION NORDWIND with the objective of destroying American forces in the Saar Valley. Major General Burgess, commanding the 100th Infantry Division directed the 2nd Battalion, 397th Infantry Regiment to defend Rimling. Elements of the 776th Tank Destroyer Battalion was attached and joined the action in the vicinity of Rimling. During 8-9 January, elements of the 17th SS-Panzer Grenadier Division, reinforced with Jagdtigers from Schwere Panzerjager Abteilung 653, struck the 2nd Battalion at Rimling. Soon, heavy fighting erupted into a house-to-house struggle that saw the Germans attacking Rimling from three sides.

Attacker: German (SS) (SS Panzergrenadier Division 17 and Schwere Panzerjäger Abteilung 653)

Defender: American (E & F Companies, 2nd Battalion, 397th Infantry Regiment, 100th Infantry Division, and 749th Tank Battalion)
5.5 turns
Players:
2
OBA:
Both
Night:
No
Unit Counts:
Squads: A:

15.0

D:

13.5
AFVs: A:13

JgdPz VI

x 3

StuH 42 (L)

StuG IIIG (L)

x 2

StuG IIIG

FlaKPz IV/20

SPW 250/1

x 4

SPW 250/7

D:6

M4A3(76)W

x 3

M36 GMC

x 3
Guns: A:0 D:3

M1 57mm AT Gun

M1 81mm Mortar

x 2
| | |
| --- | --- |
| Misc Rules: | EC is Wet. Kindling and Bore Sighting are NA |
Errata (source)
Players wanting to play this game/Request a match:
Scenario info
Last Played:
| Date | Reporter | | Opponent | Result | Comments |
| --- | --- | --- | --- | --- | --- |
| 2020-01-05 | (D) Gordon Jupp | vs | Jeremy Shields | American win | Played this 5 years ago when the opposition malfd 5 German AFV's by T3. Went slightly longer this time but the US shooting was hot and it does seem a tough one for the Germans... |
| 2019-10-27 | (A) Jason Wert | vs | Cliff Welsh | German (SS) win | |
| 2016-03-08 | (A) X von Marwitz | vs | Martin Mayers | American win | Interesting Game with nice toys that plays very tense. However, it seems a bit tough on the Germans. I have seen it played with the Germans entering from the side and getting bottled up and stomped despite the German being a top player. So I tried the alternate (but more time consuming) approach across the hills. I left the Big Tigers atop the hill so that they could not be flanked and pose a threat at longer ranges. The US MTRs and the Arty are very hard to overcome when getting across the hills. If the Arty works, it can simply block one flank of approach. On the other hand, the Germans - so I believe - must build a Schwerpunkt on one flank and build up a credible threat without using too many units on the other. Unfortunately, my Radio operator was killed in his halftrack and the FlaK Pz recalled by the Sniper. These assets were sorely missed as long range threats to the US. Basically a nice scenario, but I believe, the Germans need some help. Maybe an extra turn or taking away one of the US MTRs. |
| 2015-06-06 | (D) Gordon Jupp | vs | Nick Holmshaw | American win | Interesting game which was spoilt by dice - Nick malfunctioned 4 tank guns which effectively ended the game - will replay tho - lots of toys! |
| 2014-12-18 | (A) fabrizio da pra | vs | Daniel Takai | German (SS) win | |
| Action | Date |
| --- | --- |
| hoxson1 Modified the Theatre | 2021-03-18 22:20:43 |
| hoxson1 Linked the scenario to ROAR | 2020-07-10 18:25:25 |
| hoxson1 Modified the overview | 2020-07-10 18:24:08 |
| hoxson1 Modified the unit counts | 2020-07-10 18:16:26 |
| hoxson1 Modified the misc. rules | 2020-07-10 18:15:03 |
Location
Not found
Images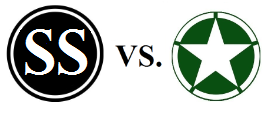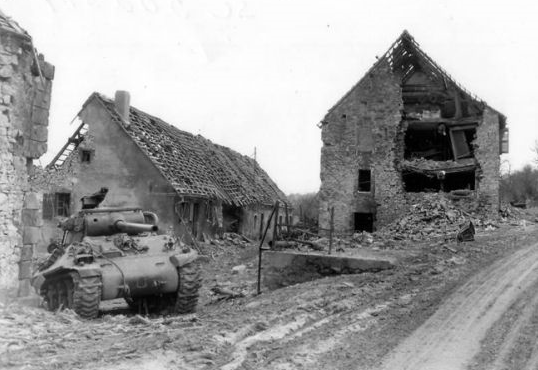 In the front line town of Rimling, a M36 tank destroyer stands in the protection of walls of bombed out building awaiting action.
Statistics:
Avg Rating: 7.17
Votes: 6
Views:
903
To-Play list count:
0
Estimated Play time:
9.1 hours
Recorded Games:
5

Archive recorded plays:
German (SS)
2
American
3
Drawn:
0

No Roar data found
Login to assign.