Bats Outta Hell PTO (id:#62522)
Peleliu, Palau Islands
1944-09-15
(
23 others
)
Designer: Bill Sisler
Starter kit scenario?: Deluxe scenario?:
Balance:

Overview:
The Palau operation called for the invasion of Peleliu on 15 September. The 1st Battalion of the 5th Marine Regiment landed on Orange Beach 1 at 0832 hours, where it met only scattered resistance upon landnig and as it moved inland. Instead of the unmapped coral ridges that confrontted the 1st Marine Regiment, the 5th Marines were able to advance in the cover of coconut groves, reaching their first objective just in front of the airfield. At 1650 hours, the Japanese commenced an artillery barrage that was followed by a counterattack on Orange Beach.

Attacker: Japanese (1st Battalion, 2nd Infantry Regiment, 14th Division, and the 14th Tank Company)

Defender: American (USMC) (1st Battalion, 5th Marine Regiment, 1st Marine Division and Companies A and B, 1st Tank Battalion)
7 turns
Players:
2
OBA:
None
Night:
No
Unit Counts:
Squads: A:

18.0

D:

10.0
AFVs: A:12
AFVs: D:8
Guns: A:0

Type 89 Heavy Grenade-Launcher

x 2

D:2
| | |
| --- | --- |
| Misc Rules: | PTO, LJ. A: enter as Riders |
Errata (source)
Players wanting to play this game/Request a match:
Scenario info
Last Played:
Date
Reporter
Opponent
Bal.
Result
Comments
2023-01-23
(D) Scott Sherer
vs
Jeff B
Japanese win
2023-01-23
(A) Jeff B
vs
Scott Sherer
Japanese win
I thought this would be a somewhat hokey scenario. In some ways it was, but in many ways it was much better than I expected. My biggest decision was deciding if I wanted to be aggressive going for the exit, or just try and keep as many vehicles alive as possible. I opted for the former. My first wave of infantry headed for the central woods mass, as I knew this would be a strategically important location, with most of my tanks hiding behind the north central bamboo. All of them stayed in motion, and would the entire game. The Americans were semi-aggressive in moving up to engage me, and deployed fairly liberally. Turn 3 saw the start of many banzais, as I was hoping to exit as many units as possible before the Turn 4 American tanks entered. I quickly lost two of my tanks, with another three to follow during the American half of Turn 3. As expected, one AT gun was in the north, and one in the south. Only one more tank was lost on Turn 4, and I was able to exit my remaining half for a quick 30VP. But this would leave my infantry without any armor support with their backs against the northern board edge, though many close to exiting. So I was a bit surprised when Scott decided to enter his remaining tanks safely in the south and immediately make for the airfield to situate himself for his own infantry exodus. Him losing one to a THH during my half of the turn perhaps made him exceedingly wary. So, with the help of another banzai, on Turn 5 I was able to exit 16VP of infantry to bring my total to 46. The rest would have their hands very full dealing with the aggressive HS wave the Americans sent their way in the north/central part of the board. I would not be able to exit another unit until the last turn, and this was a sole HS. The CCs had been hot and heavy the past couple turns, with the results probably more or less 50/50. But the Americans could afford the trade much more than I could. I would need to be a bit conservative with my remaining troops, which got to be harder as the airfield tanks drew their beads on them. Going into the last turn Scott had managed to close his CVP gap to just about even with my EVP number. With all but one of his tanks and many of his infantry close to the goal line I was thinking my days were numbered. But he had one straggling tank with a broken gun that had loaded up his 9-2 and two HS that had to run a gauntlet through some of my men before they were safe. I unhorsed one of the HS during DFPh, and failed to send a THH their way on my half of the turn, but did manage to close ranks with a striped squad and a HS. In desperation Scott had risked a bailout MC in turning his turret to shoot them, and the remaining HS broke in the process. My 9-1, whom I fervently wanted to join my men in their assault, was injured trying to make his break back. When I did get into CC with the tank I whiffed with both units, and his tank was able to join the others in exiting, but losing the 9-2 and both HS ended up costing him the game, with the final score being 104-47, or 3 points shy of a victory. This ended up being quite an exciting game, going down to the very end.
2021-03-06
(D) Stephen dedier
vs
Brent Crawford
Japanese win
Marines were behind the 8-ball from the second turn.
My 37LL placement was not what it should have been. I was a bit thrown off by the attack and defend nature of the scenario (this could play a lot of way).
The Japanese rushed tanks on both flanks and down the middle limiting the defense that had few hindrances in each place. The 8's, 9's and 10's abounded on the Marines TH rolls and the Japanese go 7 of 10 tanks off with the other 2 playing hide and seek
From there the combined armor and FP of the Marines pushed the Japanese back and my IFT rolls were knocking off charging T-H heroes and units. The Japanese sniper and some brittle Marines (tanking a CR on a 1 flat NMC uggg) left me with limited infantry for the final push. I still had a chance if i could get all 7 of my remaining tanks off and kill his 2 with 5 more infantry points one way or the other (Marines exiting or killed Japanese).
Unfortunately it was not to be. I killed one tank, missed the other on a 7 TH and then it had to roll right by my 37LL with promptly malfed.
To add insult a japanese leader managed to catch an in motion tank with a DC and roll snakes on the placement.
Not to be. This was a really fun scenario and i would play it again. It's got a ton of ways to play.
2021-01-31
(D) Eric Topp
vs
Ron Oxford
American (USMC) win
HA-GO tanks swarmed the Shermans but couldn't knock them out. The Japanese tanks were mostly burning after two turns.

Ron and I believe that the Japanese should *not* attack "like bats outta hell" but bunker down on board 38 and wait for the US.

What do other players think?
2020-02-04
(D) Jesus Pie
vs
Martí Cabré
American (USMC) win
Japanese tanks were half exited half destroyed, so that was even. The first American waves were slow but the big Japanese human wave failed utterly against massed firepower, then the Americans used armored assault to approach the Japanese lines and finally launch the tanks forward for a close win.
| Action | Date |
| --- | --- |
| sherersc Rated the scenario | 2023-11-15 02:09:33 |
| sherersc Added a playing | 2023-11-15 02:09:25 |
| buser333 Added a playing | 2023-01-24 02:06:51 |
| Bongiovanni Added a playing | 2022-09-16 12:53:59 |
| Thradar Uploaded the Board image | 2021-11-14 22:25:00 |
Location
Not found
Images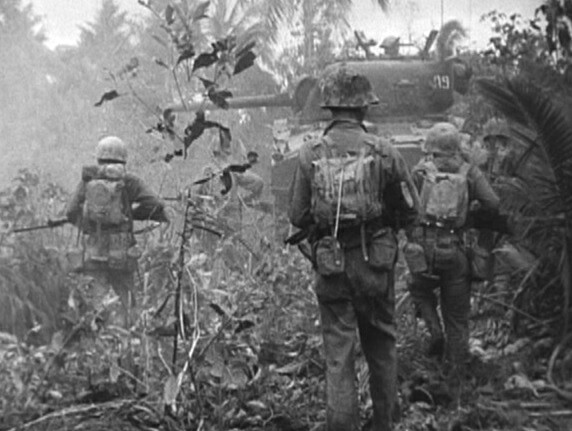 Sherman churns through Peleliu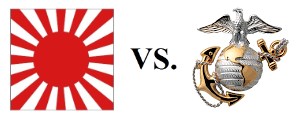 Statistics:
Avg Rating: 6.14
Votes: 21
Views:
4393
To-Play list count:
0
Estimated Play time:
10.4 hours
Recorded Games:
13

Archive recorded plays:
Japanese
4
American (USMC)
9
Drawn:
0

ROAR Data: (as of October 2023)
Bats Outta Hell
[Log in to Confirm or Edit]

| | |
| --- | --- |
| [A] American | 17 |
| [D] Japanese | 15 |