Our Hopes are Alpini on You ETO (id:#63015)
Nikolayevka, Russia
1943-01-26
(
7 others
)
Designer: George Kelln
Starter kit scenario?: Deluxe scenario?:
Balance:

Overview:
Scenario and VASL map available for free on Lone Canuck website . . .On 13 January 1943, the Red Army launched the second stage of Operation Saturn. Four armies of General Filipp Golikov's Voronezh Front attacked, encircled, and destroyed the Hungarian Second Army near Svoboda on the Don; and pushed back the remaining units of the German 24th Army Corps on the Italians' left flank, thus encircling the Italian Alpini Corps. On the evening of January 17, the commanding officer of the Alpini Corps, General Gabriele Nasci ordered a full retreat. At this point, only the 2 Alpini Division Tridentina, was still capable of conducting effective combat operations. Over 40,000 stragglers, of what was left of the Italian 8th Army, plus German and Hungarian soldiers fell in behind the Tridentina Division – their hopes were all pinned on the Alpinis to breakout. Reinforced with a handful of German armoured vehicles from the 22.Panzerdivision, this force led the way westwards towards the Axis' line east of Belgorod, some 200-km away. On the morning of January 26, the Tridentina's spearhead reached the hamlet of Nikolayevka that was occupied by the Soviet 243rd Rifle Division. The Alpinis' initial attempts to find a way around the hamlet proved unsuccessful. Deciding not to waste any more time, General Luigi Reverberi, commander of the 2 Alpini Division Tridentina launched an attack on the hamlet, but the assault was grounded to a halt by the Soviets. Regrouping and taking personal command of the next assault, General Reverberi, standing atop his vehicle, urged on his Alpinis forward. Like a dam bursting, 4,000 Alpinis broke through the Soviet defences and raced westward with the stragglers, struggling to keep up before the Soviets could send reinforcements to seal the breach.

Attacker: Italian/German (2 Alpini Division Tridentina wit 204.Panzerregiment)

Defender: Russian (243rd Strelkovy Division)
12 turns
Players:
2
OBA:
Both
Night:
No
Unit Counts:
Squads: A:

36.0

D:

33.5
AFVs: A:2
AFVs: D:5
Guns: A:7

Cannone da 47/32

x 4

Mortaio da 81/14

x 3

Mortaio da 45 Brixia

x 3

Fucile-cc S

D:2

45mm PTP obr. 32

x 2

50mm RM obr. 40

x 5

PTRD-41 ATR

x 4
| | |
| --- | --- |
| Misc Rules: | A: Passaglia Bomb rules (makeshift anti-tank grenade) |
| | | |
| --- | --- | --- |
| Map Board(s): | Nikolayevka | |
Errata (source)
Players wanting to play this game/Request a match:
Scenario info
| Action | Date |
| --- | --- |
| hoxson1 Modified the gps location | 2022-08-25 07:57:50 |
| hoxson1 Uploaded an Image | 2018-11-21 18:12:21 |
| peacmyer Rated the scenario | 2018-09-07 01:01:41 |
| hoxson1 Modified the overview | 2018-07-25 18:16:42 |
| George Kelln Modified the unit counts | 2017-06-25 02:02:05 |
Location
Images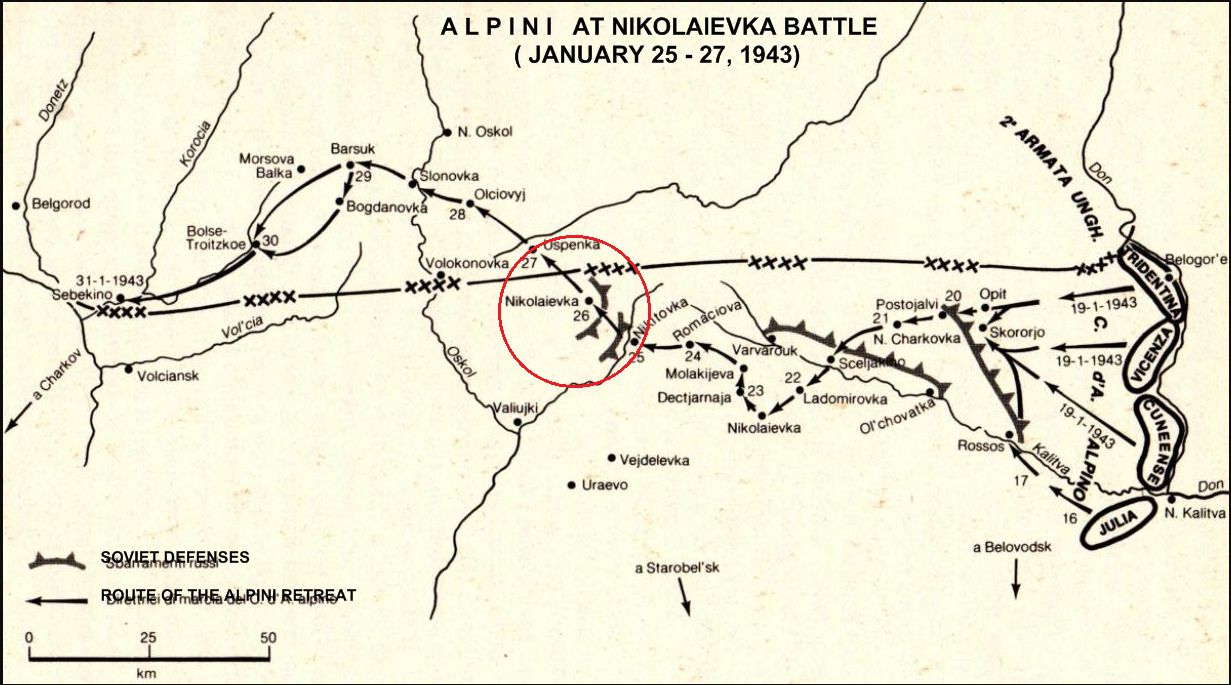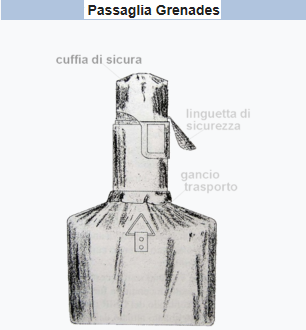 only effective if launched precisely on the engine compartment, in which case they were able to destroy any armored vehicle.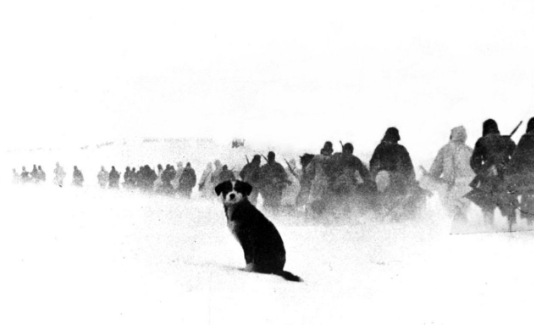 Statistics:
Avg Rating: 6.00
Votes: 1
Views:
1949
To-Play list count:
0
Estimated Play time:
25.9 hours
Recorded Games:
0

Archive recorded plays:
Italian/German
0
Russian
0
Drawn:
0

ROAR Data: (as of November 2021)
Our Hopes Are Alpini On You
[Log in to Confirm or Edit]

| | |
| --- | --- |
| [A] Italian | 0 |
| [D] Russian | 1 |