Vae Victis # 89
(Log in to add this module to your collection
or to see your play details)
Introduction:
ANALYSE Fields of Fire (GMT)
ANALYSE : Bastogne (MMP)
ANALYSE : Striking the Anvil (Battles Magazine)
ANALYSE : 1960 (filosofia)
ART DE LA GUERRE : La bataille de Debrecen - 1944
SCENARIOS : Hongire 1944 pour ASL et EPT
PRESENTATION + SCENARIOS : Ambush Valley (Ambush Alley Games)
ANALYSE : The Kaiser's Pirates (GMT)
ART DE LA GUERRE : Les débuts de la guerre de Sécession
JEU EN ENCART : La première bataille de Bull Run 1861
HOBBY : Que devient DBA ?
ART DE LA GUERRE + SCENARIOS : Les conflits du Kansas et du Missouri
CAMPAGNE : Supremus Tyrannicus- une campagne du temps d'Arthur
REGLES : Wings of War Seconde Guerre Mondiale
INTERVIEW : Lance Cawkwell, le major galopant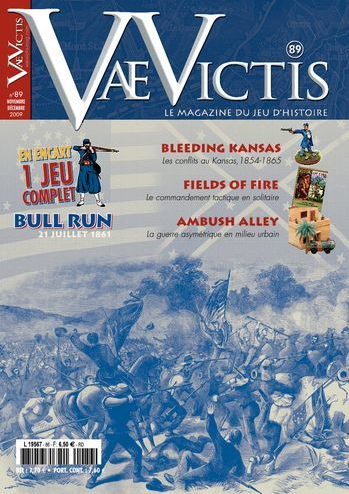 Articles and Resources:
No articles entered for this publication.
Add one
?
Scenarios:
* Popularity is the sum of Roar and Archive reported playings based as a percentage of the parent publication's total games.
(Dark) grey rows indicate Night scenarios.
Median length of scenarios: 7.4hrs
Average rating of scenarios: n/a
Total playing time: 7.4hrs