Hell's Highway
(Log in to add this module to your collection
or to see your play details)
Introduction:
A tactical-level game that allows players to experience some of the difficulties faced by local commanders during Operation MARKET-GARDEN, the Allied bid to force a crossing of the Rhine River. In late September 1944, American and British forces set out to seize key bridges and high ground along a 100-kilometre stretch of Highway 69. Hell's Highway, as this tenuous route came to be known, connected the Allied front line in Belgium with a major bridge over the lower Rhine at Arnhem, in the Netherlands. After five days of furious combat, the route was largely in Allied hands. However, German counterattacks frequently cut the road. One attack occurred on 22 September, in the vicinity of the Dutch village of Mariaheide, midway between Veghel and Uden. Hell's Highway recreates the nearly 36-hour battle for two kilometres of vital highway centred on the village of Mariaheide.

Hell's Highway contains:

•One colour 24"x 36" historical Map with standard ASL hexes


•22x 5/8" Counters (SPW 251/21, Typhoon Mk IB, FB'44, Sherman V OP Tank)


• Five scenarios played on various parts of the map,


•Five-Scenario Date, Tactical Mission (a.k.a. Campaign Game); and


•Chapter HH that includes rules to play the Tactical Mission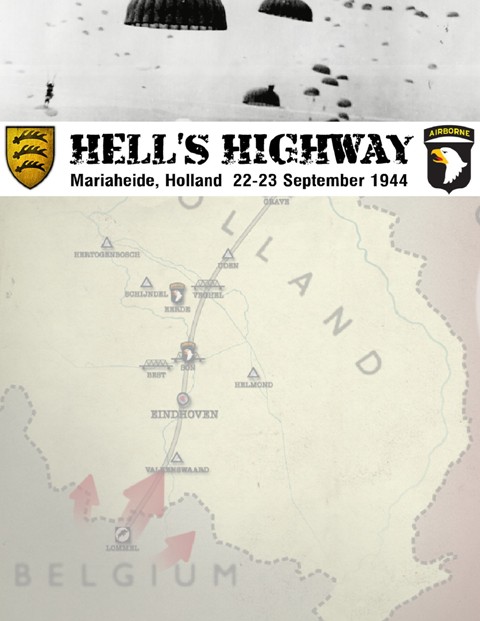 Articles and Resources:
No articles entered for this publication.
Add one
?
Scenarios:
* Popularity is the sum of Roar and Archive reported playings based as a percentage of the parent publication's total games.
(Dark) grey rows indicate Night scenarios.
Median length of scenarios: 3.6hrs
Average rating of scenarios: 5.47
Total playing time: 19.8hrs