Operation Martlet
(Log in to add this module to your collection
or to see your play details)
Introduction:
June 1944: On the right flank of Operation EPSOM, the British set up Operation MARTLET. This operation was necessary because EPSOM was vulnerable to German counterattack from the high ground in the Rauray area. It was essential for the Allies to seize several key points prior to the launching of EPSOM. These key points were the villages of Rauray, Fontenay-le-Pesnel, Tessel, Brettevillette, and Juvigny.

The 49th (West Riding) Infantry Division, consisting of the 70th, 146th and 147th Infantry Brigades, as well as the 8th Armoured Brigade, was assigned to carry out MARTLET. The operation's first objective was BARRACUDA, the road between Juvigny and Fontenay. The German forces in this sector consisted of the Panzer Lehr Division and the 12.SS-Panzer-division Hitlerjugend (Hitler Youth).

OPERATION MARTLET, OBJECTIVE: BARRACUDA contains:

One 35" x 24" map with one inch hexes
One countersheet
Chapter Obj:B rules
Eight ASL scenarios
One Campaign Games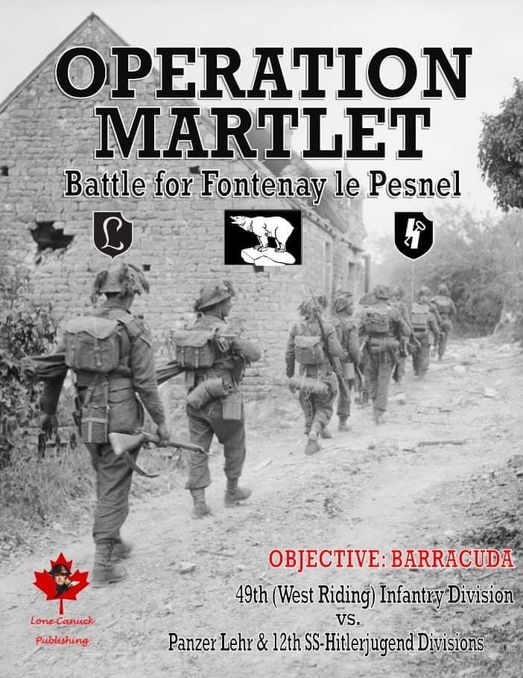 Articles and Resources:
No articles entered for this publication.
Add one
?
Scenarios:
* Popularity is the sum of Roar and Archive reported playings based as a percentage of the parent publication's total games.
(Dark) grey rows indicate Night scenarios.
Median length of scenarios: 7.1hrs
Average rating of scenarios: 5.44
Total playing time: 71.1hrs