Cold Crocodiles ETO (id:#56266)
Saint Joost, The Netherlands
1945-01-20
(
2 others
)
Designer: Pat Jonke
Starter kit scenario?: Deluxe scenario?:
Balance:

Overview:
Operation Blackcock's plan was for 12th Corps to clear the German 176th and 183rd Infantry Divisions, well dug in with anti-tank guns, from a triangle formed by the rivers Roer, Wurm and Maas. The Division was on the left bank with 131st Brigade attacking northwards to secure Echt, Schilberg and Susteren. The plan was then for 22nd Armoured Brigade to break through north towards Montfort and St. Odilienburg. After the normal problems with traffic congestion the 1/5th Queens advanced, supported by flail tanks and artillery. There then ensued several days of hard fighting across canal after canal, through village after village and at St. Joost, they came upon three Companies for German Paratroops, who inflicted heavy casualties on the 8th Hussars and Rifle Brigade. Crocodile flame-thrower tanks were used to help clear them out, but the village had to be taken house by house, with the enemy only withdrawing when the flames got too much for them.

Attacker: British (I Company, 1st Rifle Brigade and C Squadron, 8th Hussars/141st Armoured Regiment)

Defender: German (Regiment "Huebner", Fallschirmjäger Division 8/Reinforcements)
8 turns
Players:
2
OBA:
British
Night:
No
Unit Counts:
Squads: A:

12.0

D:

9.0
AFVs: A:6

Challenger

x 2

Cromwell VII

x 2

Churchill Crocodile

x 2

D:2
Guns: A:0 D:2
| | |
| --- | --- |
| Misc Rules: | Only bridge 23P7 exists, no valley on Bd 24. A: FTV2 |
Errata (source)
Players wanting to play this game/Request a match:
Scenario info
Last Played:
Date
Reporter
Opponent
Result
Comments
2020-09-10
(A) Mike Grogan
vs
Tim Wiegmann
British win
British grind out win mostly with infantry,tanks and OBA not very effective.
2020-09-09
(D) Tim Wiegmann
vs
Mike Grogan
British win
Germans did very poorly in anticipating the British set-up, and the HIP guns never managed to enter play.
2020-07-17
(A) David Ramsey
vs
Martin Barker
British win
British rolled up the Germans after a lucky (and as it turned out, illegal!) OBA drifting FFE revealed the HIP AT gun. More misery for the Germans, who promptly rolled a double-six on a PF to hit, wiping out a HS, and another box-cars on a crew MC.
2020-05-15
(A) Eben Johnson
vs
German
German win
Played the Brits. Tough one. One smoke placement from a mortar in turn 3 (mortars start dismantled), only two smoke-capable AFVs immediately depleted, and never gained battery access (immediately 2 red cards).

As bad as my rolls were, his were good enough with, for example, immediate hits against hulldowns AFVs and hits with intensive fire vs. moving AFVs.

Couple tactical errors, and I've never before played a flame-throwing AFV. Got to use the tools better. Example: later in the game, move near by, use smoke mortar, then flame.

A hit from the 88ATs is just about a 100% blaze.

Overall, plan was good, but not able to rally anything, not able to hit anything, not able to win 2:1 CCs, not able to place smoke, no OBA - tough one.

Great opponent, great scenario.
2020-01-24
(A) Andy Goldin
vs
Scott Holst
German win
My initial excitement at playing a classic scenario was extinguished as my attacking moves were effectively countered by Scott's flexing defense. One of my tanks failed to start (Red MP, rolled a 12), effectively putting it out of the game. I lost two tanks to unexpected LOS from his 88s. My artillery and Scott's continuing failure of NMCs kept me in the game. Although my remaining tank-killing tank kept his SP ATGs from crossing the canal, they did get a KIA against my MMG kill stack thereby neutering any further effort on that board. In the south, my artillery failed to suppress his remaining 88, which then knocked out my last Crocodile as it made a run for the town. In light of my losses I no longer had enough combat power to take much of anything, so it was game over by turn 6.
| Action | Date |
| --- | --- |
| Amselfass Added a playing | 2020-09-16 08:44:29 |
| mikegrogan436 Added a playing | 2020-09-10 09:36:00 |
| mikegrogan436 Rated the scenario | 2020-09-10 09:30:57 |
| Gamer72 Added a playing | 2020-08-24 12:18:13 |
| erikgrande71 Uploaded a VASL file | 2020-08-23 17:32:15 |
Location
Images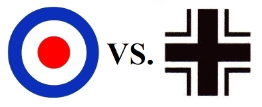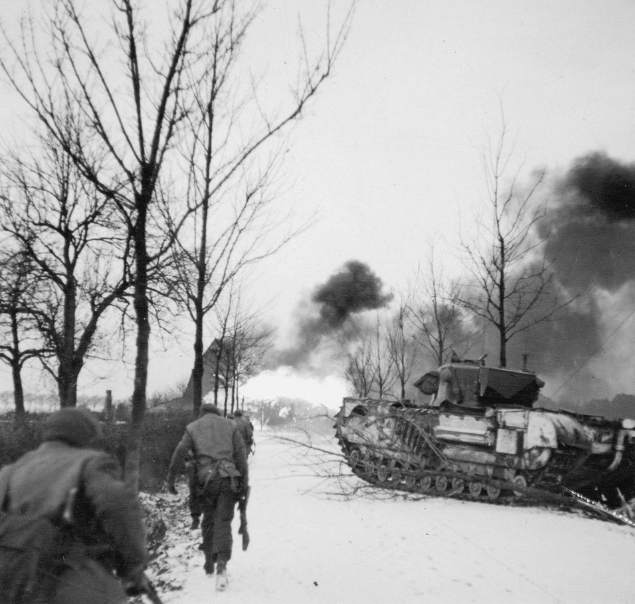 1st Battalion, The Rifle Brigade, supported by Crocodile flame-throwers, attack the village of St Joost, Netherlands, 20 January 1945.
Statistics:
Avg Rating: 7.88
Votes: 50
Views:
16356
To-Play list count:
16
Estimated Play time:
7.3 hours
Recorded Games:
36

Archive recorded plays:
British
17
German
19
Drawn:
0

ROAR Data: (as of Nov 2019)
Cold Crocodiles [Confirmed]

| | |
| --- | --- |
| [A] British | 186 |
| [D] German | 153 |