Oy Veghel WTO (id:#56280)
(Revision: MMP: ASL 5a - For King and Country #110)
Northeast of Veghel, The Netherlands
1944-09-22
(
25 others
)
Designer: Joe Suchar & John Mishcon
Starter kit scenario?: Deluxe scenario?:
Balance:

Overview:
On the morning of 22 September, the U.S. 327th Glider Regiment's 3rd Battalion was just moving into Veghel. Behind them came in the 1st Battalion Anti-Tank Platoon. Colonel Joseph Harper gave both his formations orders to push up the highway toward Uden and deploy to defend the approaches from that town. Just outside Veghel, one AT gun set up in the middle of the highway; the other two lined up some 20 yards apart on the left. But even as these were being manhandled into position, the main thrust of Kampfgruppe Walther crashed into Uden. Fighting doggedly, a single battalion of the 501st deflected the initial armor attack, causing it to sheer off down the route to Veghel. Distracted by destroying a stalled British truck convoy, the panzers were only 150 yards from the American positions when the anti-tank guns opened fire.

Attacker: German (107th Panzer Brigade, Kampfgruppe Walther)

Defender: American (327th Glider Infantry Regiment)
8 turns
Players:
2
OBA:
None
Night:
No
Unit Counts:
Squads: A:

9.0

D:

4.5
AFVs: A:3
AFVs: D:1
Guns: A:0 D:1
| | |
| --- | --- |
| Misc Rules: | Water obstacles are flooded. Bridge in 13CC5 (near lake) does NOT exist. |
| | | | | | | | | |
| --- | --- | --- | --- | --- | --- | --- | --- | --- |
| Map Board(s): | 10 | | 13 | | 16 | | 19 | |
Errata (source)
Players wanting to play this game/Request a match:
Scenario info
Last Played:
Date
Reporter
Opponent
Bal.
Result
Comments
2023-03-16
(D) Kevin Duval
vs
Dwayne Duval
D
In progress
I kept the Germans guessing & probing for first 3 Turns by moving forward while keeping Concealment. Lone HS with Bazooka managed to tie-up a number of the attackers allowing defenders to get into position. Conservation of forces and focused damage eventually paid off. Very close nail-biter.
2023-02-13
(A) Ron Garcia
vs
Darryl M.
German win
I found this scenario dull as the German attacker. It took a looong time to get my forces into position. I sent the tanks over the elevated road with a couple of HS riders, two LMG toting squads and the 9-2 leader. Sending the 9-2/squad group was a mistake as they never entered the action. The rest I sent along the wheatfield and into the large woods cluster near the victory buildings.

My opponent did a masterful job positioning and repositioning his meager assets so that I couldn't make a big rush without running into -2 shots. However, three events made my victory possible.

Early in the game my opponent scored a side hit on one of Mk. IV's. Result - dud. This was instrumental because that tank ended up smoking a critical hex later in the game. The second was an ill advised move by an American DC toting HS into open ground vs going into hex 10R7. A K/2 ended that threat. Finally, a great fire lane from 10Y5 ended on a 12 DR allowing a German rush into 10R7. I advanced only one HS into hex 10R6 vs a lone American HS just hoping to tie it up. I rolled a 3, and it survived the return attack. My friend said I won. I didn't realize taking the two buildings resulted in an instant victory. Had I known that, I would have sent in another squad and a half.

More fun for the Americans IMHO. They are the ones forced to make tough decisions on how to best position their forces each turn. For the Germans, keep moving or lose. Not much strategy in that.
2020-02-29
(D) Dan Best
vs
Dave Mareske
German win
2020-02-29
(A) Dave Mareske
vs
Dan Best
German win
Another great playing with Dan that came down to the last close combat (though the odds were in my favor). The Americans kept winning close combats so the final one made me nervous. A couple long range shots broke the AT Gun crew and so they only got off two shots. There were a couple of great moments, a thrown DC, a BZK shot that killed a half-squad on the backblast but flamed the tank and a series of low rolls at the end of the game. Great game, but I would at least give the Americans the balance.
2010-03-13
(D) Christopher Dawson
vs
German
American win
| Action | Date |
| --- | --- |
| Kydder Added a playing | 2023-03-17 15:02:26 |
| Kydder Rated the scenario | 2023-03-17 14:53:41 |
| Jude Added a playing | 2023-02-13 04:59:55 |
| Jude Rated the scenario | 2023-02-13 04:47:52 |
| SRenaudin Modified the Defender's Guns | 2022-08-09 12:43:43 |
Location
Images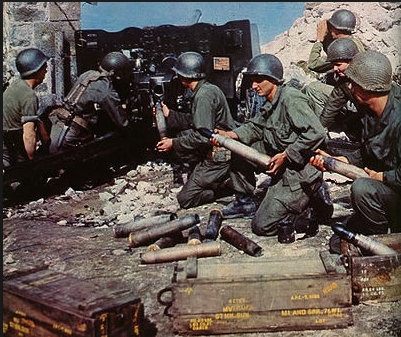 The 57mm M1 anti-tank gun fired two different types of armor piercing round - the AP and the APC - as well as a high explosive round.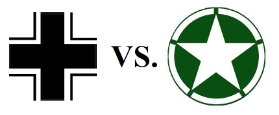 Statistics:
Avg Rating: 6.60
Votes: 10
Views:
4866
To-Play list count:
2
Estimated Play time:
3.9 hours
Recorded Games:
6

Archive recorded plays:
German
3
American
2
Drawn:
0

ROAR Data: (as of November 2021)
Oy Veghel [Confirmed]

| | |
| --- | --- |
| [A] German | 53 |
| [D] American | 20 |