Kempf at Melikhovo ETO (id:#56498)
Prior Publication: On Top Scenarios: ON6
See Also: Kempf at Melikhovo by Ola Nygards

Designer: Ola Nygårds

Starter kit scenario?: Deluxe scenario?:
Balance:

Overview:
Operation Citadel had been underway for five days and things were not going well for the German attack. The original plan to seize the town of Korocha was scrapped and 6th Panzer Division was tasked with breaking through the Soviet defenses and driving as hard as possible towards Prokhorovka to link up with II SS-Panzer Corps. In the vicinity of Melikhovo, the last defense line, 6th Panzer attacked with flamethrower tanks and the battle of Melikhovo had begun. . .

Attacker: German (6th Panzer Division, III Panzer Corps)

Defender: Russian (7th Guards Army)
4.5 turns
Players:
2
OBA:
None
Night:
No
Unit Counts:
Squads: A:

6.5

D:

6.5
AFVs: A:2 D:1
Guns: A:0 D:1

45mm PTP obr. 42

PTRD-41 ATR
| | |
| --- | --- |
| Misc Rules: | Hills are Grain, bldgs single story. A: FTV1 w D: variable KV-1 entry |
Errata (source)
Players wanting to play this game/Request a match:
Scenario info
Last Played:
Date
Reporter
Opponent
Result
Comments
2022-02-04
(A) Jason Nichols
vs
Mike Grogan
German win
Played as part of IR PBEM tournament. Played live on VASL as a substitute to Cibik's Ridge as couldn't get the map to load corectly.
Mike resigned when my FT tank broke his leader and squad in DFF on Turn 3. The dice gods were not kind to Mike in this game. He didn't get his KV tank and without it the Russians struggle to stem the tide of the German firepower.

The Germans pushed quickly into the village and the FT tank provided support that the Russians couldn't stand up to. I brought the Mk IV up the left along the road and was heading toward a concealed stack in the wheatfield with the intention of over-running them. Unfortunately that was where Mike had hidden his ATG. He took a shot after changing CA and missed with APCR. He then took another with AP and hit but didn't kill. I then changed CA and proceeded to overrun his ATG expending 5 MP to enter the hex. Of course Mike retained rate and fired 5 shots at the tank but no kill. I then overran his crew with an 8 +2 and the crew broke. They then couldn't rout and were eliminated.

The Germans captured two of the three victory hexes and Mike was moving his last squad and leader through the grain to reinforce the remaining building when he was caught by the FT tank. That was the end of game.

An enjoyable game with some interesting twists and turns. One of my broken half-squads rallied with snakes and generated an 8-1 leader.
2022-01-18
(D) Simon Staniforth
vs
Russian win
My third playing of this one somehow always as the Russians. As usual hectic action in the village with in this playing my ATG and KV both popping up with APCR to nail the German AFVs before they could do serious damage in the end game. Left to the 9-2, 8-1 and supported squads / HS to assault the final victory building but they just came up short getting broken adjacent. Always a fun game
2021-11-12
(A) Pascal Boileau
vs
Stephane Renaudin
Russian win
A small but thrilling scenario. Many twists and turns have spiced the course of the game and the issue of the game was ultimately decided in the very last CC.
2021-08-06
(D) Will Willow
vs
Carl Herzog
Russian win
TiT21
2020-04-14
(A) Jeff B
vs
Tom Mueller
German win
I setup a kill stack to hopefully deal with one of his MGs and clear the way for the rest of my onboard infantry. They did the job nicely, killing the squad and wounding the leader, though my 9-2 wounded from his sniper as an aftereffect. My offboard infantry rushed in concealed under cover of the tank. Turn 2 saw my men move up to the front line under cover of concealment, while my tanks softened up the defense. My straggling 9-2 was popped again by the sniper, this time mortally. The next turn saw my Panzer knocked out by his AT gun, but more Russian infantry went down to my FT and some stellar infantry shooting (including a key break of his MG squad). This unit rolled snakes in its next RPh, only to see them disrupt. Turn 4 saw my FT tank survive a rear point blank ATR shot and a whiff from the KV-1, as it took out the last good order Russian squad. With only the ATR HS, the gun, and the KV-1 left, and my infantry having yet to even see a broken unit, the Russians called it a day.
| Action | Date |
| --- | --- |
| Nicho11 Added a playing | 2022-02-04 11:23:12 |
| Simonstan Added a playing | 2022-01-19 16:59:43 |
| lechiquier94 Added a playing | 2021-11-15 21:00:51 |
| wwillow Added a playing | 2021-08-10 14:48:19 |
| Hutch Modified the unit counts | 2020-10-18 12:08:40 |
Location
Images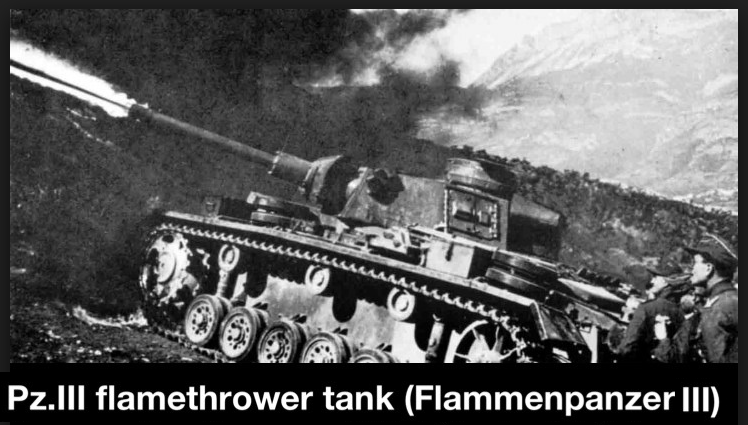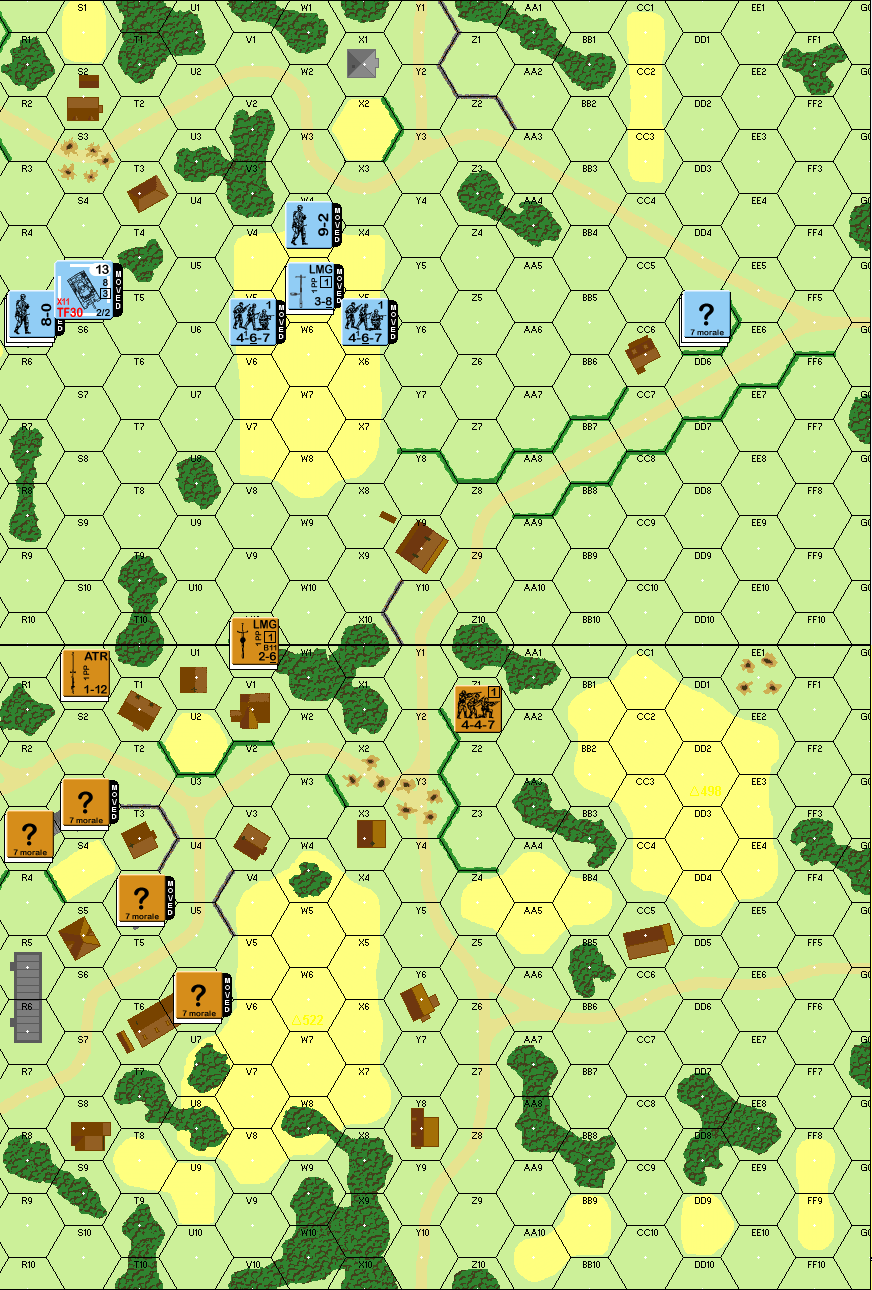 Set up, 28/01/07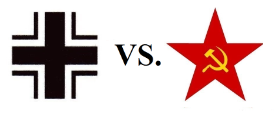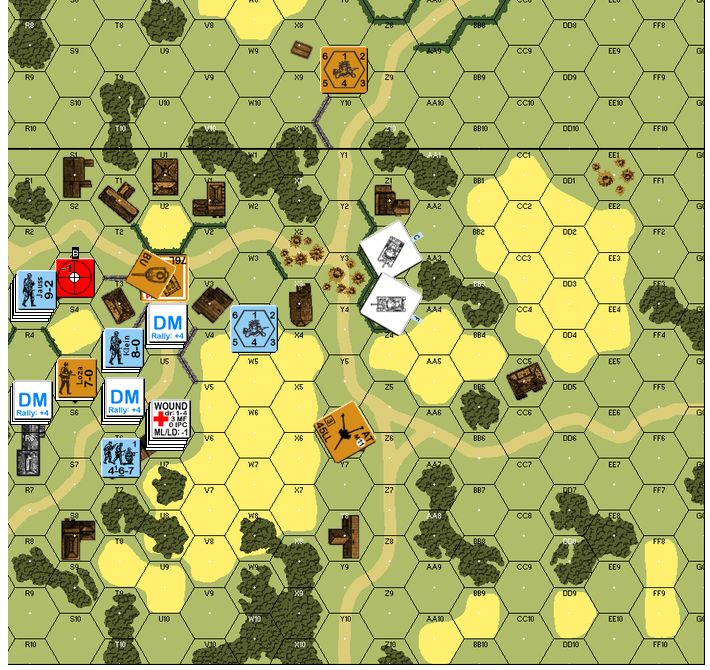 Situation at game end
Statistics:
Avg Rating: 6.68
Votes: 72
Views:
7707
To-Play list count:
9
Estimated Play time:
2.2 hours
Recorded Games:
58

Archive recorded plays:
German
24
Russian
34
Drawn:
0

ROAR Data: (as of January 2022)
Kempf at Melikhovo [Confirmed]

| | |
| --- | --- |
| [A] German | 123 |
| [D] Russian | 144 |