La Guerre Finie!! ETO (id:#58207)
Designer: George Kelln
Starter kit scenario?: Deluxe scenario?:
Balance:

Overview:
Infantry Regiment Grossdeutschland, reinforced by artillery and engineers, crossed the Belgian frontier about midday encountering little resistance. An enemy force, comprised of elements of a French Cavalry and motorized reconnaissance units, had taken up positions in Etalle The Infanterie Regiment Grossdeutschland was dispatched to handle the situation. Upon arriving in village of Etalle, Grossdeutschland found the fighting was serious. Houses had been shot up, telephone wires hung down everywhere, on the corner sat a bullet-ridden civilian automobile. The bridge at the entrance to the village was barricaded and held by the French who were under heavy rifle and machine-gun fire coming from the houses behind it. Major Föst assessing the situation personally took command of the 5th Company and moved to launch an attack.

Attacker: German (Advanced guard and Kompanie 5, Infantry Regiment Grossdeutschland)

Defender: French (Elements of 5th Division Legere de Cavalerie)
8 turns
Players:
2
OBA:
None
Night:
No
Unit Counts:
Squads: A:

18.5

D:

12.0
AFVs: A:0 D:2
Guns: A:1

3.7cm PaK 35/36

5cm leGrW 36

x 3

7.92 PzB 39 ATR

x 3

D:0
| | |
| --- | --- |
| Misc Rules: | A: Elite w D: Fortified buildings |
Errata (source)
Players wanting to play this game/Request a match:
Scenario info
Last Played:
Date
Reporter
Opponent
Result
Comments
2021-04-24
(D) Jason Nichols
vs
Bruno Javanabal
German win
I setup most of the French defenders in the North and put the roadblock in the South. My plan was to remain concealed for as long as possible. The Germans utilized spotted mortar fire to good effect in the South and were able to break several units. Once broken the French are reluctant to rally.
The French were more effective in the North where they were able to break and then eliminate the crew of the ATG. However, despite having a fortified location with good LOS to the bridge, the French were unable to pass a MC to save themselves.
A well placed German mortar round that eliminated my best leader and the MMG spelled disaster for the French in the North. While the German ATR's couldn't make an impression on the lone French tank it was taken out by another mortar round on Turn 6 signalling that it was time to declare, "La Guerre Finie!!" Well played to my opponent.
A difficult ask for the French as they lack the firepower to inflict serious casualties on the Germans who can setup well protected kill stacks that eventually wear the defenders down.
2016-05-21
(D) Michael Rodgers
vs
Jim Rudek
German win
I set up the roadblock on the bridge that the German reinforcements would reach first. I protected both bridges about equally. The German attack developed slowly, focussed on the roadblock bridge. Around turn three the French there started falling apart. On turn four the Germans were across that bridge in strength and started attacking the other bridge. The French defenders there broke quickly. I conceded on turn five to allow us to move onto the next tournament round.
2016-05-01
(D) rene cote
vs
DR
German win
Held up Germans on both bridges with roadblock on south and lasted till turn 7 when he destroyed my last AFV in the victory zone. In hindsight, probably should keep AFV out of harm until last turn and then barge into VC zone with his only chance being to knock off both with his single AT gun. Perhaps even placing roadblock in VC zone and providing hull down position for my AFV.
2016-03-03
(A) Kevin Killeen
vs
Chris Doary
German win
2009-07-26
(D) Jeff Waldon
vs
Pierce Mason
German win
Fantastic game, came down to a 1-1 CC roll on the last turn.
| Action | Date |
| --- | --- |
| Nicho11 Added a playing | 2021-04-26 06:05:55 |
| Hutch Modified the Attacker's Guns | 2020-10-06 03:17:47 |
| Hutch Modified the unit counts | 2020-10-06 03:17:47 |
| Hutch Modified the Attacker's Guns | 2020-10-06 03:17:03 |
| Hutch Modified the unit counts | 2020-10-06 03:17:03 |
Location
Not found
Images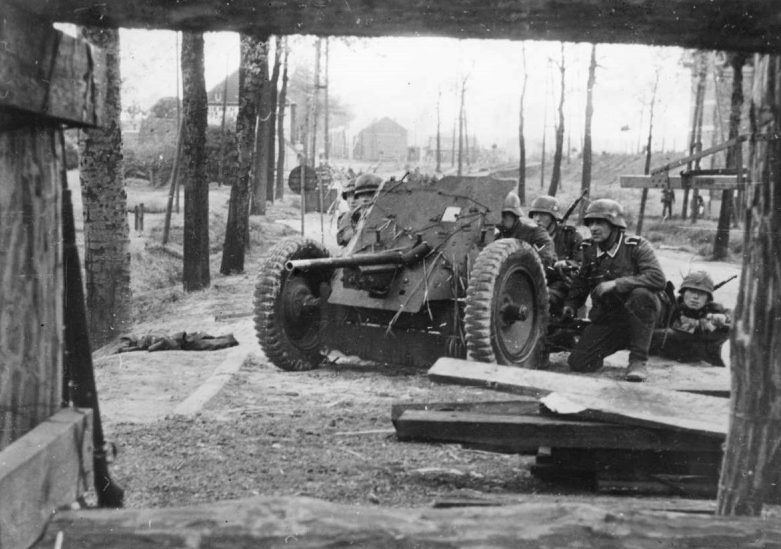 German 37-mm PaK 35/36 on the street of a town in Belgium.

Statistics:
Avg Rating: 6.88
Votes: 8
Views:
3452
To-Play list count:
1
Estimated Play time:
6.4 hours
Recorded Games:
6

Archive recorded plays:
German
6
French
0
Drawn:
0

ROAR Data: (as of January 2022)
la guerre finie!!
[Log in to Confirm or Edit]

| | |
| --- | --- |
| [A] German | 13 |
| [D] French | 14 |