Victoire a la Pyrrhus MTO (id:#58905)
Designer: Jean-Paul Gonçlave
Starter kit scenario?: Deluxe scenario?:
Balance:
German
British / New Zealand

Overview:
"Pyrrhic Victory" -- On April 8, just two days after the start of the German offensive, it became obvious to General Wilson, commanding officer of the Imperial Expeditionary Force, that the Greeks would not be able to resist enemy pressure much longer. Consequently, he decided to re-deploy his forces to the south, along a shorter defensive line, anchored on wooded mountains and easier to defend. But he needed time to do so. Several units were detached from the IEF and placed under General Mackay . They started blowing up a series of bridges, managing to greatly slow down the Panzer Divisions. Even this was not enough though, and Mackay fought a first (and successful) blocking action at Vevi. Encouraged by the result, he decided to try again. 35 km to the south, at Ptolemais, a natural anti-tank ditch cut across the South road. This looked like the perfect spot from where to try stopping the onrushing Panzers. The clash was not long in coming. On the morning of the 13th, the 4th Hussars forward observation posts beyond the ditch came under heavy attack. The Germans quickly realized that it would be impossible to force their way through. A glance at the map indicated a possible solution: a trail bypassed the obstacle, but the ground was swampy and seemed impassable for the Panzers. Nonetheless, it was the only way out and had be attempted. A few hours later the first German tanks showed up on the British flank...

Attacker: German (33rd Panzer Regiment, 9th Panzer Division)

Defender: British / New Zealand (1st Armoured Brigade HQ and 2nd RHA L/N Battery/A Troop, Northumberland Hussars, 102nd Anti-Tank Regiment/B and C Squadrons, 4th Hussars/A Squadron, 3rd RTR/2nd and 3rd Platoon, 27th New Zealand MG Battalion)
8 turns
Players:
2
OBA:
None
Night:
No
Unit Counts:
Squads: A:

13.0

D:

8.0
AFVs: A:14

PzKpfw IIF

x 3

PzKpfw IIIG

PzKpfw IIIF

x 3

PzKpfw IVD

x 2

SdKfz 10/4

SPW 251/sMG

SPW 251/1

x 3

D:12

A10 Mk IA CS

A10 Mk IA

x 4

A9

2pdr Portee

x 2

Mk VIB

x 3

Marmon-Herr. II ME

3-Ton Lorry

15-cwt Truck
Guns: A:0 D:1

OQF 4.5-in. Howitzer

Boys ATR
| | |
| --- | --- |
| Misc Rules: | GS, Dust LV +1 hindrance Turn 3 and on; A: Air w D: Tr2 |
Errata (source)
Players wanting to play this game/Request a match:
Scenario info
Last Played:
| Date | Reporter | | Opponent | Result | Comments |
| --- | --- | --- | --- | --- | --- |
| 2019-12-29 | (A) Rich Weiley | vs | Dave Wallace | British / New Zealand win | VASL game. ROF 3 ATGs against the thin german armour was brutal. |
| 2018-12-05 | (A) Tom Abromaitis | vs | | British / New Zealand win | |
| Action | Date |
| --- | --- |
| hoxson1 Modified the Theatre | 2021-03-31 19:21:06 |
| Rich Weiley Added a playing | 2020-06-07 02:21:42 |
| hoxson1 Modified the overview | 2020-01-23 14:51:23 |
| TomAbromaitis Added a playing | 2018-12-08 12:08:29 |
| hoxson1 Uploaded the Board image | 2017-10-27 17:23:43 |
Location
Not found
Images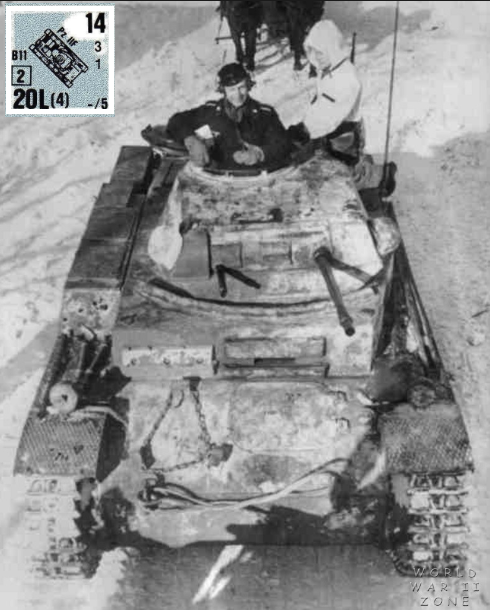 PzKpfw IIF on our flank!

Statistics:
Avg Rating: 6.00
Votes: 2
Views:
2343
To-Play list count:
1
Estimated Play time:
12.4 hours
Recorded Games:
2

Archive recorded plays:
German
0
British / New Zealand
2
Drawn:
0

ROAR Data: (as of April 2021)
Victoire à la Pyrrhus (Pyrrhic Victory) [Confirmed]

| | |
| --- | --- |
| [A] German | 14 |
| [D] British | 19 |