Battle for the Warta Line ETO (id:#60407)
Prior Publication: SL 21
See Also: Battle for the Warta Line by Bounding Fire Productions

Designer: Adapted by Jim Stahler

Starter kit scenario?: Deluxe scenario?:
Balance:

Overview:
For two days the Poles desperately tried to hold a line in the vicinity of the Warta and Widawka Rivers but were gradually pushed back. However, the stubborn resistance of the crack Polish 10th Infantry Division was threatening to throw the German invaders severely off their time schedule and might enable the Poznan Army to escape almost certain encirclement. Determined to break through, the Germans brought up heavy reinforcements including the elite Leibstandarte SS Adolf Hitler Regiment and attacked at once.

Attacker: German (SS) (Infanterie-Regiment Leibstandarte SS Adolf Hitler)

Defender: Polish (10th Infantry Division)
7.5 turns
Players:
2
OBA:
Both
Night:
No
Unit Counts:
Squads: A:

16.0

D:

13.0
AFVs: A:3 D:0
Guns: A:1 D:0
| | |
| --- | --- |
| Misc Rules: | A: German MMC do not have underlined Morale and are Replaced normally |
Errata (source)
Players wanting to play this game/Request a match:
Scenario info
Last Played:
Date
Reporter
Opponent
Result
Comments
2021-04-27
(D) Gerry Proudfoot
vs
Jim Bishop
Polish win
Another remake from the days of Crescendo of Doom and tghe Squad Leader days. This scenario is a challenge for both players as the Poles have plentiful Wire and good quality troops. The Germans, extremely well led and equipped must cross two maps and exit 16 VP off the opposite map edge.

The terrain forces some hard choices on the Germans as they can really only make use of their OBA and In Inf gun if they attack across the open ground,... with the obvious risks to their infantry. An attack through the Board 5 woods is slower but makes either side's OBA difficult to use and the Inf gun an afterthought.

This playing came down to a last turn German attempt to exit in the face of Polish 2 and 4 FP attacks with -1 and -2 DRMs. Just enough German infantry pinned or break for the Poles to win.
2020-10-10
(A) Tripp Killin
vs
Phil Watkins
Polish win
Came loaded on the south side of the map. One platoon on far north withthe OBA, another in the middle, but bulk of forces with AFVs and gun came in on the south side.
Things didn't go well. Ran into some brutal long-range and bore-sighted MG fire. And then the 9-1 leader got head-shot by a sniper and his platoon scampered through the woods.
I continued to push, but I was taking casualties, and my shots were not causing damage. I was only taking ground because Phil was falling back well.
Neither side's OBA really did anything.
What was left of my force was in good order at start of Turn 5 with time to get to board edge. But Phil kept the entire Polish OB in order. (I didn't score a single CVP. Not one. In 5 turns. I've never seen that before.)
Having to run outnumbered attackers through the elite attackers seemed pointless, so I retired.
2020-10-10
(D) Phil Watkins
vs
Tripp Killin
Polish win
A couple of lucky shots on bore-sighted hexes and a mean sniper to take out the German leader controlling the middle threw the attack off-balance enough that it never quite recovered. Ineffective OBA along with ATR and MG kills on the Pz1s pretty much sealed the deal. Blitzkrieg stopped cold in 1940, WWII averted thanks to Capt. Axe and his brave regiment.
2020-04-25
(D) Doba Serge
vs
Pascal Boileau
Polish win
2020-04-25
(A) Pascal Boileau
vs
Doba Serge
Polish win
A very nice scenario played with Serge. First, the German gun and AFV were quickly destroyed. Then Polish troops were smartly positioned to deny progression to the German infantry entangled in wires. Finally, the running German troops were slaughtered by the Polish MG awaiting for them in the hills...
| Action | Date |
| --- | --- |
| gproudfoot Added a playing | 2021-04-27 16:41:14 |
| ubertripp Uploaded an Image | 2020-10-12 15:08:44 |
| ubertripp Uploaded a VASL file | 2020-10-12 14:42:28 |
| ubertripp Added a playing | 2020-10-11 02:09:17 |
| AceRumble Rated the scenario | 2020-10-11 02:08:50 |
Location
Images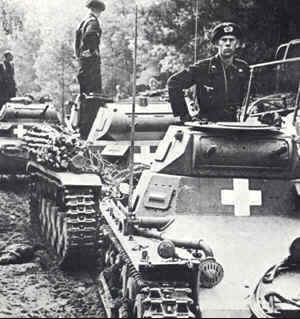 PzKpfw IBs in Blitzkrieg start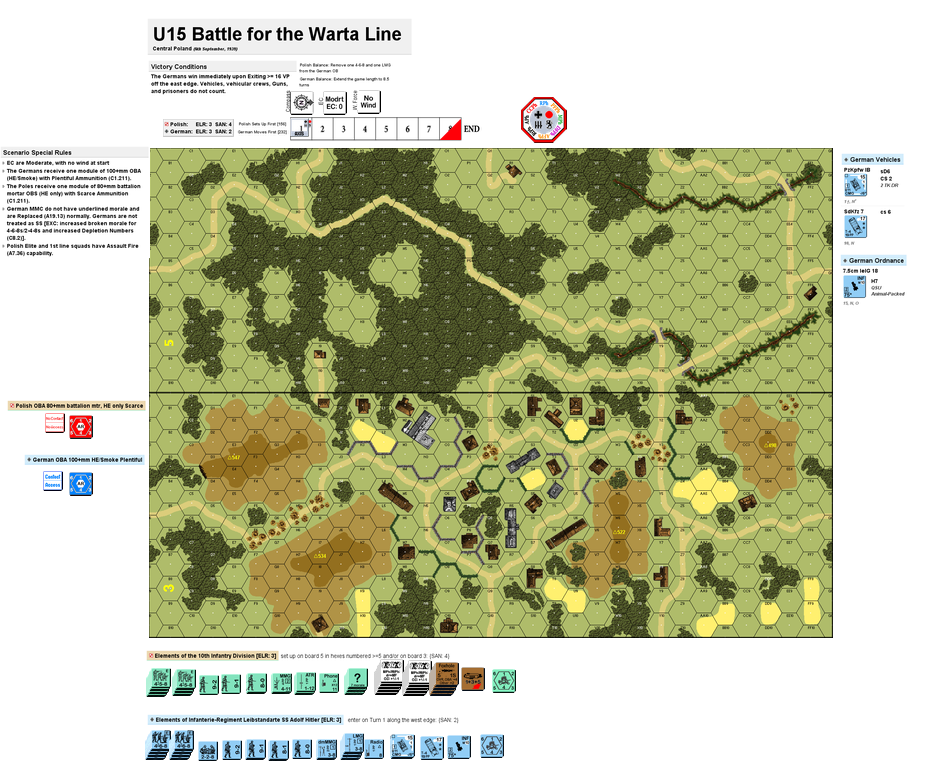 Picture of the VASL 6.5.1 Scenario Card vsav
Statistics:
Avg Rating: 7.71
Votes: 28
Views:
1884
To-Play list count:
2
Estimated Play time:
7.1 hours
Recorded Games:
18

Archive recorded plays:
German (SS)
9
Polish
9
Drawn:
0

ROAR Data: (as of April 2021)
Battle for the Warta Line [Confirmed]

| | |
| --- | --- |
| [A] German | 19 |
| [D] Polish | 20 |