Arctic Crossroads ETO (id:#62353)
Yläluostari, Finland
1939-12-03
(
0 others
)
Designer: Tuomo Lukkari
Starter kit scenario?: Deluxe scenario?:
Balance:

Overview:
When the Winter War commenced on 30 November, the Finns did not expect any significant activity in the northernmost sector of Petsamo. The Soviets, however, had committed their entire 104th Division to secure both the Finnish arctic coast and the Petsamo area. Finnish troops executed a hasty demolition of a harbor and burned villages around Petsamo, then withdrew to a defensive position near a strategic crossroads. On 3 December, the Soviet 95th Infantry Regiment attacked. Although it was morning, the battle was fought in the darkness of the polar night.

Attacker: Russian (2nd Battalion, 95th Infantry Regiment, 104th Division)

Defender: Finnish (Detachment Pennanen)
9 turns
Players:
2
OBA:
None
Night:
Yes
Unit Counts:
Squads: A:

18.0

D:

14.0
AFVs: A:0
AFVs: D:0
Guns: A:0 D:3

7.62 ItKK/31-40.AA

87mm K/95 ART

x 2
| | |
| --- | --- |
| Misc Rules: | GS, Light Woods (Exc: Hindrance DRM is +1). restricted Night rules w D: WC |
| | | | | | | | | |
| --- | --- | --- | --- | --- | --- | --- | --- | --- |
| Map Board(s): | 16 | | 17 | | 19 | | 44 | |
Errata (source)
Players wanting to play this game/Request a match:
Scenario info
Last Played:
Date
Reporter
Opponent
Bal.
Result
Comments
2023-05-03
(D) Todd Cox
vs
Finnish win
2023-04-07
(A) Shane Pask
vs
Russian win
Russians had achieved 12 VP by turn 4 when the Finns conceded. The Russians had captured 1 gun, all of the starting Finnish MG (MMG was malfed) and half of the starting Finns were dead. The Finnish set up was poor and never seemed a threat despite the Russians rolling 3 CR on rally attempts.
2023-02-09
(D) Douglas Leslie
vs
Marc Hanna
Russian win
Early SW malfunction allowed the Russians to cross the board quickly towards the victory area and the Finnish reinforcements couldn't inflict enough damage to restore the situation. Full AAR can be found here:

http://gamesquad.com/forums/index.php?threads/161-arctic-crossroads.180623/
http://gamesquad.com/forums/index.php?threads/arctic-crossroads-the-sequel.180626/
2023-02-04
(A) Walter Usureitis
vs
A
Russian win
Weird scenario. Most of the night rules are negated by SSR#2, which allows sweeping troop movement completely unobserved (beyond NVR) by the opposing units. Also, the Russians can take control of a large portion of the Finn reinforcement's entry area, causing the Finn reinforcements to take a long route into the battle. SSR#3 allows Russian to see the two old Finn ART pieces, despite darkness. Just weird. Russians were able to swarm a lone Finn squad on the eastern flank, control the Finn reinforcement area, and then move on toward the two obsolete Finn ART pieces. Russians then swarmed the two Guns while holding the Finn infantry at bay with IFP. The old ART Guns (no ROF and old ammunition that is dud when effects DR is 6) only manged to break two Russian squads. When the Finn reinforcements came onboard, they took too long to become a factor. Result, Russian win.
2022-12-29
(A) Dave Mareske
vs
Ryan Ellet
Russian win
Some Russian infantry were able to rush toward the victory line with only one squad and one ART gun in the way. Once established in the woods the Finnish reinforcements had to start killing Russians and they were unable to kill enough...a Russian victory.
| Action | Date |
| --- | --- |
| Viking_CTO Added a playing | 2023-05-19 01:03:49 |
| Viking_CTO Rated the scenario | 2023-05-19 01:03:26 |
| Dougban Uploaded a VASL file | 2023-04-18 08:20:15 |
| SonBae Uploaded a VASL file | 2023-04-15 11:47:02 |
| Pte Parts Added a playing | 2023-04-07 13:54:45 |
Location
Not found
Images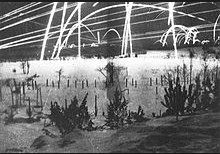 Tracer fire lights up the sky during a Winter War polar battle
Statistics:
Avg Rating: 5.59
Votes: 17
Views:
3642
To-Play list count:
1
Estimated Play time:
10.8 hours
Recorded Games:
12

Archive recorded plays:
Russian
5
Finnish
7
Drawn:
0

ROAR Data: (as of October 2023)
Arctic Crossroads
[Log in to Confirm or Edit]

| | |
| --- | --- |
| [A] Russian | 12 |
| [D] Finnish | 11 |