A Breezeless Day WTO (id:#62809)
See Also: A Breezeless Day by Avalon Hill

Gros Rederching, France

1945-01-02

(

6 others

)

Designer: Brian Youse

Starter kit scenario?: Deluxe scenario?:
Balance:

Overview:
Operation Nordwind was launched to take advantage of the thin front offered by the American Seventh Army. The Seventh was covering the positions that had been occupied by Patton's Third Army, now deployed in the Ardennes. Initial thrusts by the attacking XIII SS-Korps were poorly led and gained minimal ground even though they outnumbered the defending GIs. Reinforced overnight by the 17th Volksgrenadier Regiment and the 36th Volksgrenadier Division, the XIII SS-Korps continued its attacks the following morning.

Attacker: German (SS) (SS-Panzergrenadier-Regiment 37, SS-Panzerjäger-Abteilung 653, and Flammkompanie 353, SS-Panzergrenadier-Division 17, "Götz von Berlichingen")

Defender: American (71st and 397th Infantry Regiments, 44th Infantry Division, and 776th Tank Destroyer and 749th Tank Battalions)
8.5 turns
Players:
2
OBA:
Both
Night:
No
Unit Counts:
Squads: A:

18.0

D:

10.0
AFVs: A:15

JgdPz VI

x 2

StuH 42 (L)

x 2

JgdPz 38(t)(Fl)

StuG IIIG

x 4

SPW 251/1

x 6
AFVs: D:5

M36 GMC

x 3

M4A3(75)W

x 2
Guns: A:0 D:0
| | |
| --- | --- |
| Misc Rules: | Grain on Bd 43 is Level 1 Hills. A: Assault Fire capability; Elite, FTV1 |
Errata (source)
Players wanting to play this game/Request a match:
Scenario info
Last Played:
Date
Reporter
Opponent
Result
Comments
2021-12-29
(D) Simon Staniforth
vs
American win
Those Jagdtigers are brutal, dominated the battlefield in this playing and eventually took out all the US armour despite smoking them and / or being HD. I got a couple of hits using Area fire with the 90Ls but he shrugged off a Shock and otherwise ineffective. Close range saw some DI attempts and I even got a BAZ side hit in the village but the dice gods were not with me, all ineffective. Both exited that's 20 of the 70 needed VP. That's a tough ask of the Germans with them also needing 10 buildings in the village so my infantry hunkered down, slowly fell back and generally played for time. I deployed 4 squads in the end giving the Germans more units to overcome in generally +3 TEM, I got a lucky side shot to take out the Flammpanzer before it could do any real damage and nailed a couple of HTs. Lost both the radio and 0.5cal to 12s and subsequent 6s before they could affect the game but by delaying, delaying the Germans just came up short. 64VP exited and 8 buildings taken. More fun to play as the Germans as you get plenty of toys and therefore options so I'd like to give that a try sometime. As the US player you are mainly falling back, trying to avoid the overwhelming firepower and have something at the end to deny the VC. It would be great to counter attack with the Gyro Sherman(s) and M36(s) against his armour but when you've got 2 Jagdtigers sat there each supported by a couple of StuGs and PF armed infantry I didn't rate the chances of success very highly.
2021-02-21
(A) Tripp Killin
vs
Phil Watkins
German (SS) win
This is a very interesting scenario with toys and tricks for both sides. Americans have a 9-2, 50-cal, A-T Mines, and the 90L GMC TDs. The Germans have lots of Stugs, a FT Hetzer, and 2 awesome JgdPz VI. These latter vehicles are almost immune to American fire and so can move with relative impunity. This is rare on the ASL battlefield.
And with 9 turns, the Germans have time to press steadily, bringing the right tool to bear for the problem they're trying to solve: JgdPz VIs for the TDs and tanks, FT Hetzer for the MG and Bazooka nests, a swarm of infantry mounted in armored HT for overwhelm a position
.
In fact, the Americans would be hard pressed to win the scenario at all if it weren't for the brutal VCs faced by the Germans: 10 of the 12 buildings in the SE quadrant of the board AND >= 70 CVP exited, not including prisoners. That means they need to almost completely wipe out the Americans while keeping their force intact and still exiting. (And you can be sure at least a few factors of A-T Mines will be waiting on the road near the exit.

Phil deployed his infantry forward and his tanks back, only lightly covering the hills on the west (his left flank), but strong in the eastern woods and the main road from north-to-south which is the easiest line for the Germans.

I had my Jadg Tigers and two Stugs clear the hills while two platoons of infantry mounted in the HTs made their way on board. Everything else started working both sides of the major North-South road on board 42, advancing cautiously and looking for mines.
Turns 2-5 went brilliantly for me as everything I tried worked, and Phil's excellent defense rolled poorly.
I swarmed the board 43 building compound with mounted infantry, risking HTs to save my other AFVs. All fell before me!
On board 42, the advance was more difficult, but aggressive maneuver was rewarded, and I could always shift forces to bring the right tool to bear.

By turn 6, I had my force in relatively good order to sweep the last parts of the building VCs. Only a few American strong points remained, and all their tanks and TDs were dead. However, a Deliberate Immobilization had blown a track off a Jagd Tiger, meaning its 10 CVP would not be gained. Ouch.
While it still would have been hard to finish taking all the buildings in 3 turns while also exiting so many CVP, we called it after German Turn 6. The American likely would have been mopped up, and the VC fulfilled. But one or two HTs could have been the difference.
I would recommend this scenario, but the American player has got to realize that they are going to be getting crushed the whole time. That doesn't mean you're not winning! The German VCs are really hard.
2019-06-10
(D) Jesus Pie
vs
Txema
German (SS) win
2018-07-21
(A) Dan Best
vs
Kermit Mullins
German (SS) win
| Action | Date |
| --- | --- |
| Simonstan Added a playing | 2021-12-30 17:53:34 |
| hoxson1 Modified the Theatre | 2021-02-24 01:09:38 |
| ubertripp Added a playing | 2021-02-21 06:14:02 |
| hoxson1 Linked the scenario to ROAR | 2021-01-20 18:45:07 |
| jesuspiebatlle Rated the scenario | 2020-10-25 17:31:47 |
Location
Not found
Images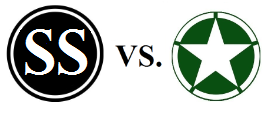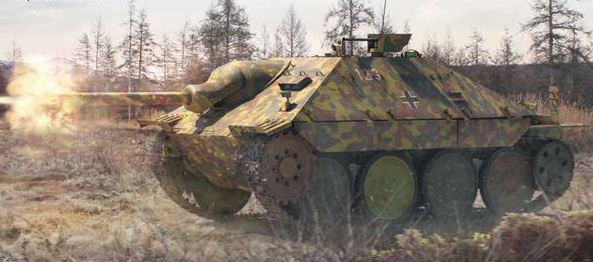 Flammpanzer 38(t) Hetzer were converted to carry flame throwers instead of the normal 7.5cm gun. They carried 154 gallons of fuel for the flame thrower, all of it carried internally. The flamethrower had a range of 66 yards.
Statistics:
Avg Rating: 5.80
Votes: 5
Views:
2355
To-Play list count:
2
Estimated Play time:
13.3 hours
Recorded Games:
3

Archive recorded plays:
German (SS)
2
American
1
Drawn:
0

ROAR Data: (as of November 2021)
A Breezeless Day [Confirmed]

| | |
| --- | --- |
| [A] American | 5 |
| [D] German | 3 |