Strangers in a Strange Land ETO (id:#56040)
See Also: Strangers in a Strange Land by Multi-Man Publishing

Designer: Steve Swann

Starter kit scenario?: Deluxe scenario?:
Balance:

Overview:
In the arctic twilight, the 13th Demi-Brigade of the French Foreign Legion and five Hotchkiss tanks were successfully put ashore by British landing craft northeast of Narvik. One legion battalion and two tanks were sent to retake the supply center of the Norwegian 6th Brigade which had been captured by the Germans. Liberating the weapons depot would provide much-needed arms and ammunition for the Norwegians. . .

Attacker: French (1er Bataillon, 13ème Demi-Brigade de Légion Étrangère / 342ème Compagnie Autonome de Chars de Combat)

Defender: German (Gebirgsjäger Regiment 139)
8 turns
Players:
2
OBA:
None
Night:
No
Unit Counts:
Squads: A:

12.5

D:

7.5
AFVs: A:2 D:0
Guns: A:0 D:0

5cm leGrW 36

7.92 PzB 39 ATR
| | |
| --- | --- |
| Misc Rules: | GS, roads unpaved but plowed. Wooden buildings. Stream is Dry. |
Errata (source)
Players wanting to play this game/Request a match:
Scenario info
Last Played:
Date
Reporter
Opponent
Result
Comments
2020-03-15
(A) O Ramaille
vs
German win
The French began well with a critical hit from the mortar that wipe out a squad in a building. The French approach was quite well performed with the armor to prevent the German reinforcements to reach the weapons depot. However, the German reinforcements managed to get into the building and won several close combats with a battle hardened leader. The French lost more than half of their forces and were unable to wipe out the Germand defenders from the building. A German victory.
2020-03-07
(D) David Ramsey
vs
Martin Vicca
French win
Held out as long as possible but a critical hit from the mortar destroyed my hopes..
2020-03-07
(D) Ian Morris
vs
Simon
French win
Couldn't land a shot on him until late in the game. Lost my last MMC to a FPF shot against the three squads coming to cc him.
2020-02-28
(A) Kevin Duval
vs
Dwayne Duval
French win
Used German balance.
2018-09-05
(D) Paolo Cariolato
vs
Federico Corso
German win
Went down to the last CC, there were prisoners so it was sequential.
With my roll 8 or less he would have needed a 3 to win. With a 9 or more 5 was enough. I rolled a 9 and he rolled a 5.
That said the scenario is old and it shows, too long, nothing for the defence except skulk for the first three turns. Then it's defending a single building.
| Action | Date |
| --- | --- |
| lt_steiner Rated the scenario | 2020-03-15 19:53:31 |
| lt_steiner Added a playing | 2020-03-15 19:53:27 |
| Gamer72 Added a playing | 2020-03-09 01:28:56 |
| Dave Added a playing | 2020-03-08 00:38:48 |
| Kydder Added a playing | 2020-02-28 22:43:05 |
| Description | Uploaded by |
| --- | --- |
| ASL Annual '96: Page 48 (Scenario Analysis) | Dave |
Location
Not found
Images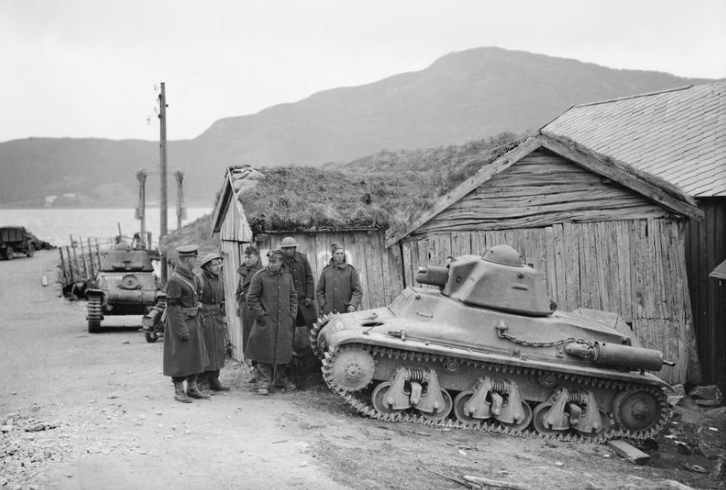 British troops with French Hotchkiss H39 tanks in Norway
Statistics:
Avg Rating: 6.96
Votes: 49
Views:
4702
To-Play list count:
8
Estimated Play time:
4.3 hours
Recorded Games:
35

Archive recorded plays:
French
21
German
14
Drawn:
0

ROAR Data: (as of Nov 2019)
Strangers in a Strange Land [Confirmed]

| | |
| --- | --- |
| [A] German | 117 |
| [D] French | 134 |