Rocket's Red Glare WTO (id:#56581)
See Also: Rocket's Red Glare by Multi-Man Publishing

Designer: Jon Mishcon

Starter kit scenario?: Deluxe scenario?:
Balance:

Overview:
Colonel Reuben Tucker personally appealed to General Gavin to allow his 504th Regiment to attack Cheneux. Friendly civilians had reported a large column of German vehicles, including tanks, encamped there. Normally an American infantry regiment would request a battalion of armor for support before making such an assault, but Colonel Tucker had an ace up his sleeve. His men had recently captured a whole truckload of panzerfausts, had practiced with them, and now were ready to use them on the enemy. Combined with the early arrival of the latest model of bazooka, Tucker figured his force was strong enough to carry out the assault alone.

Attacker: American (504th Parachute Regiment, 1st and 3rd Battalions)

Defender: German (SS) (SS Panzergrenadier Regiment 2)
6 turns
Players:
2
OBA:
None
Night:
No
Unit Counts:
Squads: A:

12.0

D:

7.0
AFVs: A:1 D:2

StuG IIIG (L)

FlaKPz IV/20
Guns: A:0 D:1
| | |
| --- | --- |
| Misc Rules: | No vehicle of either side may setup inside a building. |
Errata (source)
Players wanting to play this game/Request a match:
Scenario info
Last Played:
| Date | Reporter | | Opponent | Result | Comments |
| --- | --- | --- | --- | --- | --- |
| 2021-01-08 | (A) Kermit Mullins | vs | Dave Mareske | German (SS) win | Well, my Americans were not able to even break an SS Squad and broke repeatedly under German fire. My 10-2 boxcar'd an MC and died which broke his squads. I gave the concession after three turns as I had 5 broken squads, at least 2 KIA'd, a dead 10-2 and a personal ELR of Zero. Dave's outstanding defense coupled with my traitorous dice made this a pretty easy German victory. |
| 2020-07-04 | (D) Øyvind Jacobsen Bjørkås | vs | Erik | American win | The Americans advanced on both flanks, entering the victory buildings in turn 5. |
| 2020-04-24 | (D) David Ford | vs | Dan Barnaba | American win | While the German FlakPanzer rained death and destruction on the Americans, Dan managed an end run to occupy and control building O10 for the victory. We'll definitely play this one again. |
| 2019-11-08 | (D) X von Marwitz | vs | John Martin | American win | A balanced scenario classic. I played this one a while ago in its republication as ASL195 which has some minor differences in the SSR. In that game, I had the defending Germans and my Wirbelwind was recalled by a Sniper before ever firing a shot and some very similar fate befell the key 9-2 leader. So I thought it might be a good one for a replay under "normal" circumstances. I used the identical setup defending as the Germans. What followed was some sort of strange déjà vu: When a juicy US stack entered a building that I had the beads of my Wirbelwind on, I rolled boxcars on its first shot and it got recalled after a 6 on its first repair DR. The location of my 9-2 got hit by a 1-Sniper in turn 1, which "luckily" only broke my HMG squad while the other 658+MMG upstairs was broken by fire. The 9-2 managed to rally the two key-squads immediately, though. Altogether I managed to hold back the Americans quite well, though on the German right flank everybody broke and one squad even managed to roll boxcars for a Disruption. Yet I could somehow stabilize the area somewhat. However, in turn 4, the German Sniper struck again, this time killing the 9-2 and breaking a 658+MMG & 658+LMG in a Yhatsee of Random Selection. The LLMC did the rest, so my key defensive position which was hurting the US badly was reduced to a single broken HS in a wink. This, of course, predetermined the outcome of the game. I hung on until the start of the last turn but then was overcome by the US firepower directed by 9-2 and 10-2 leaders. Still a nice scenario. By the laws of chance, my 9-2 and FlakPz will NOT be taken out next time in case I should ever play this one again... |
| 2018-11-18 | (A) Scott Fischbein | vs | Alan Krause | American win | Americans took a blow early on and lost their tank in turn 1, but came back strong with lots of snake eyes and HOBs, and a few well-timed boxcars from the Germans turned the tide of battle and the Americans were able to capture one of the victory buildings. |
| Action | Date |
| --- | --- |
| von Garvin Added a playing | 2021-05-22 17:21:33 |
| hoxson1 Modified the Theatre | 2021-02-24 01:05:52 |
| grumblejones Added a playing | 2021-01-08 18:28:42 |
| oybj Added a playing | 2020-07-05 17:25:58 |
| wwillow Added a playing | 2020-07-03 16:40:29 |
Location
Not found
Images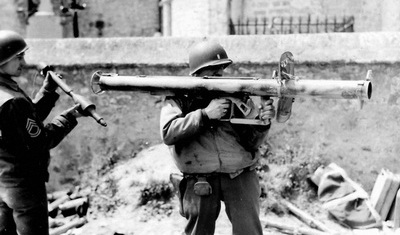 A US officer poses with a captured Panzerschreck in camouflage colours.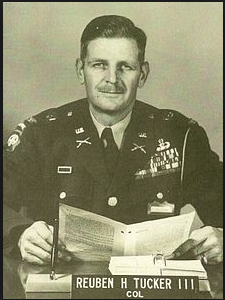 Col. Reuben Tucker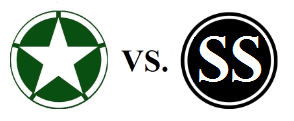 Statistics:
Avg Rating: 7.12
Votes: 51
Views:
8048
To-Play list count:
3
Estimated Play time:
3.5 hours
Recorded Games:
40

Archive recorded plays:
American
16
German (SS)
24
Drawn:
0

ROAR Data: (as of April 2021)
Rocket's Red Glare [Confirmed]

| | |
| --- | --- |
| [A] American | 200 |
| [D] German | 176 |