Rocket's Red Glare WTO (id:#62806)
See Also: Rocket's Red Glare by Avalon Hill

Designer: Jon Mishcon

Starter kit scenario?: Deluxe scenario?:
Balance:

Overview:
Colonel Reuben Tucker personally appealed to General Gavin to allow his 504th Regiment to attack Cheneux. Friendly civilians had reported a large column of German vehicles, including tanks, encamped there. Normally an American infantry regiment would request a battalion of armor for support before making such an assault, but Colonel Tucker had an ace up his sleeve. His men had recently captured a whole truckload of panzerfausts, had practiced with them, and now were ready to use them on the enemy. Combined with the early arrival of the latest model of bazooka, Tucker figured his force was strong enough to carry out the assault alone.

Attacker: American (1st and 3rd Battalions, 504th Parachute Infantry Regiment, 82nd Airborne Division)

Defender: German (SS) (SS-Panzergrenadier-Regiment 2, SS-Panzer-Division 1 "Leibstandarte Adolf Hitler")
6 turns
Players:
2
OBA:
None
Night:
No
Unit Counts:
Squads: A:

12.0

D:

7.5
AFVs: A:1
AFVs: D:2

StuG IIIG (L)

FlaKPz IV/20
Guns: A:0 D:1
| | |
| --- | --- |
| Misc Rules: | No vehicle of either side may setup inside a building. |
Errata (source)
Players wanting to play this game/Request a match:
Scenario info
Last Played:
Date
Reporter
Opponent
Bal.
Result
Comments
2022-12-30
(D) Neal Ulen
vs
Scott
German (SS) win
Oof, I have no way to know if this classic scenario is any good. Poor Scott got absolutely reamed by the VASL dicebot. It was over after turn 3. He'd lost his 10-2, 9-2, his AFV, and about half his squads were outright eliminated. The SS averaged 6.3 on IFT rolls, the Americans averaged 8.9 on the IFT. In 3 turns the SS only had to take one MC, and the unit easily passed. It was an ugly, ugly game so we put it out of its misery.
2022-10-28
(A) Dmitry Klyuykov
vs
Herbert
American win

(VASL Log)
That was a blast of the game and Herbert is the great opponent to play with. Americans focused to advance along the central axis towards the nearest victory buildings. Getting broken and rallied time after time they slowly crawled hex by hex towards their goal. German sniper killed US 9-1 leader, but lucky WP broken the SS HMG squad, so attacking forces were able to crawl a little bit closer.

US tank was Shocked every time it tried to start the engine. On the third try it was able to roll to outflank the village, but was stunned on its way.

The dramatic final was German Defensive Fire with 9-2 leader which created the hero from CX squad adjacent to the victory building. Hero advanced with CX squad, no ambush for both sides, but Americans were lucky in CC roll securing the kill at 1-1 odds and surviving the retaliation.
2022-10-20
(A) Jack Wilson
vs
Ken Walsh
German (SS) win
First time playing this classic. The recorded plays indicate this is a finely balanced scenario. Perhaps so. But my hackneyed attack plan, coupled with the high morale of the stubborn SS sheltering (usually under concealment counters) in wood/stone buildings turned this one into a lopsided affair.

Although the Americans seem to have a loaded OB (especially in the LATW department), IMO the biggest handicap is their setup/entry restrictions which pretty much dictate a two-wing attack plan.

Also, as others have noted, the newer SK style map 3 shows the building in 3I1 is not eligible for vehicle bypass for the M36, whereas the original SL bd3 artwork allowed for bypass. There have been a few threads discussing this on GS over the years. By a slim majority, the consensus seems to be that the original designer intent was to allow bypass (the scenario made its debut in The General circa 1988 before the advent of the new SK boards). This may seem like a minor detail but given the limited entry options for the M36 it turns out to be fairly important. Ken and I decided to play it as bypass possible.

Nevertheless, as hinted above, my attack was too slow, too disjointed, and yes, too unlucky. Turn three sticks out in particular. By my estimation, I was already a turn behind. T3 was going to be my "big move" to get a foothold in the village. I had three important preps lined up with decent FP/DRMs, to be followed by three opportunities to place smoke grenades for my assault force. All three preps came up NE, and not a wisp of smoke was produced with three attempts which essentially put me yet another turn behind. Although I made a little progress on T4, my path to victory at that point was so thin that I rolled boxcars on my PMC and decided to throw in the towel.

Despite the dismal result, it is easy to see why this is considered a classic. Having (hopefully) learned from my (many) mistakes, I would definitely play this one again.
2022-05-02
(A) David Garvin
vs
Nick Faryna
American win
A Key MG fire allowed me to get into the winning hex at Q7
2022-05-01
(D) Andy Bagley
vs
Steve Worrel
American win
Very enjoyable scenario with lots of excitement. Started badly for me as the Germans when early sniper shots wounded my best leader and recalled my Flakpanzer (which should have been buttoned up, even though well out of enemy LOS - bad mistake). Then the luck seemed to go my way for a long while, with some good shooting and the Americans struggling to pass any MCs; but few of them were killed so of course they kept coming back. Still, I felt I was holding my ground, and the Americans were forced into a last-turn charge to capture building Q7. But luck finally held for the Americans, with a 10-2 leader and 1.5 squads making it through to the building, getting an ambush and wiping out my defenders for an instant win, All good fun though.
| Action | Date |
| --- | --- |
| Neal Ulen Added a playing | 2022-12-31 00:09:46 |
| MoriQuessir Uploaded a VASL file | 2022-10-31 16:06:29 |
| MoriQuessir Added a playing | 2022-10-28 20:58:02 |
| Jwil2020 Added a playing | 2022-10-20 20:39:19 |
| Bongiovanni Added a playing | 2022-09-05 11:34:37 |
Location
Not found
Images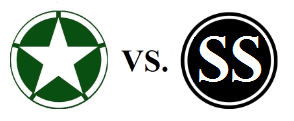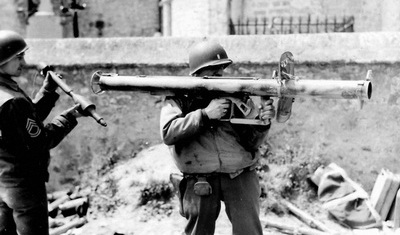 A US officer poses with a captured Panzerschreck in camouflage colours.
Statistics:
Avg Rating: 6.79
Votes: 34
Views:
4696
To-Play list count:
4
Estimated Play time:
3.5 hours
Recorded Games:
27

Archive recorded plays:
American
15
German (SS)
12
Drawn:
0

ROAR Data: (as of November 2021)
Rocket's Red Glare [Confirmed]

| | |
| --- | --- |
| [A] American | 21 |
| [D] German | 24 |