Rocket's Red Glare WTO (id:#62806)
See Also: Rocket's Red Glare by Avalon Hill

Designer: Jon Mishcon

Starter kit scenario?: Deluxe scenario?:
Balance:

Overview:
Colonel Reuben Tucker personally appealed to General Gavin to allow his 504th Regiment to attack Cheneux. Friendly civilians had reported a large column of German vehicles, including tanks, encamped there. Normally an American infantry regiment would request a battalion of armor for support before making such an assault, but Colonel Tucker had an ace up his sleeve. His men had recently captured a whole truckload of panzerfausts, had practiced with them, and now were ready to use them on the enemy. Combined with the early arrival of the latest model of bazooka, Tucker figured his force was strong enough to carry out the assault alone.

Attacker: American (1st and 3rd Battalions, 504th Parachute Infantry Regiment, 82nd Airborne Division)

Defender: German (SS) (SS-Panzergrenadier-Regiment 2, SS-Panzer-Division 1 "Leibstandarte Adolf Hitler")
6 turns
Players:
2
OBA:
None
Night:
No
Unit Counts:
Squads: A:

12.0

D:

7.5
AFVs: A:1
AFVs: D:2

StuG IIIG (L)

FlaKPz IV/20
Guns: A:0 D:1
| | |
| --- | --- |
| Misc Rules: | No vehicle of either side may setup inside a building. |
Errata (source)
Players wanting to play this game/Request a match:
Scenario info
Last Played:
| Date | Reporter | | Opponent | Result | Comments |
| --- | --- | --- | --- | --- | --- |
| 2022-05-02 | (A) David Garvin | vs | Nick Faryna | American win | A Key MG fire allowed me to get into the winning hex at Q7 |
| 2022-05-01 | (D) Andy Bagley | vs | Steve Worrel | American win | Very enjoyable scenario with lots of excitement. Started badly for me as the Germans when early sniper shots wounded my best leader and recalled my Flakpanzer (which should have been buttoned up, even though well out of enemy LOS - bad mistake). Then the luck seemed to go my way for a long while, with some good shooting and the Americans struggling to pass any MCs; but few of them were killed so of course they kept coming back. Still, I felt I was holding my ground, and the Americans were forced into a last-turn charge to capture building Q7. But luck finally held for the Americans, with a 10-2 leader and 1.5 squads making it through to the building, getting an ambush and wiping out my defenders for an instant win, All good fun though. |
| 2021-10-09 | (A) nathan wegener | vs | Mike Cassaro | American win | My opening shot 30+1 took out the German 9-2 and a squad. That pretty much summed up the game with the Americans pushing through the middle as the dispersed defenders ran out of space too soon. ASLOK '21 |
| 2021-10-06 | (D) Kermit Mullins | vs | Dan Best | German (SS) win | Dan's Americans hit my SS hard and fast. I was reeling as the Americans got into my grill. I managed to lock some Americans in Melee and then wounded the 10-2. My ARTY took out the M35. This allowed my STUG to lead a counterattack which stopped the Americans and helped the Germans hang on for the win. Intense game. |
| 2021-10-06 | (A) Dan Best | vs | Kermit Mullins | German (SS) win | |
| Action | Date |
| --- | --- |
| Bongiovanni Added a playing | 2022-09-05 11:34:37 |
| von Garvin Added a playing | 2022-05-02 22:50:32 |
| Andy_Bagley Added a playing | 2022-05-02 22:21:15 |
| nebel Added a playing | 2021-10-09 20:32:06 |
| grumblejones Added a playing | 2021-10-07 02:26:40 |
Location
Not found
Images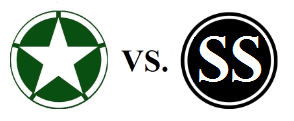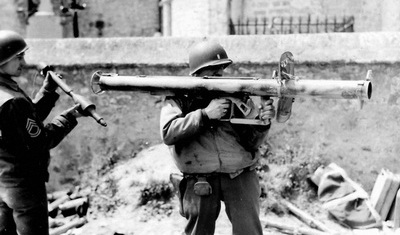 A US officer poses with a captured Panzerschreck in camouflage colours.
Statistics:
Avg Rating: 6.74
Votes: 31
Views:
3139
To-Play list count:
3
Estimated Play time:
3.5 hours
Recorded Games:
24

Archive recorded plays:
American
14
German (SS)
10
Drawn:
0

ROAR Data: (as of November 2021)
Rocket's Red Glare [Confirmed]

| | |
| --- | --- |
| [A] American | 21 |
| [D] German | 24 |