Une Guerre de Caporaux WTO (id:#58894)
Designer: Pascal Guet
Starter kit scenario?: Deluxe scenario?:
Balance:

Overview:
"A War of Corporals" - After the piercing of the front at Avranches, the Americans launched their divisions in all directions, notably in Brittany. Brest became the primary target of the US VII Corps. The city garrison was formidable. It consisted of 30,000 men stiffened by the parachutists of the 2nd Fallschirmjager Division, veterans of the Eastern Front. The assault by three divisions of VII Corps was launched on 25 August. Despite their numerical advantage, the Americans were dealt with harshly. The 23rd Infantry Regiment finally managed to reduce the exterior defenses by 8 September, but the paras were still holding firm. It would be necessary to engage in difficult street-fighting. It was a war of corporals according to General Robertson.

Attacker: American (23rd Infantry Regiment, 2nd Infantry Division "Indian Head")

Defender: German (7th Fallschirmjäger Regiment and elements of 266th Infantry Division)
8 turns
Players:
2
OBA:
American
Night:
No
Unit Counts:
Squads: A:

20.0

D:

12.0
AFVs: A:2 D:0
Guns: A:0 D:2
| | |
| --- | --- |
| Misc Rules: | D: FB4. Ten hexes rubble creation before start. |
Errata (source)
Players wanting to play this game/Request a match:
Scenario info
| Action | Date |
| --- | --- |
| hoxson1 Modified the Theatre | 2021-03-03 19:43:12 |
| hoxson1 Uploaded the Board image | 2017-09-18 18:06:58 |
| hoxson1 Modified the overview | 2017-08-08 18:15:13 |
| hoxson1 Modified the Unit Elements | 2017-08-08 18:13:16 |
| hoxson1 Modified the misc. rules | 2016-10-26 19:31:29 |
Location
Images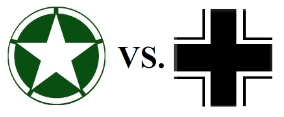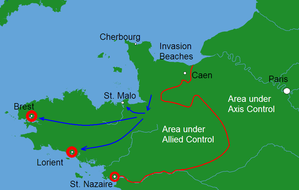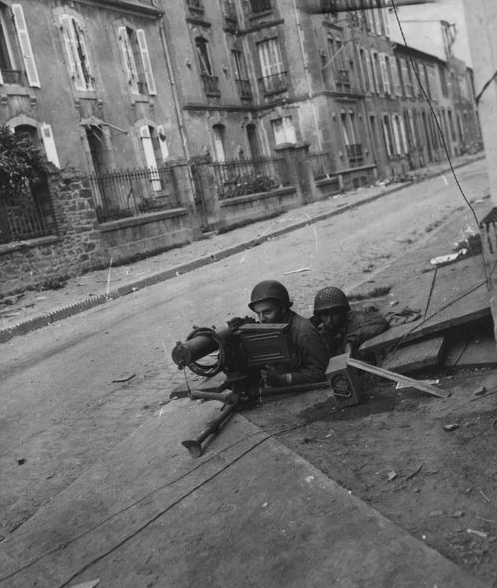 Machine gun team in Brest, 1944.
Statistics:
Avg Rating: n/a
Votes: 0
Views:
2328
To-Play list count:
1
Estimated Play time:
7.4 hours
Recorded Games:
0

Archive recorded plays:
American
0
German
0
Drawn:
0

ROAR Data: (as of April 2021)
Une guerre de caporaux (A War of Corporals) [Confirmed]

| | |
| --- | --- |
| [A] American | 10 |
| [D] German | 14 |