Deceptive Reception PTO (id:#61531)
See Also: Deceptive Reception by Critical Hit

Gemencheh Bridge, Malaya

1942-01-14

(

1 other

)

Designer: Steven Swann

Starter kit scenario?: Deluxe scenario?:
Balance:

Overview:
In Malaysia, intensive Japanese air attacks on Commonwealth troops added to the pressure of the Japanese advance down the western part of the peninsula. The British Command planned a series of delaying actions as the men of the III Indian Corps slowly retreated southwards into the through the lines established by the newly arrived Australians. Bridges along the road would be left intact to heighten the effect of disorganized flight by the Indian troops, but were actually meant to lull the Japanese into becoming over-confident and careless. An ambush was set up by the veteran 2/30th Battalion AIF, at a small wooden bridge of the Gemencheh River. Shortly before 1600 on January 14, Japanese soldiers on bicycles passed through the ambush position while the Australians waited for the motorized transport section. Just a few minutes later, another bicycle column began crossing the bridge, and the Australians decided that the ambush would be triggered by setting off the demolition charge under the bridge. . .

Attacker: Japanese (42nd Infantry Regiment)

Defender: Australian (B Company, 2/30 Australian Infantry Battalion)
8 turns
Players:
2
OBA:
Australian
Night:
No
Unit Counts:
Squads: A:

23.0

D:

11.5
AFVs: A:0 D:0
Guns: A:0 D:0
| | |
| --- | --- |
| Misc Rules: | PTO, LJ. (Exc: roads/bridge exist) Ov1 w A: Bi24 w D: OBA wire could be cut on dr |
Errata (source)
Players wanting to play this game/Request a match:
Scenario info
| Action | Date |
| --- | --- |
| hoxson1 Modified the overview | 2019-03-19 18:40:23 |
| hoxson1 Modified the misc. rules | 2019-03-19 18:33:13 |
| hoxson1 Uploaded the Board image | 2019-03-19 18:31:33 |
| hoxson1 Modified the misc. rules | 2018-05-24 16:41:03 |
| hoxson1 Modified the misc. rules | 2017-03-07 19:04:19 |
Location
Images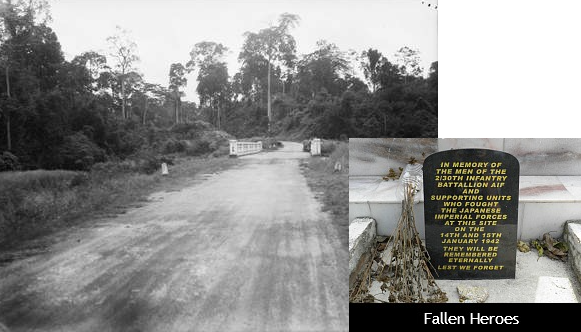 WWII ambush at Gemencheh Bridge, near Gemas in Negeri Sembilan, took place on 14th January 1942. It was the first time that a company-strength unit of Australian troops had engaged the Japanese.

Statistics:
Avg Rating: n/a
Votes: 0
Views:
690
To-Play list count:
0
Estimated Play time:
6.9 hours
Recorded Games:
0

Archive recorded plays:
Japanese
0
Australian
0
Drawn:
0

ROAR Data: (as of November 2021)
Deceptive Reception
[Log in to Confirm or Edit]

| | |
| --- | --- |
| [A] Japanese | 0 |
| [D] Australian | 1 |